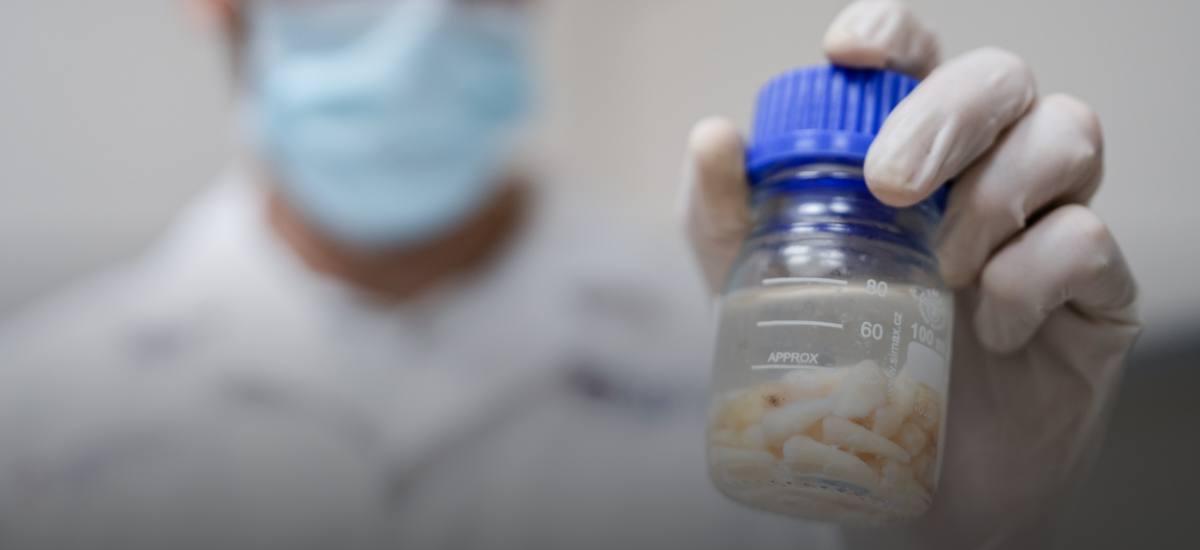 News
Science
Advancing dental research with the NUCOHS Tooth Tissue Bank
Published on 16 November 2023
Go behind the scenes at the NUCOHS Tooth Tissue Bank and discover the fascinating process behind its operations.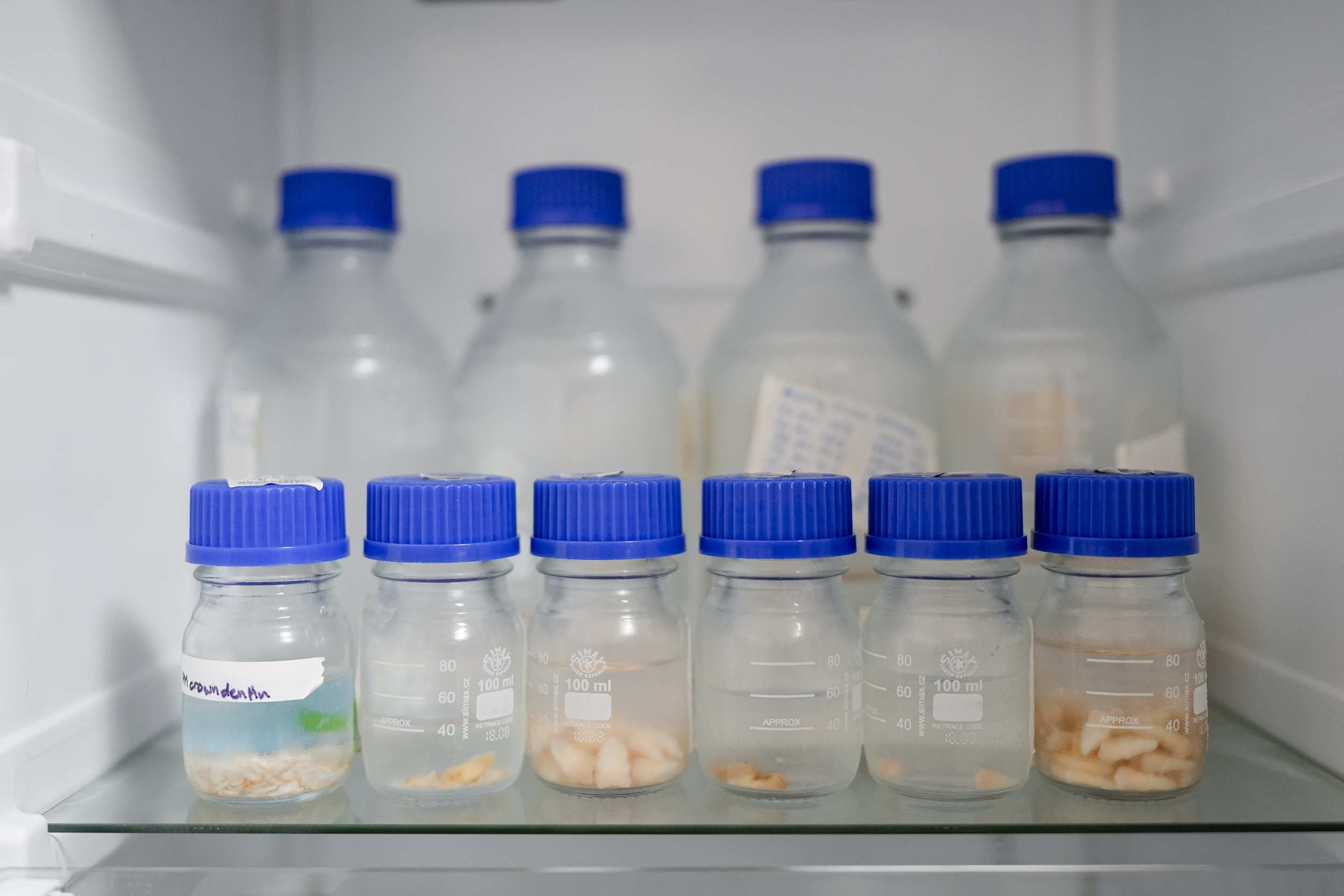 Jars of tooth specimens are preserved at the NUCOHS Tooth Tissue Bank.
"What we have here, is gold," said A/Prof Vinicius Rosa, as he opened a nondescript refrigerator. Rows of blue-capped jars line its shelves, each containing pale mounds of human teeth immersed in preservatives. There are hundreds of them, in various shapes, colours and sizes.
The teeth, explained A/Prof Rosa, are organised according to type — from premolars to incisors. They form the first-of-its-kind in Singapore repository dubbed the Tooth Tissue Bank, established by the National University Centre for Oral Health, Singapore (NUCOHS), with the support of the National University of Singapore (NUS), Faculty of Dentistry (FOD).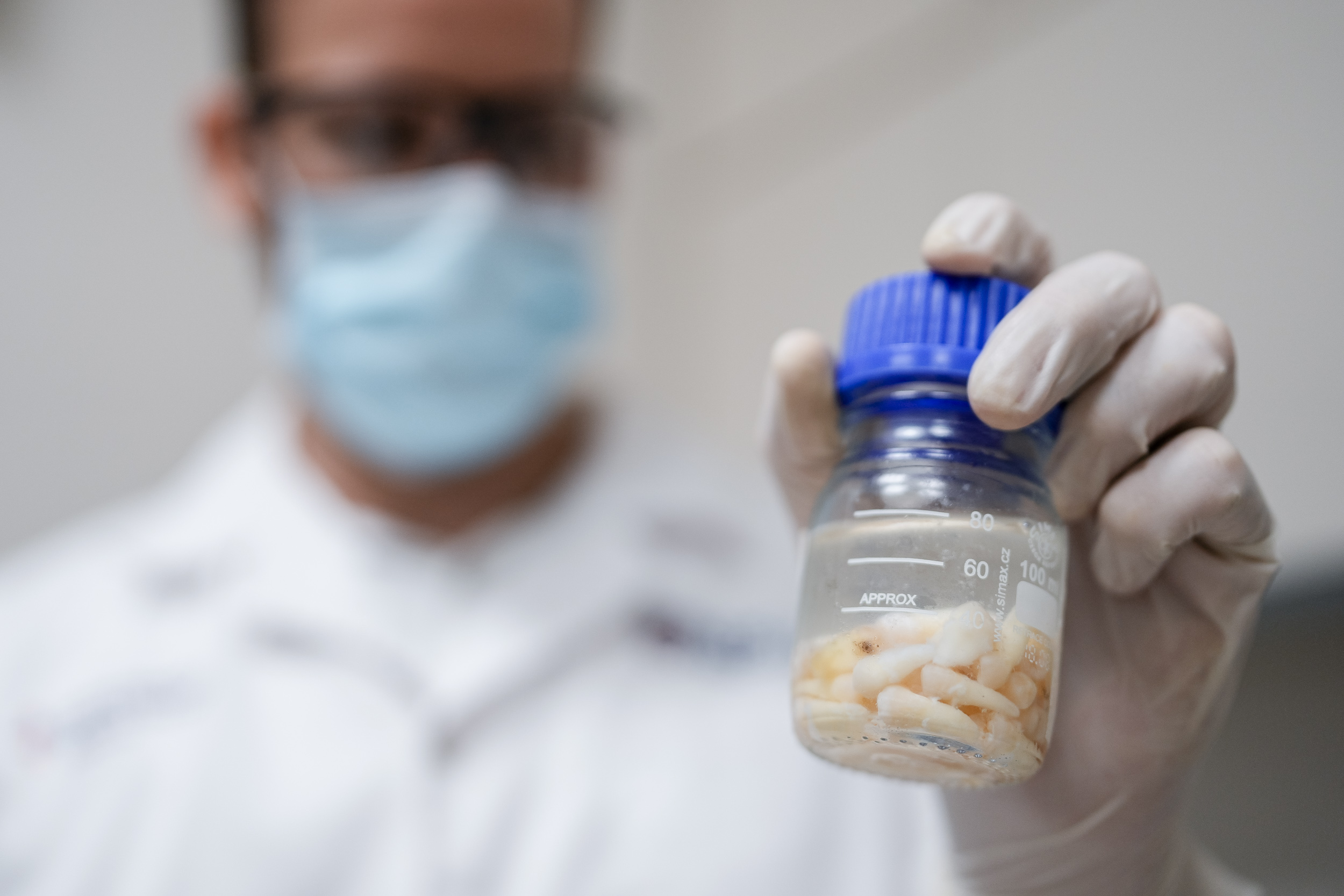 A/Prof Rosa with a jar of preserved teeth.
Teeth — a valuable resource
Teeth are a valuable resource for a reason: they play a pivotal role in research. Scientific endeavours — from testing toothpaste formulations, to exploring ways of reviving dead teeth — necessitate a readily available supply of specimens. Traditionally, the acquisition process posed challenges as researchers depended on clinicians, resulting in a slow collection rate.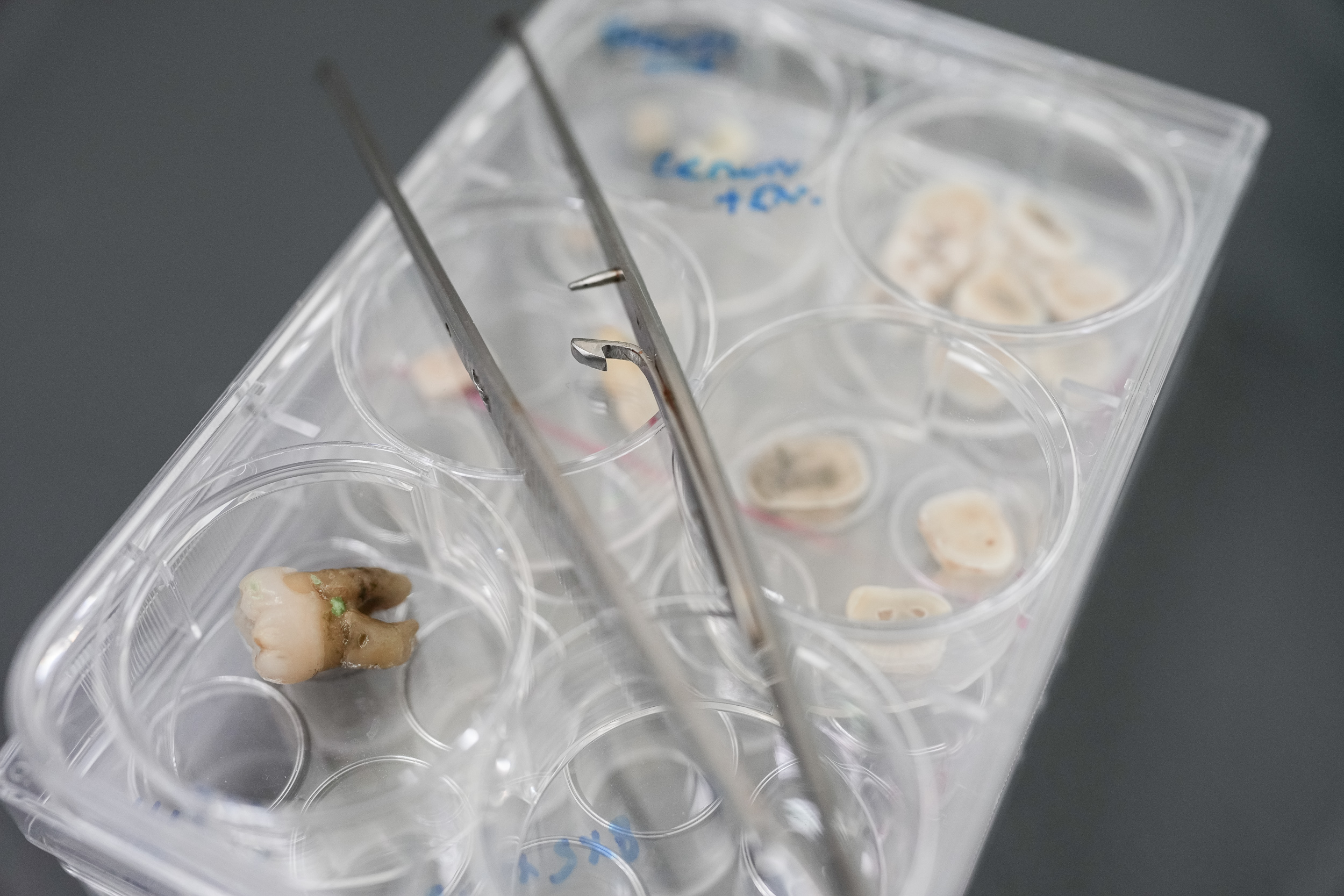 Tooth specimens are sorted and cleaned before being stored in the Tooth Tissue Bank.
However, A/Prof Rosa, who is the Vice Dean (Research) at the NUS Dentistry, and his team, hope to change the status quo with the Tooth Tissue Bank. Here, the tooth collection process begins long before a patient even opens their mouth. Certain teeth, such as those that are intact, are considered more valuable than others, A/Prof Rosa shared. "Third molars, for example, are more treasured because of their unique structure," he elaborated, in reference to extracted wisdom teeth. "It's different from a tooth that will be extracted due to decay."
On days where such an extraction is scheduled, the Clinical Research Unit (CRU) reaches out to the dentist in charge of the procedure, who invites their patient to donate their tooth. If they agree, it is then collected for the Tooth Tissue Bank.
Tooth collection and cleaning: a rigorous process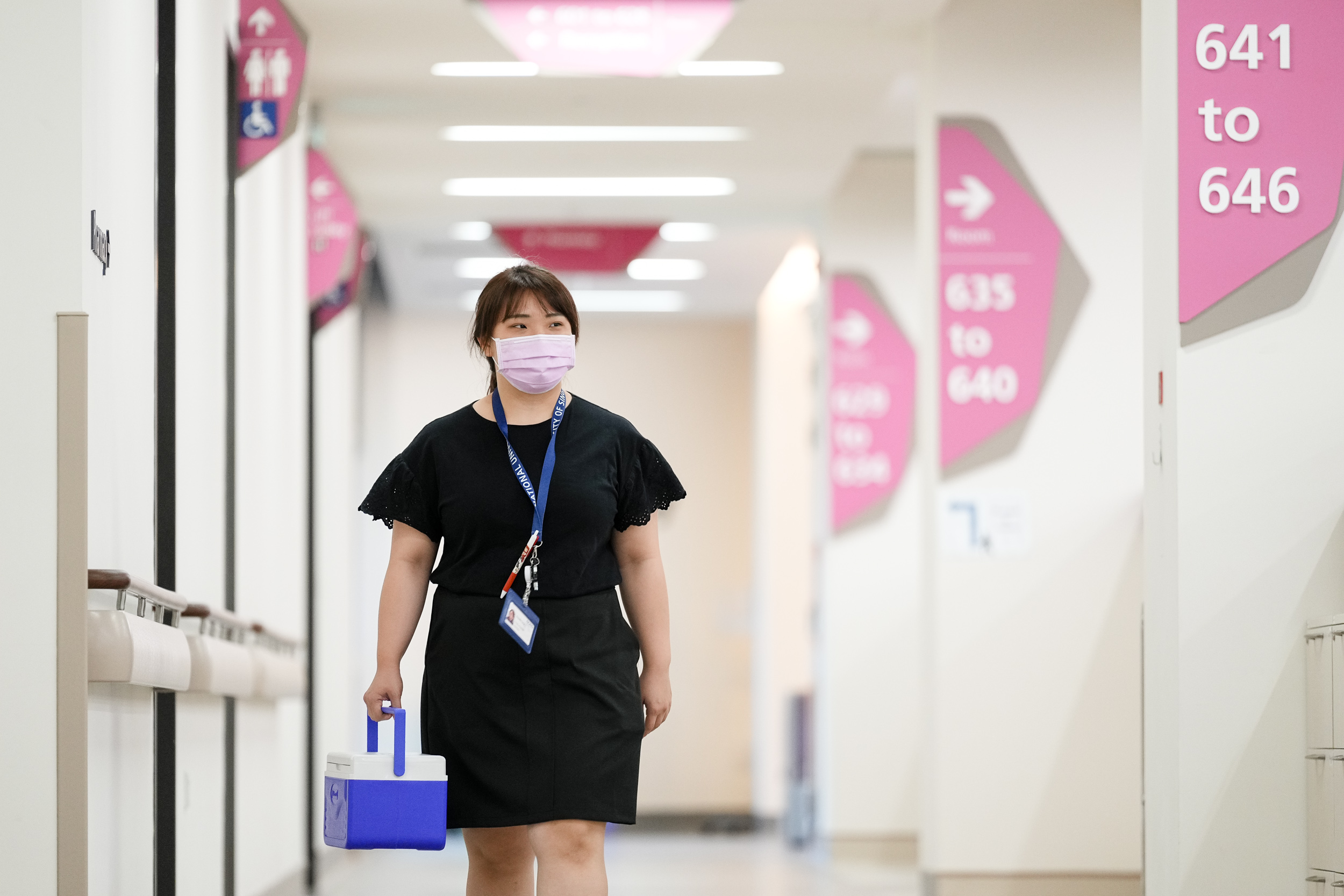 Ms Ong making her rounds of the clinical floor.
Ms Ong Mei Teng is one of CRU's two research coordinators tasked to collect teeth at NUCOHS. The specimens are placed in a solution-filled test tube that's stored in a refrigerator for several days, until it's time for the week's haul to be sorted and cleaned by hand, before being committed to long-term storage.
This manually-intensive process starts with rinsing the teeth in deionised water. Next, Ms Ong and her colleague use a tweezer to remove blood, tartar, plaque and other debris. This may take up to 15 minutes per tooth.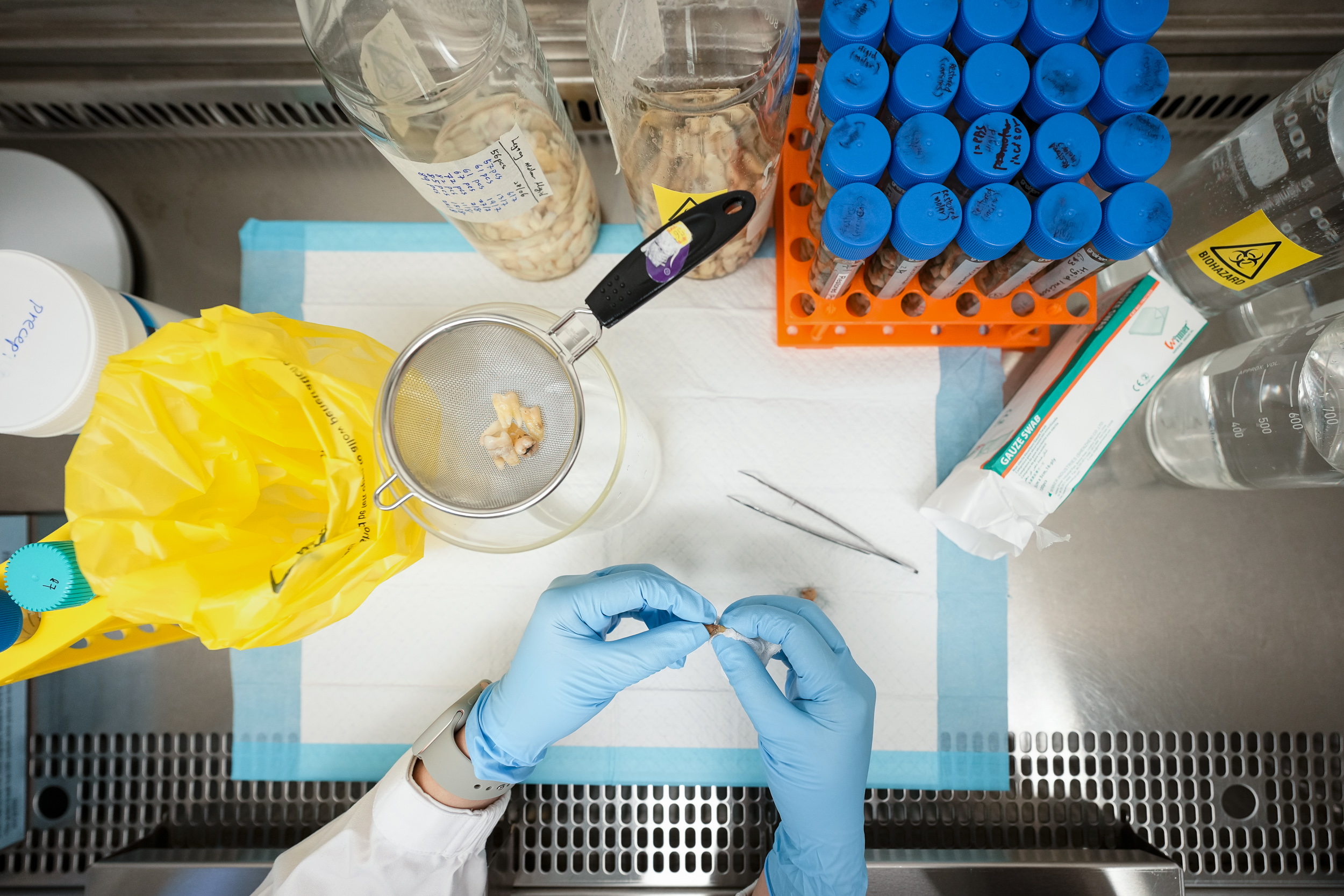 Tooth cleaning in progress.
Teeth are sorted into two main categories after cleaning — higid or restored teeth. The former are perfect or close to perfect specimens which are untarnished by decay or filling.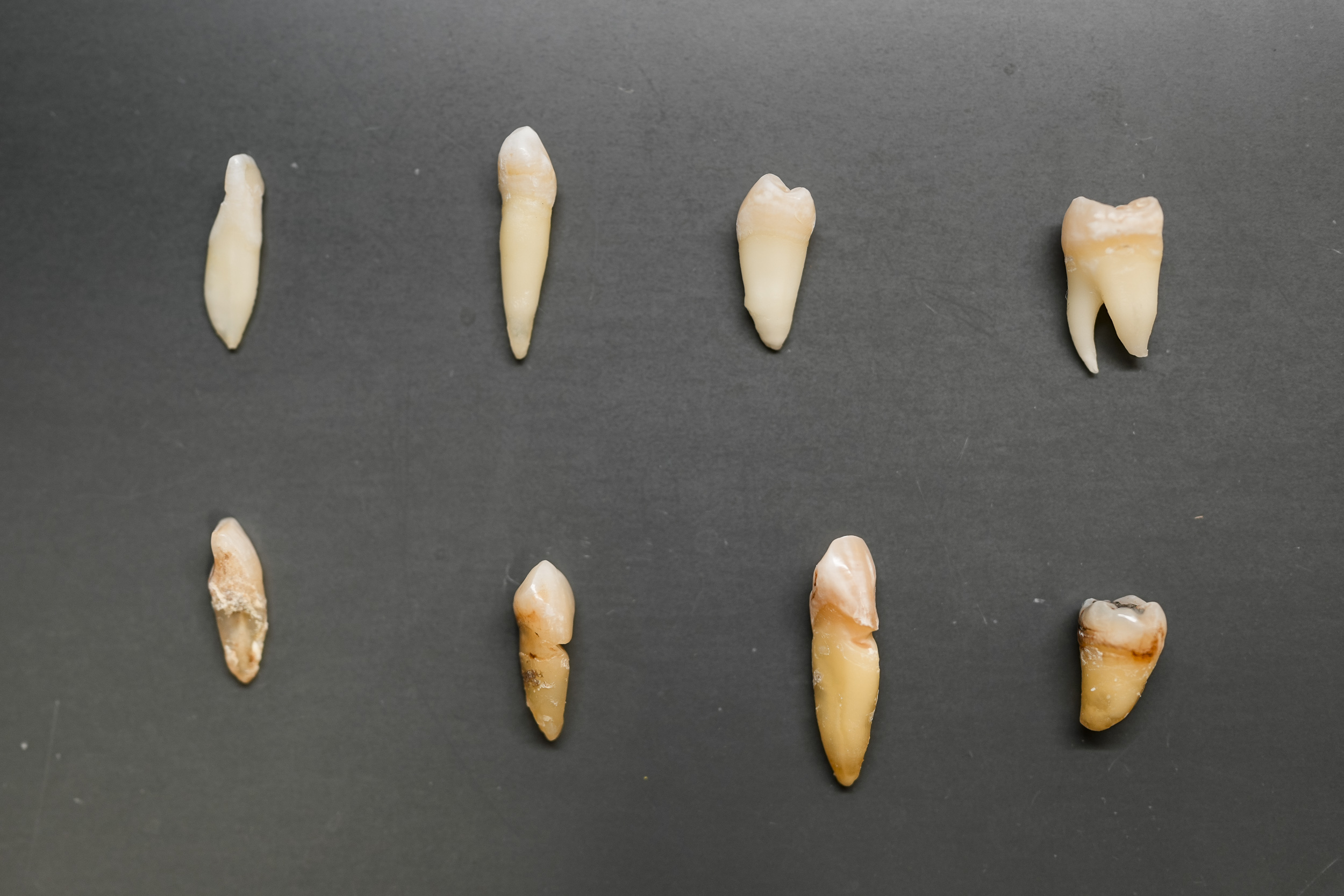 Higid (top row) versus restored teeth (bottom row).
Most of the harvested teeth belong to the latter category, which present varying degrees of decay or are restored with fillings. "Sometimes, we keep carious teeth, which are essentially decayed teeth with no fillings," said Ms Choo Si Yi, Manager of the Tooth Tissue Bank.
"Some scientists might want to test how to better bond restorations with decayed teeth, for instance. There are always new materials being developed and they need to be validated," added Ms Choo. Among her teammates is Clinical Research Coordinator Ms Celeste Tan, the latest member of CRU who has 10 years of experience as a Dental Surgery Assistant.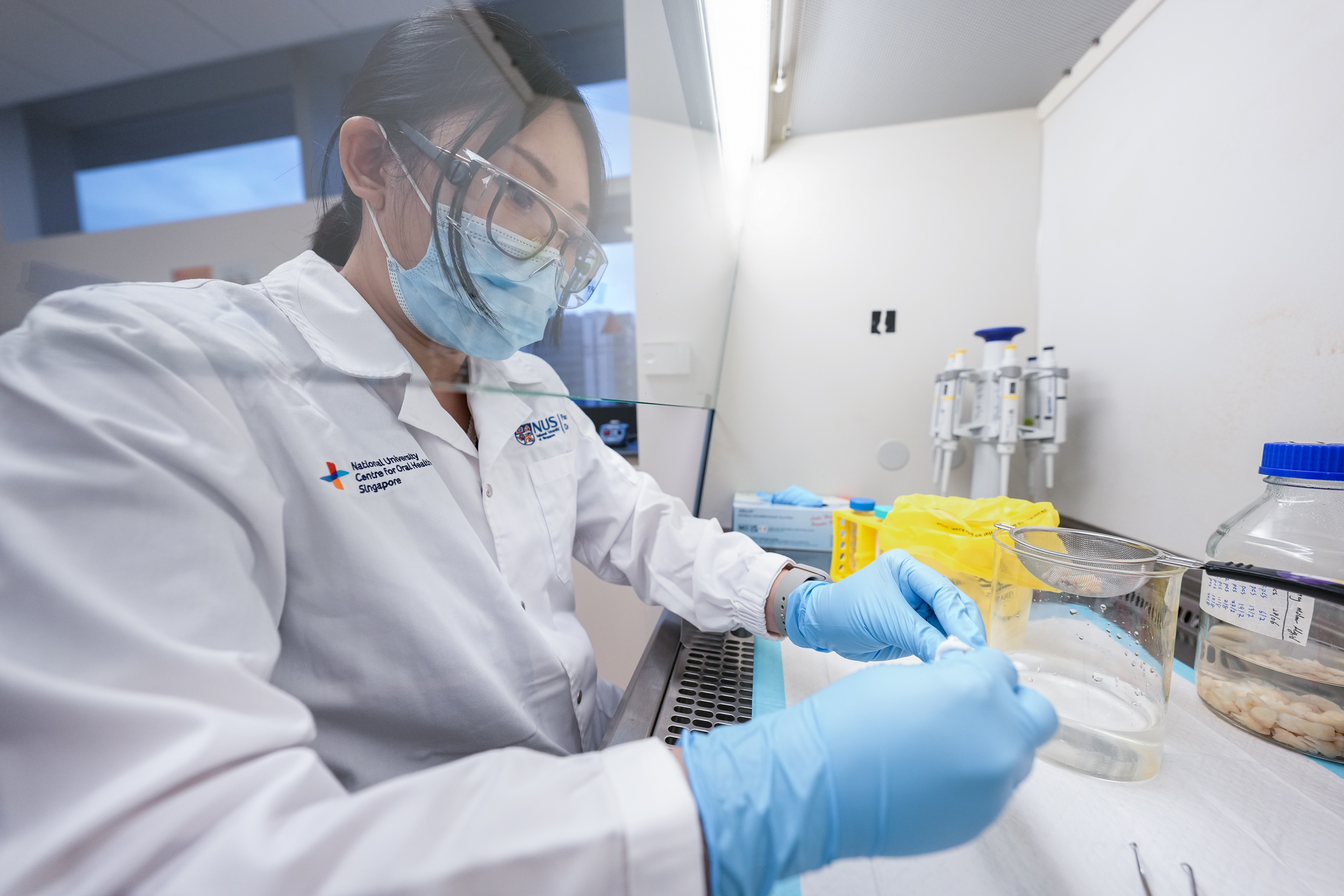 Ms Tan demonstrating the tooth cleaning process.
"I can see how research in dentistry can help patients in the future," said Ms Tan. "Even though it takes a long time, I can see the effects of the research process and how better products can be used to assist patients."
How teeth are processed for research
According to A/Prof Rosa, the Tooth Tissue Bank enables more efficient and streamlined research procedures. If a researcher needs specimens for a project, all they have to do is submit the relevant paperwork. Once approval is granted, the next step is to process the tooth. Teeth, as A/Prof Rosa pointed out, are "fundamentally different".

The tooth samples that are required for research will often need to be further processed to meet the unique requirements and precise measurements for different projects, shared A/Prof Rosa.
Cutting a tooth to specific measurements.
The first step to processing the tooth is to cut it into thin slices using a special machine equipped with a mechanised circular blade that is as sharp as it is fragile. "The tooth is extremely hard. Enamel is the hardest tissue in the body — even harder than bone," explained A/Prof Rosa. "These blades are very sharp and costly; any unexpected vibration during the cutting, and both the sample and blade will be damaged. It takes a lot of training to cut them down to a few millimetres."

The edges are then trimmed so that each resulting tooth slice becomes a tiny, perfect rectangle — perfect for research purposes.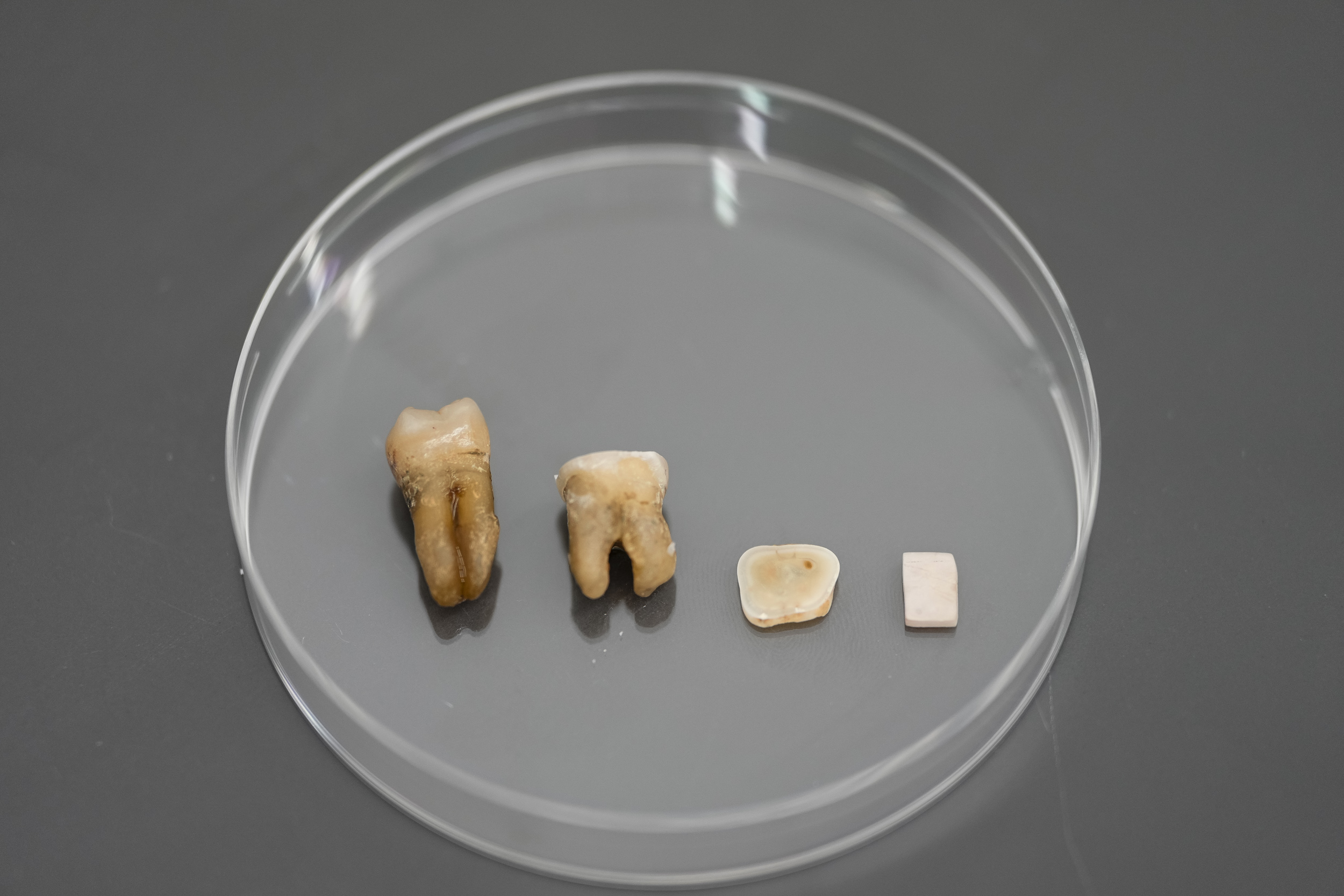 What a tooth looks like at different stages of preparation.
Advancing dental research
A/Prof Rosa is particularly hopeful about the possibility of industry-academia collaboration, outside of NUCOHS. "If you think about companies developing dental materials — or even new toothpastes and toothbrushes — we now have opportunities to collaborate with them and advance the development of dental solutions," he mused.

This is aligned with a shift in demand for dental services: patients now want products that are better, faster-acting and longer lasting. From safer bleaching agents to more resilient filling materials, there are plenty of ideas being thrown around.

But to turn such products into a reality, they need teeth for testing purposes — which the Tooth Tissue Bank could provide. "Singapore is a powerhouse for world-class research," A/Prof Rosa stressed. "We already have the brainpower, so now if we just supply the resources to our people, the impact we can have globally is huge."

Already, the Tooth Tissue Bank is fuelling such cutting-edge research. For instance, A/Prof Rosa has been working on using stem cells from extracted teeth to regenerate tooth pulp, the jelly-like centre of each tooth containing nerves, blood vessels and connective tissue.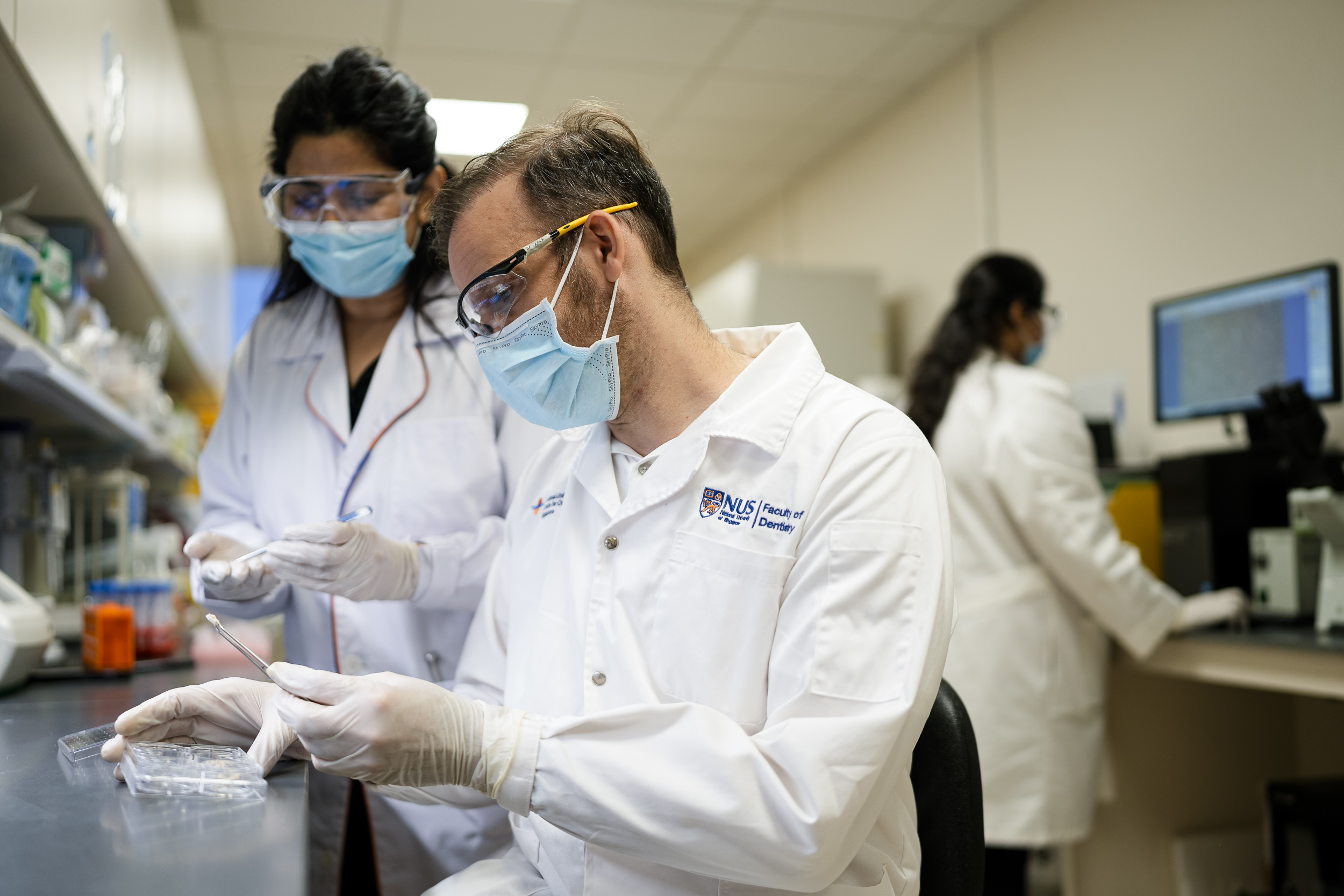 A/Prof Rosa working alongside research assistants in the laboratory.
During a root canal treatment, the dental surgeon removes the pulp and all the blood vessels within the tooth. "It will be brittle, and in many cases, the development of a long and healthy root is not possible." explained A/Prof Rosa.
The concept of pulp regeneration isn't new — it has been around since the early 2010s, with A/Prof Rosa being one of the key players in the field. So far, trials have shown that the technology works, and is scalable with further research and development. But for it to be marketed as a service, it needs to be cheaper, faster and more predictable — the success rate is currently at around 80 per cent for other clinical trials.
"With the tooth tissue bank, I know the next test will start on time because samples are available," he said. "It is just a matter of preparing our dental pulp stem cells, seeding them in the pulp chamber of the teeth provided by the tooth bank, and voilà: The job is done!"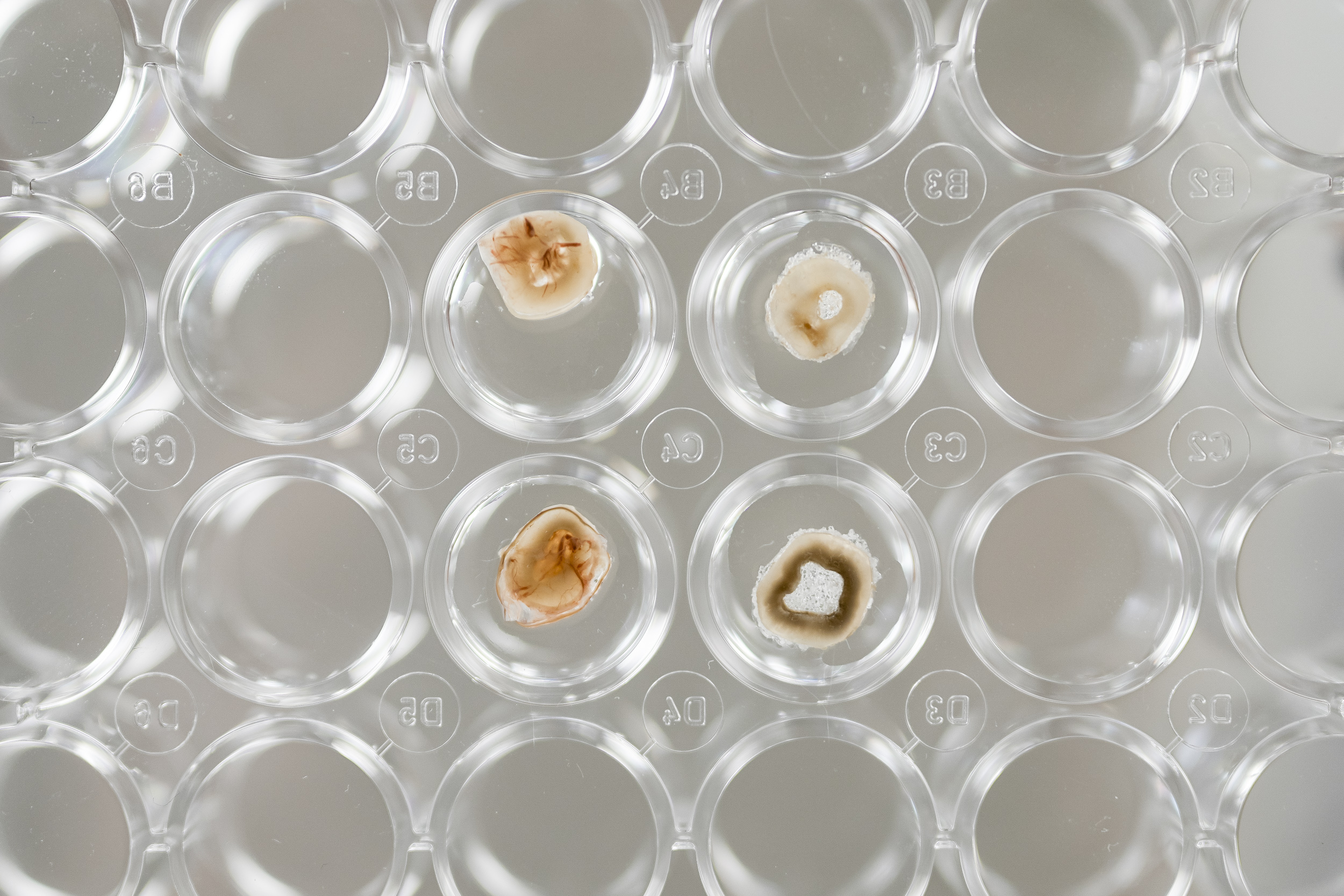 Tissue growth around tooth specimens.
Brimming with possibilities
But he doesn't plan to stop there. For A/Prof Rosa, the Tooth Tissue Bank represents the best in academic and clinical collaboration, with a wealth of applications across both fraternities. For instance, stem cells from teeth are comparable to those extracted from the bone marrow — but they can be easily collected at a much lower cost.

"There's a lot of potential for things like regenerative medicine," A/Prof Rosa shared. "This could be a proxy to study neurogenesis, Parkinson's disease and dementia, among others. It's a whole new world of opportunities and it starts with the tooth!"

And that is why A/Prof Rosa hopes to expand the Bank's collection to soft tissues — generated from stem cells, saliva, perhaps even tumour biopsies. Along with the newly-opened autonomous research centre, ORCHIDS (Oral Care, Health Innovations and Designs Singapore), the Tooth Tissue Bank could emerge as a key player in not just the local dental research scene, but also in oral health and biomedical science.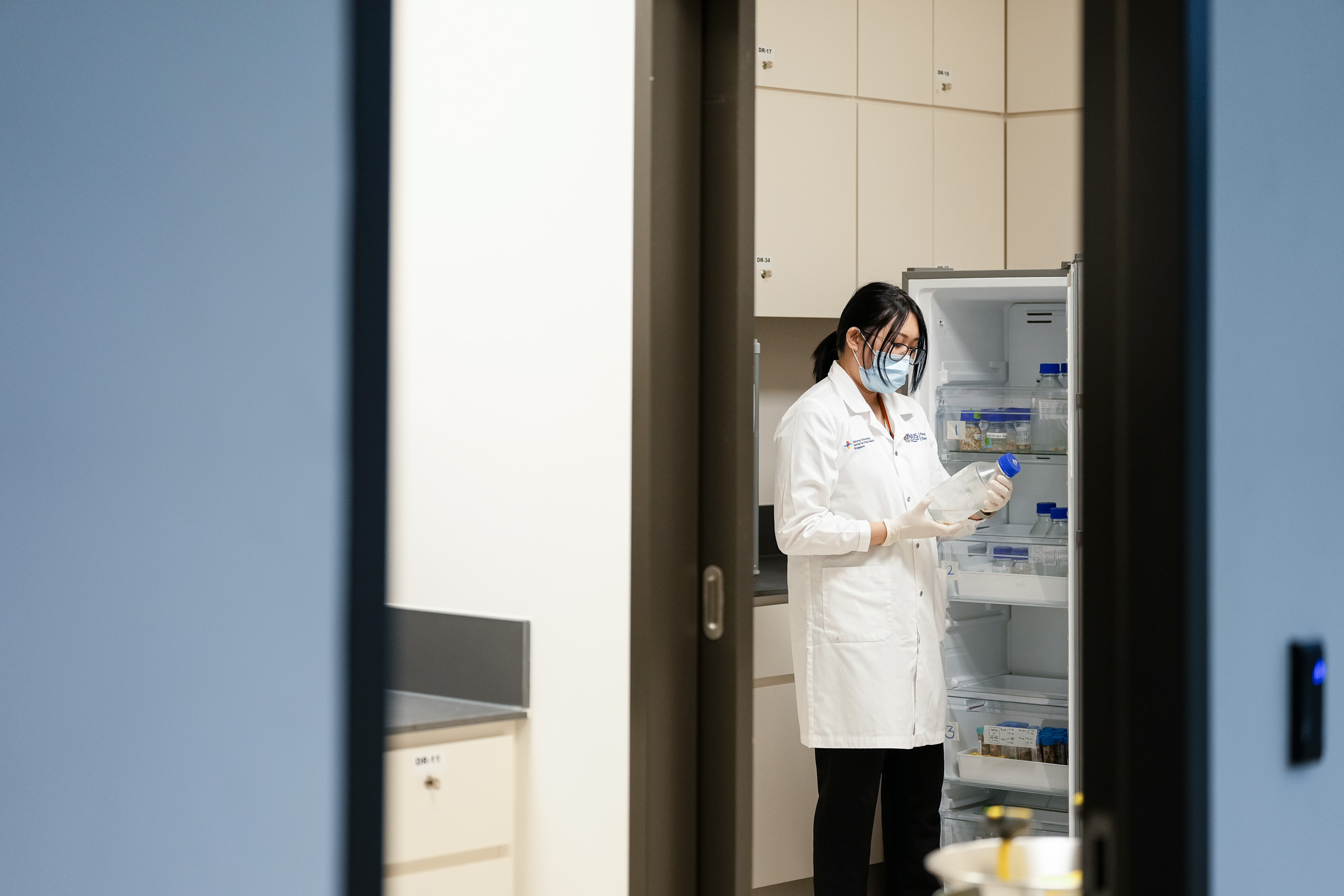 Clinical Research Coordinator Ms Tan checking on the teeth in storage.
"These samples allow us to study and solve not only dental problems, but also push the frontiers of the treatment of systemic diseases and regeneration of different tissues in the body," A/Prof Rosa said. "Once you have these materials, the sky's the limit."
In consultation with A/Prof Vinicius Rosa, Vice Dean (Research), NUS Faculty of Dentistry.