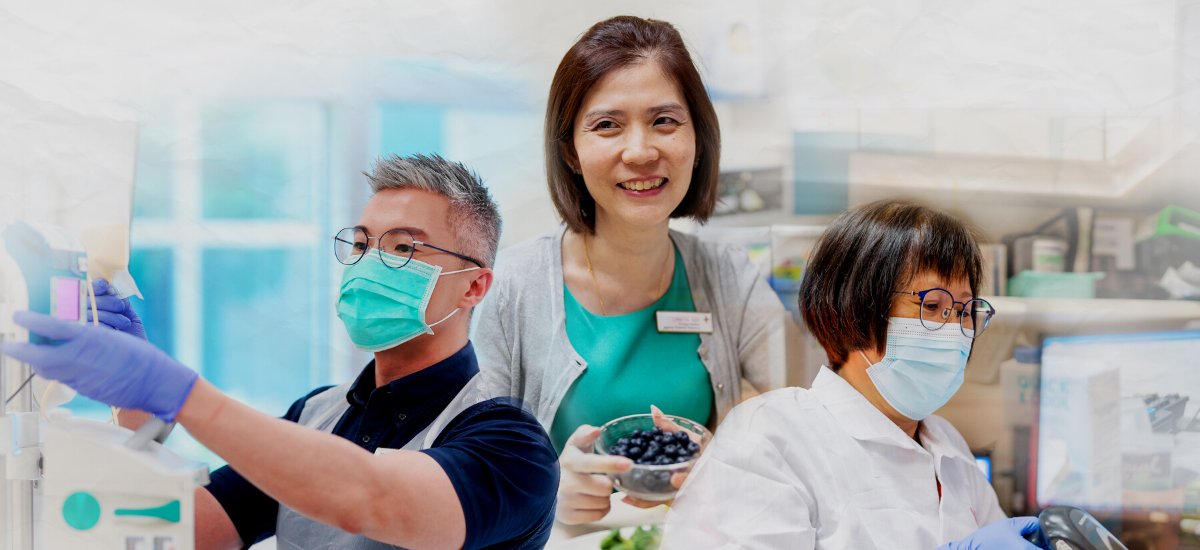 People
Meet the Allied Health heroes making their mark at NUHS
Published on 8 November 2022
We speak to three allied health professionals who have distinguished themselves as experts in their respective fields to find out what makes them tick.
They may not wear capes or possess any superpowers, but there is no doubt that healthcare professionals are heroes of our society.
After all, they work tirelessly to save and better the lives of others, making theirs a noble profession that deserves the highest accolades and appreciation.
But healthcare professionals comprise more than just doctors and nurses. The Allied Health team plays an equally integral role in the healthcare ecosystem, by enhancing the quality of care for our patients, and helping them through the recovery process.
We speak with three outstanding allied health professionals at NUHS to find out what drives them to be successful in their respective fields.
An unwavering commitment to a worthy cause
Susan Lim, Principal Medical Technologist, Laboratory Medicine, National University Hospital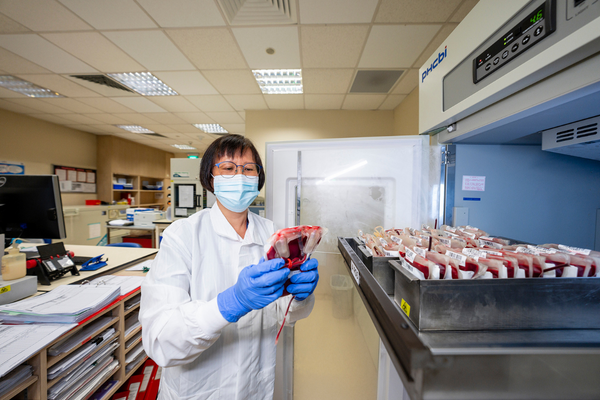 With 28 years of experience in the medical field, Principal Medical Technologist Susan Lim, is a well-respected figure in her area of specialty – Blood Transfusion. Her successes over the years are numerous, but it is not for recognition or medals that drives her to excel.
Instead, it is the knowledge that through her work in the Blood Transfusion Service, she can make a positive impact in the lives of patients, many of whom she does not even get a chance to meet in person.
"Working in Blood Transfusion Service can be challenging at times," Ms Lim admitted. "But it is fulfilling because I know that at the end of the day, I am contributing to the welfare of the patients."
"Even though we do not see patients face to face, our work is important in helping the doctors make informed decisions in treating patients, and we can certainly be proud of what we do."
Indeed, Ms Lim believes strongly in the importance of her profession and takes pride in mentoring the next generation of medical technologists.
To that end, Ms Lim not only spearheaded multiple projects as part of the Blood Usage Committee, but also published more than 20 abstracts, and co-authored at least two reports in international journals. She remains heavily involved in educating senior residents during their weekly study sessions where they are exposed to the technical aspects of transfusion medicine.
"I hope to be able to leave behind the foundation that have been built for the next generation and that they will continue to build on it and bring the lab to greater heights and advancement," Ms Lim said.
One of her most notable achievements was leading NUH Blood Transfusion Service to be accredited by the Association for the Advancement of Blood & Biotherapies (AABB) – a prestigious international recognition for high safety standards in blood transfusion. In so doing, NUH became the only restructured hospital in Singapore to receive the accreditation.
Nonetheless, Ms Lim remains modest about her role as she explained, "It was very much about teamwork. When I raised the proposal to the team, everyone was on-board. It definitely was only possible because all of us came together to work towards a common goal."
Even as Ms Lim approaches retirement, her commitment to her profession remains indefatigable – and that, among many other reasons, is what makes her the allied health heroine she is.
Inspiring a generation of critical thinkers
Charles Lew, Principal Dietitian, Dietetics & Nutrition, Ng Teng Fong General Hospital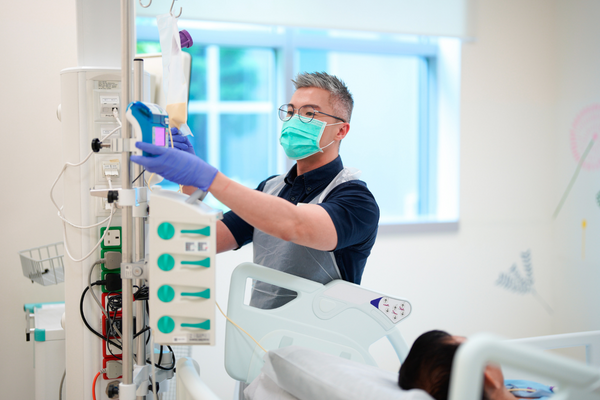 Every decision in a critical care ward, no matter how minute or seemingly innocuous, can mean the difference between life and death.
It is a heavy responsibility to bear, but it is one that is collectively shared among the care team, which comprises doctors, nurses, and other allied health professionals.
And one of the pivotal, but arguably lesser known, roles in an ICU is that of a dietitian.
Working closely with the rest of the medical team, the dietitian's main task is to optimise a critically ill patient's nutritional care – a key part of the patient's recovery process.
For Dr Charles Lew, his goal when providing nutritional care to his critically ill patients is not simply to keep them alive. Rather, he is determined to help each of his patients make as complete a recovery as possible, even after they have been discharged from the ICU.
"It is not enough to keep my ICU patients alive. My end goal is to give them a life that is worth living after they leave the ICU," said Dr Lew. "So I work with my colleagues from various disciplines in helping ICU survivors recover their lives through research and cost-effective multidisciplinary interventions."
With 15 years of experience as a dietitian, Dr Lew knows fully well the importance of research in ensuring the effectiveness of nutrition plans for the patient. "There was prior evidence that patients in critical care were not getting the right nutrition, which hindered their recovery. There is also a lack of research in the area, which prompted me to be more involved on that end," explained Dr Lew.
That is why he has, throughout the years, been heavily involved in critical care nutrition research, and has more than 25 research publications to date.
Dr Lew added, "In the area of critical care, where evidence of nutrition therapy is ever evolving, having the skills to evaluate research findings and modify current nutrition therapy is key. Otherwise, one could perpetually be providing suboptimal care."
Dr Lew is passionate about research and sees it as one of the career tracks for dietitians. "I hope to create a clinician-scientist career path for future generations of dietitians, and have them be leaders within their chosen field of dietetics," shared Dr Lew, who also wears the hat of the co-lead of the Allied Health Research Committee.
Apart from being an internationally recognised researcher in critical care nutrition, Dr Lew is also an active contributor to the growth and development of his profession by being a clinical educator for junior dietitians and interns for the past nine years.
Never one to shy away from sharing his valuable experience and knowledge with others, Dr Lew recently embarked on taking up an adjunct assistant professor position at the Singapore Institute of Technology. There, he builds the curriculum and teaches students from the Dietetics and Nutrition bachelor programme.
"I want students to be sceptical about what they read and have the skills to critically appraise the validity of scientific literature and even nutritional guidelines. Critical thinking is an important skill to hone and the foundation of evidence-based practice."
More than a decade of impeccable service later, Dr Lew continues to challenge the status quo and current practices to find the best way forward to improve patient outcomes, while simultaneously leading a new generation of practitioners along with him on the journey.
Serving from the heart
Lynette Goh, Principal Dietitian, Pioneer Polyclinic, National University Polyclinics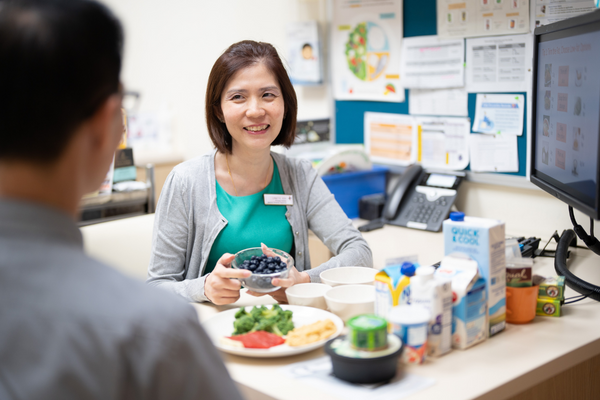 There is a well-known adage that Ms Lynette Goh swears by: you are what you eat.
Backed by 19 years of experience as a dietitian, and having experienced health issues herself, Ms Goh is determined to share the importance of eating right to as many people as possible.
This naturally includes Ms Goh's patients, many of whom have seen their health improve significantly after taking on her advice.
"I sit down with my patients to map out personalised plans for them in detail. This equips them with the information they need when they go back home," revealed Ms Goh. "I feel fulfilled when I can put things into perspective for my patients. Seeing my patients improve brings me the most satisfaction."
However, Ms Goh admits that there are times when it is tough for her to get through to certain patients.
"Sometimes, I meet patients that are more difficult but I try my best to meet them at their point of need," Ms Goh said.
More often than not, Ms Goh is able to convince patients to listen and follow her advice, thanks largely to the emotional connection she strives to establish with each and every one of them.
Elaborating on her approach, Ms Goh explained, "I enjoy helping patients manage their conditions, especially the ones whom I can relate to because I have gone through what they are going through. It gives me joy to be able to share my experience and develop that relationship with my patients."
"It also encourages me when I see that these patients have actually benefited, and their health have improved from my advice. The end goal is to see patients get better, to see their health improve, and to empower them to manage their own conditions."
Given her passion in helping others improve their eating habits, it's no surprise that Ms Goh also looks after the health and well-being of her co-workers. Beyond her clinical work, she is heavily involved in sharing her knowledge and driving health promotion initiatives at her workplace.
"I would also like to be able to impart the skills, knowledge and attitudes to those I interact with at work, in the hope that they will grow and improve, and also to advance the profession."
Ms Susan Lim, Dr Charles Lew and Ms Lynette Goh are recipients of the NUHS Allied Health Excellence Award. The award recognises Allied Health Professionals who have contributed significantly towards NUHS' clinical, research and education missions and produced robust outcomes within their profession.
Click here to find out more about the various Allied Health Professionals.