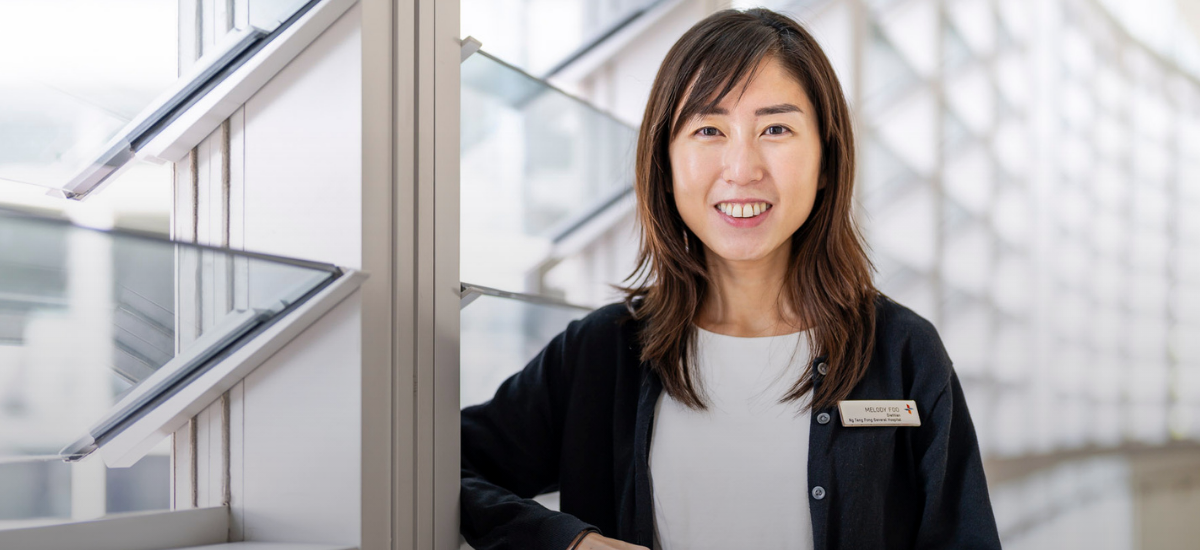 People
Meet the dietitian driving hospital improvement projects for patients
Published on 17 October 2023
Find out how Senior Dietitian Melody Foo's passion for quality improvement has benefitted both patients and colleagues alike at Ng Teng Fong General Hospital.
A typical day for Senior Dietitian Ms Melody Foo at Ng Teng Fong General Hospital (NTFGH) looks something like this: She first starts her morning by reviewing the list of patients under her care, and prioritises them according to the patients' needs.

Ms Foo then proceeds to the hospital wards, where she engages directly with her patients. These one-on-one interactions are more than just routine check-ins; they are opportunities to connect with them on a personal level, and allow her to gain a deeper understanding of how each patient feels and what they need.

With these insights, Ms Foo customises tailored nutritional plans for her patients, many of whom grapple with illnesses that require specific dietary modifications.

While these essential patient-focused tasks often occupy a significant portion of Ms Foo's workday, she still makes it a point to dedicate time for quality improvement projects (QIPs) within the hospital.

These projects may increase Ms Foo's workload, but they are added responsibilities that she is happy to take on.

"I embark on all these extra projects because I feel it's very important to continuously innovate and continuously challenge the status quo. By doing that, we can potentially evaluate and generate new solutions to improve patient outcomes. It also provides a way to boost the productivity of current processes," Ms Foo explained.

"So even though I'm busy with administrative work or seeing patients, I'm driven to work on more QIPs in the hope that it can lead to our patients consistently receiving the highest quality of care."

Since joining NTFGH over seven years ago, Ms Foo has not only actively participated in numerous successful QIPs, but has also led several of them.

But she still clearly remembers her first project, which involved improving the workflow for referring stroke patients with swallowing difficulties who are on textured modified diets to dietitians. According to studies, such patients face a higher risk of malnutrition compared to others.

Referring these patients to a dietitian is therefore important to optimise their nutritional intake, promote recovery, and enhance their overall health outcomes.

"My first QIP involved collaborating with speech therapists and doctors to reduce the risk of malnutrition for patients on texture modified diets," Ms Foo, who spearheaded the project, recounted. "We realised that not all of these patients were being referred to dietitians.

"After implementing enhancements, we achieved a 100% referral rate to dietitians. This experience was incredibly fulfilling, and it sparked my interest in pursuing more QIPs. After all, not only do I learn when I work on these projects, but they also benefit patients, making it a win-win situation."

Another QIP that Ms Foo is particularly proud of was the development of an algorithm to help patients when they transition from tube feeding to oral feeding.
Ms Foo, who worked closely with speech therapists and nurses to develop the algorithm, explained, "When patients start transitional feeding by a speech therapist before being seen by a dietitian, inconsistencies in feeding practices can arise potentially leading to complications for patients. For instance, when a patient is simultaneously tube-fed and fed a full meal orally, there's a risk of overfeeding, which may result in vomiting.

"Therefore, we devised an algorithm to ensure a safe and consistent feeding process for patients who have just commenced transitional feeding."
Nonetheless, Ms Foo acknowledges that implementing QIPs does come with its own set of challenges.

One of the primary hurdles that QIPs often encounter is securing approval from the relevant stakeholders. Ms Foo elaborated, "It's very important to get the buy-in from the stakeholders, because you need to work with them, as a team, to come up with the best solutions.

"What I usually do is have a meeting with these stakeholders, where I'll present to them the evidence on why improvements on a particular issue are needed, and how it can benefit patients."

Ms Foo, however, admits that it can be initially daunting to start a QIP.

"Sometimes you may be a bit scared, or second guess your idea, or think that your colleagues won't support it," she said. "But my advice is to be brave and just initiate the idea, because you won't know how it'll end up until you try.
"Maybe you can bring up the idea to your supervisors first and discuss with them to see if it's a feasible project. Don't be afraid to speak out, because then there will never be any improvements made."
Perseverance and teamwork are also key factors that significantly increase the success of a project from its implementation to achieving positive outcomes.
"There are always going to be ups-and-downs in every project," Ms Foo shared. "The key thing is not to give up. For one of my QIPs, for example, we had to go through three cycles of change to meet our aims.

"So yes, it's not always a smooth journey, but perseverance is key. Effective communication, teamwork, and mutual respect also play a significant role, especially within the QIP team and when dealing with stakeholders."
In consultation with Melody Foo, Senior Dietitian, NTFGH