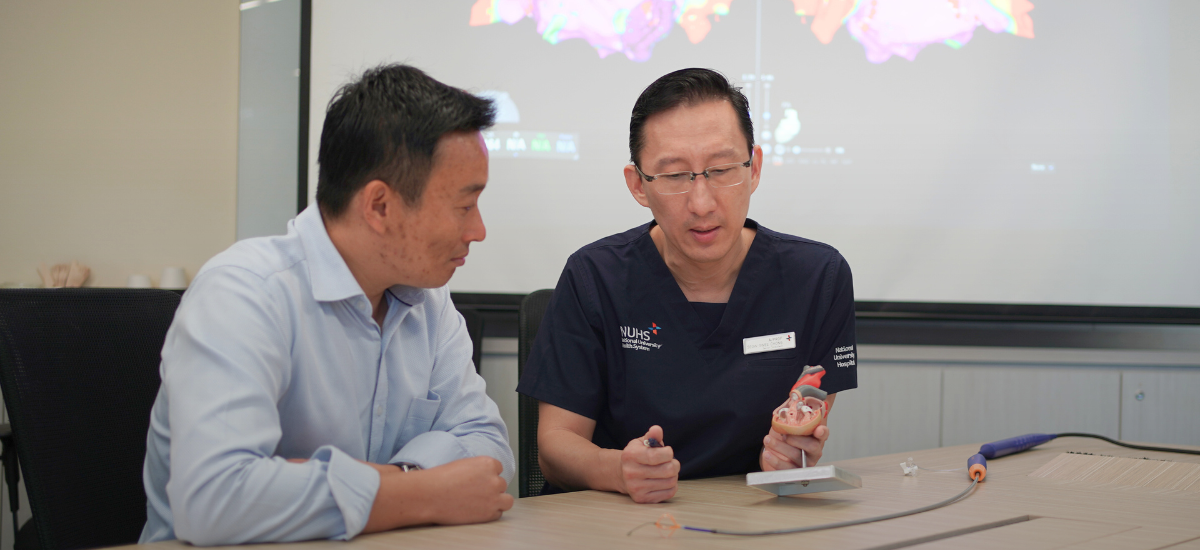 News
NUHCS rolls out safer treatment for common heart rhythm disorder
Published on 27 June 2023
A new and safer technique called pulsed field ablation (PFA) can treat patients suffering from atrial fibrillation – a heart rhythm disorder – without causing collateral damage to their body.
It was nearly five years ago when Mr Zhang Feng first felt his heart palpitating abnormally.

The palpitations subsided within half a minute, and the then 41-year-old, who had always led an active lifestyle, initially thought nothing of the incident.

Not long after, however, Mr Zhang's heart palpitations occurred again, and again, repeatedly.

Each time it occurred, the palpitations would last longer, to the point where it would take over 30 minutes for his heart rate to go back to normal.

Mr Zhang's symptoms worsened after contracting COVID-19 – light physical activities like climbing the stairs, or doing housework, would leave him breathless.

Worried for his health, Mr Zhang finally decided to see a doctor. Following an electrocardiogram (ECG), he was diagnosed with atrial fibrillation (AF), a heart rhythm disorder.

This condition is the most common heart rhythm disorder in the world and affects 2.6% of men and 0.6% of women in Singapore. If left untreated, it can lead to serious complications such as stroke, heart failure, and even death.

While Mr Zhang was initially prescribed medication to manage his condition, he was keen to explore more permanent treatments.
"I didn't want to have to take medication my whole life, as I'm concerned about the effects it might have on my body in the long-term," he said. "It was also important to me to be able to go back to exercising as per normal. That is why I wanted a more permanent solution to my condition."

Mr Zhang finally got his wish in January this year.

After consulting with Dr Seow Swee-Chong, Director of Cardiac Electrophysiology and Pacing, and Senior Consultant in the Department of Cardiology, National University Heart Centre, Singapore (NUHCS), he decided to undergo a new procedure known as pulsed field ablation (PFA) to treat his AF.

Traditionally, patients with AF are treated with thermal-based ablation, which uses either intense heat or cold to scar tissue in the heart, thus blocking the electrical conduction that causes heart rhythm abnormalities.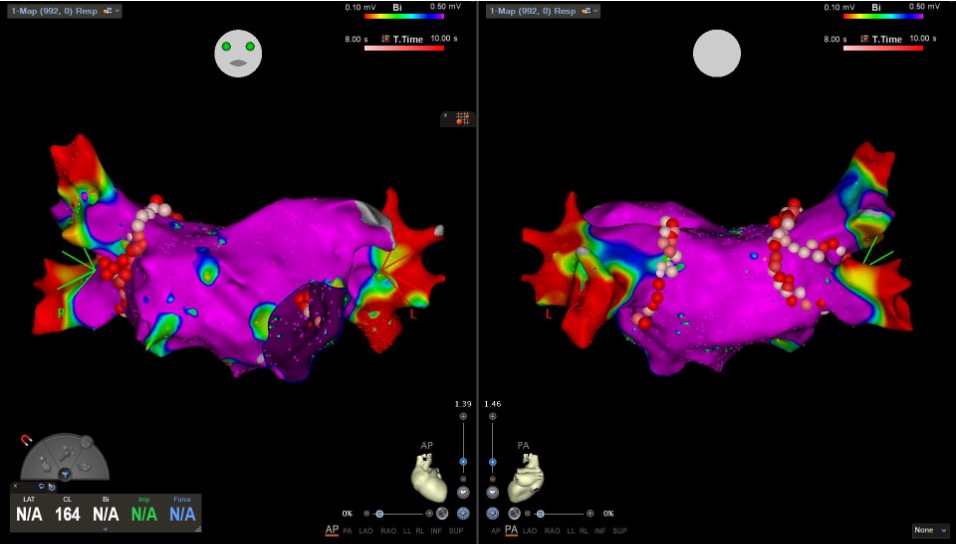 However, there are several risks commonly associated with thermal-based ablation techniques.

"The main problem with thermal based ablation methods is that it can cause collateral damage to structures near the targeted tissue," Dr Seow elaborated.

"For example, it can cause injury to the pulmonary veins, breathing (phrenic) nerves, or vagal nerves. In rare instances, it can even result in injury to the oesophagus (atrio-oesophageal fistula), which is a serious condition that can cause stroke or even death."
The PFA technique, however, can target the specific tissue to be scarred, which significantly reduces the chances of collateral damage.

"Multiple studies comparing PFA to thermal-based ablation have shown similar success rates in terms of outcomes," Dr Seow, who is also Adjunct Associate Professor at the Yong Loo Lin School of Medicine, National University of Singapore (NUS Medicine), said.

"However, the PFA technique has been found to be much safer, with no reported cases of collateral damage so far. In comparison, collateral damage occurs in about 2% to 3% of thermal-based ablation cases.

"The scarring of tissue for PFA is also more homogenous, with more predictable outcomes, and without compromising efficacy. In addition, PFA procedures are typically completed within two hours, while thermal-based ablation can take anywhere from three to four hours."
There are, however, certain instances where a second PFA procedure is required.

"Sometimes, these scarred tissues are just injured, and don't die. So, when they recover, it can cause a recurrence of the condition," explained Dr Seow.

"We usually give a wait time of three months for things to settle down after the first PFA, before determining whether a second procedure is needed. But if the patient is very symptomatic, then we may choose to do the second procedure earlier."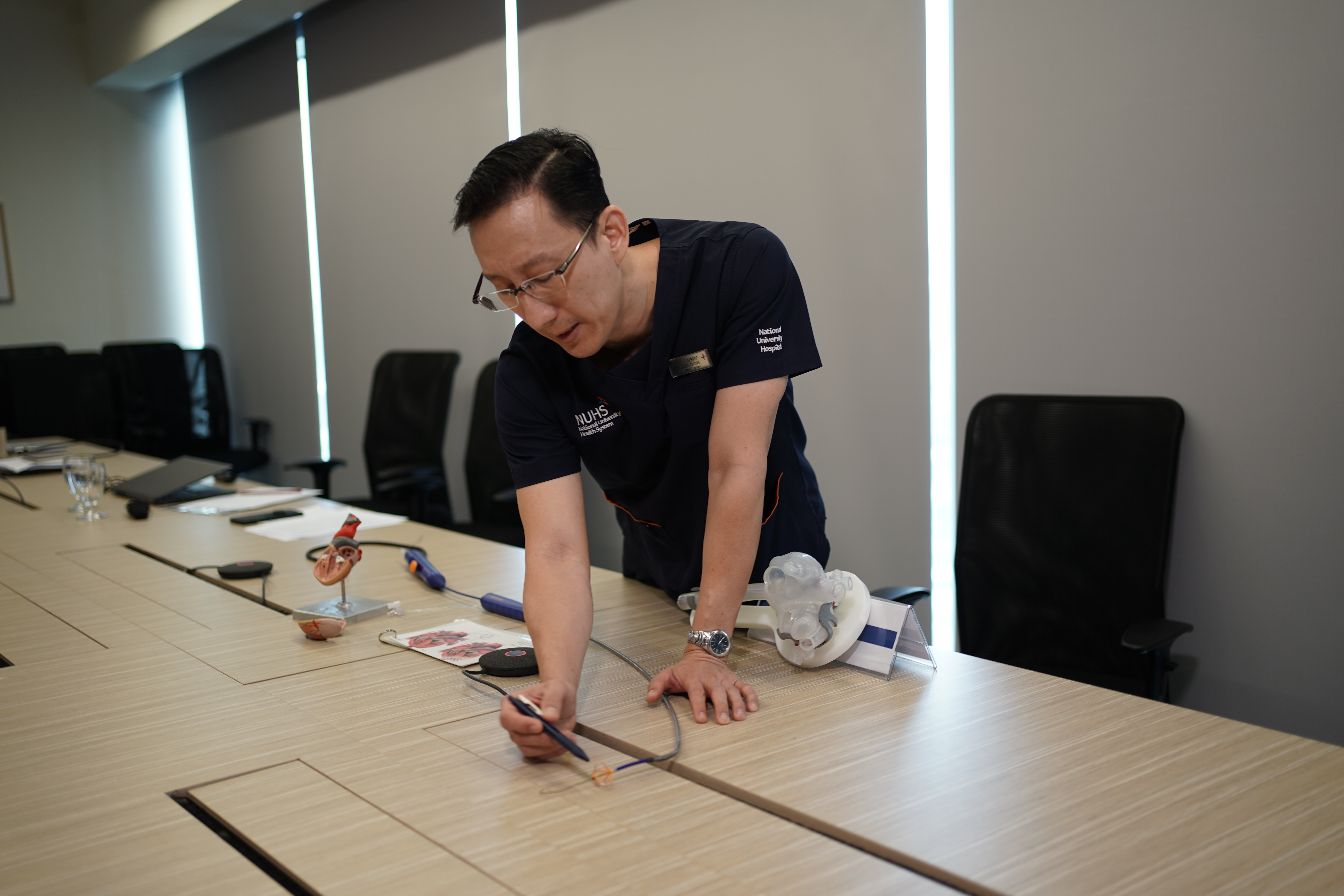 Mr Zhang revealed that safety was indeed a key consideration in his decision to opt for the PFA technique, which is also currently being used in Europe, Australia, and the United States.

"I was considering between the two treatments, but eventually went with PFA as it appeared to be safer," Mr Zhang, who became the first patient at NUHCS to receive PFA, said.

Following the procedure, Mr Zhang no longer experiences AF, and has resumed his regular exercises.

"Almost immediately after the surgery, I felt much lighter, and my heart was beating comfortably," Mr Zhang, who continues to monitor his heart health closely with the specialists at NUHCS, shared.

"It's a huge relief to have got this treated, and I'm thankful to be able to have my life almost back to normal again."
In consultation with Dr Seow Swee-Chong, Director of Cardiac Electrophysiology and Pacing, and Senior Consultant in the Department of Cardiology, NUHCS