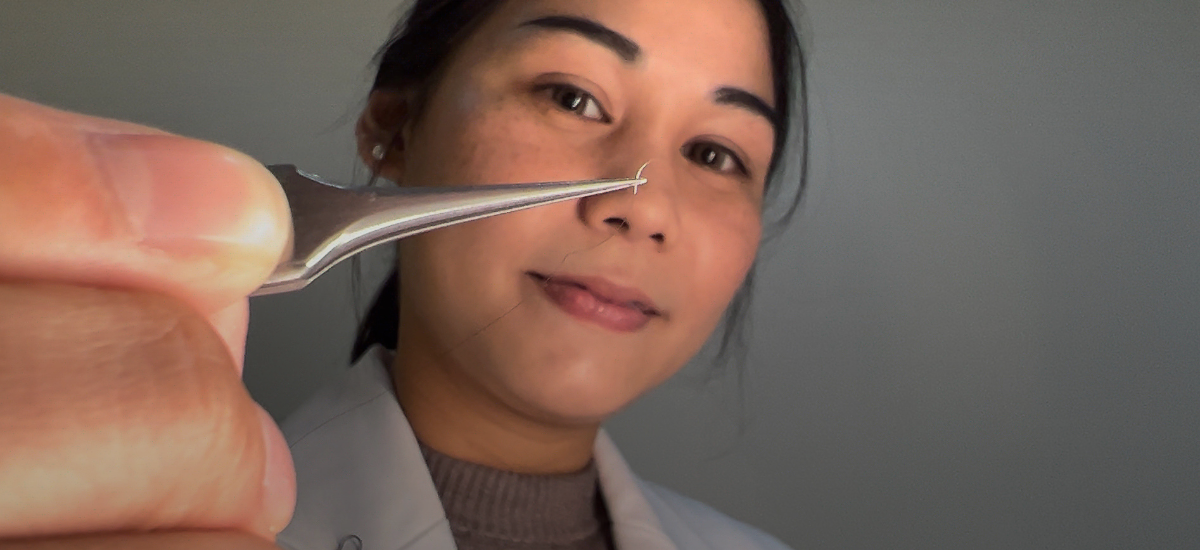 People
Teaching and learning the art of microsurgery
Published on 10 April 2023
Meet the only microsurgery instructor in NUHS, Ms Siti Khadijah, who teaches healthcare professionals from all over the world about the art of microsurgery.
Imagine having to work with a microsurgery needle that is just 0.5mm in diameter – no thicker than a pencil lead – for hours on end.
It is a delicate and challenging task that can frustrate the impatient, confound the unfocused, and elude those with an unsteady hand.
But for Ms Siti Khadijah Mohd Yusoff, using a microsurgery needle comes almost second nature.
In fact, Ms Khadijah's expertise with microsurgery needles is so remarkable that healthcare professionals, including surgeons, from all around the world seek her out to learn from her.

It may therefore surprise you to learn that Ms Khadijah is not a clinician. She, however, holds the distinction of being the only microsurgery instructor in National University Health System (NUHS).

"Knowing that this role is unique in NUHS makes it feel a bit more special to me," said the Technical Officer from National University Hospital's (NUH) Hand & Reconstructive Microsurgery department.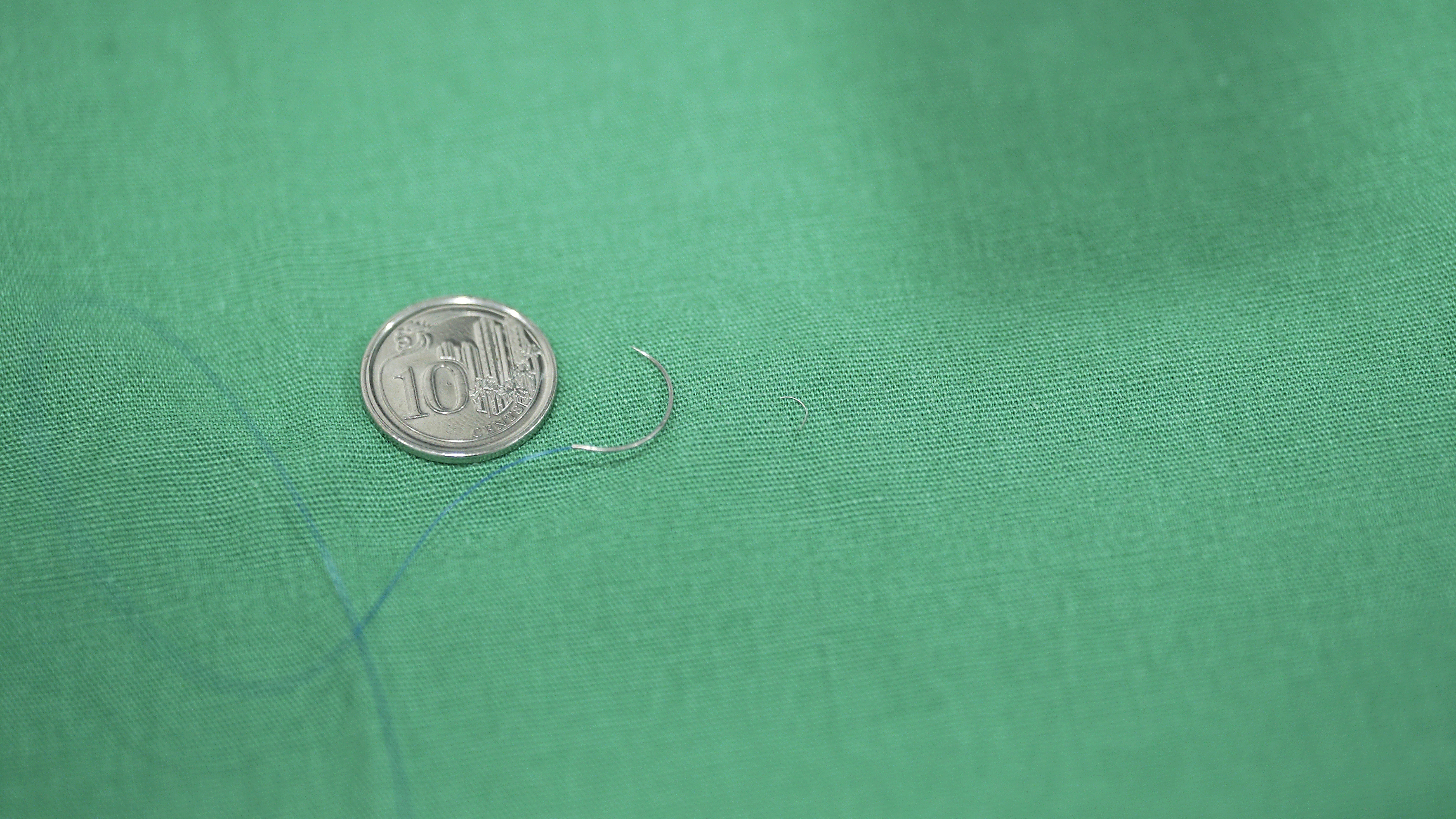 "With my background as a skating coach, I'm used to teaching others, and I've got the passion for it as well. I feel really encouraged whenever someone leaves our laboratory with the skills and confidence to do microsurgery."

However, not all of her students have the aptitude to master the subtle art of microsurgery.

"Microsurgery is quite intense, and it requires a lot of focus and patience. Having to practise it for eight to nine hours during the course is naturally tiring. In fact, some students get so frustrated, especially when they can't get the basics right, that they walk out of the class," Ms Khadijah recounted with a laugh.

"You have to be patient, take one step at a time. If you are too fast, you will tremble under the microscope. If you are too slow, you will take very long to finish…and you might start to feel discouraged.

"But I always try to encourage the students and tell them that it's okay even if they do not get it right at the start. It's a matter of time and practice, but what's important is that they don't give up."

Unlike other surgeries, microsurgeries – which involve operating on very small tubular structures that can be difficult to see with the naked eye, such as blood vessels, nerves, or lymphatics – are usually performed under a microscope.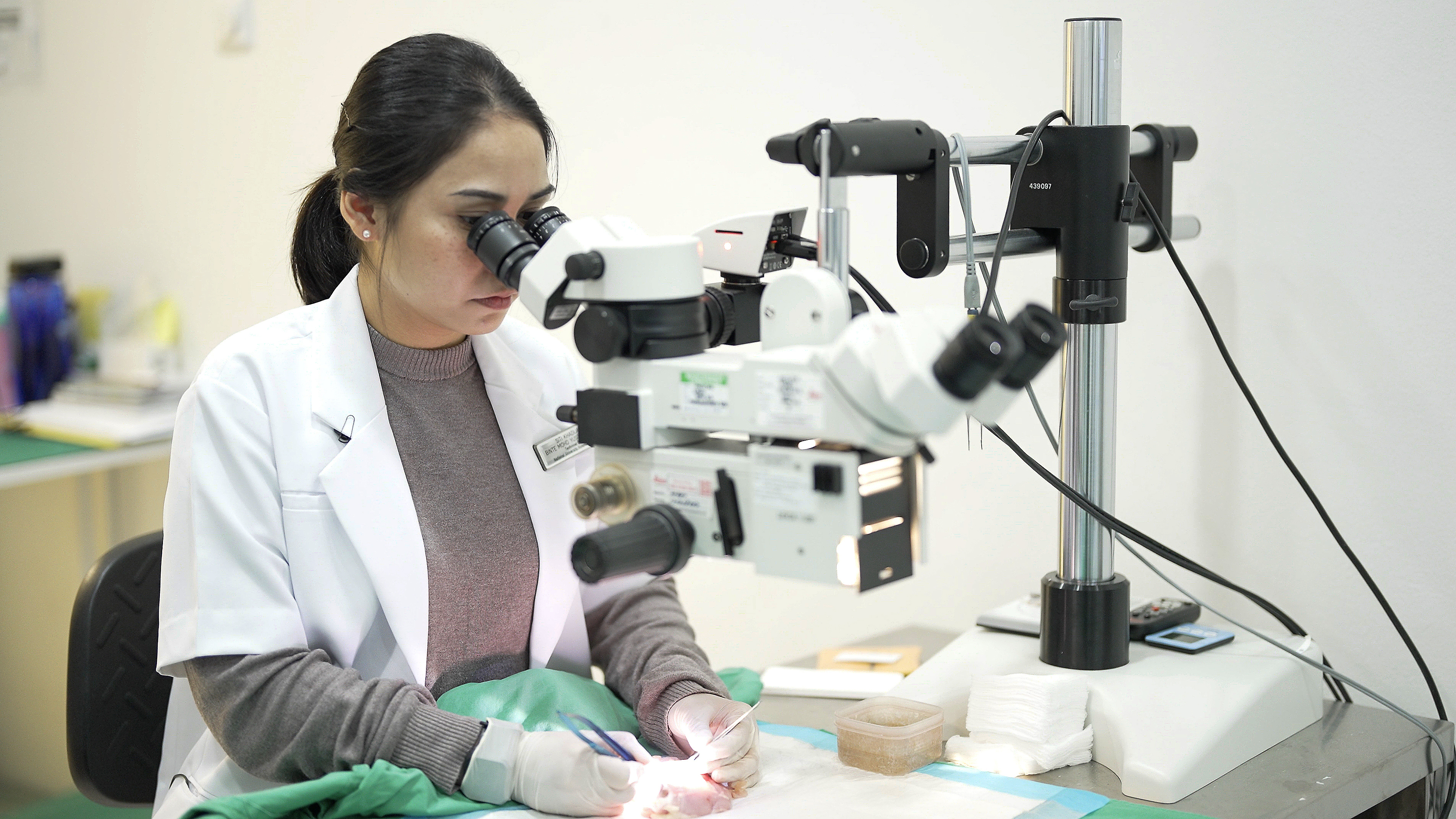 But using a microscope poses its own unique set of challenges, as Ms Khadijah explained, "Looking through a microscope is not easy, as firstly, you must have binocular vision (using both eyes to see a single, three-dimensional image). If not, when you look in the microscope, you'll see two images, and you won't be able to focus on the object.

"You must also have the right posture when using the microscope, or you'll get tired easily, and your body might start to ache after a while."

A key technique that Ms Khadijah teaches in her course is that of anastomosis, which in layman's terms, refers to the surgical connection of two structures in the body.
Her students will usually first practise performing anastomosis on life-like vessels made out of latex, chicken thighs, before eventually moving on to live, anaesthetised small animals.
One issue that many participants face, however, is that they often do not have the chance to practise their microsurgery skills once the course is over.

That is why Ms Khadijah and her team at the Hand & Reconstructive Microsurgery department are developing 'Micro-in-a-box' – a portable toolbox which contains the necessary instruments to allow participants to practise their suturing wherever they are.

"The idea for this [Micro-in-a-box] came about because many participants enjoy the course and want to continue practising their microsurgery skills in their free time," said Ms Khadijah.
"But many of them don't have that opportunity to do so, and if you don't practise, you eventually will lose the skill. But with Micro-in-a-box, they will have all the tools they need to continue practising, and we designed it such that it's convenient to bring around as well."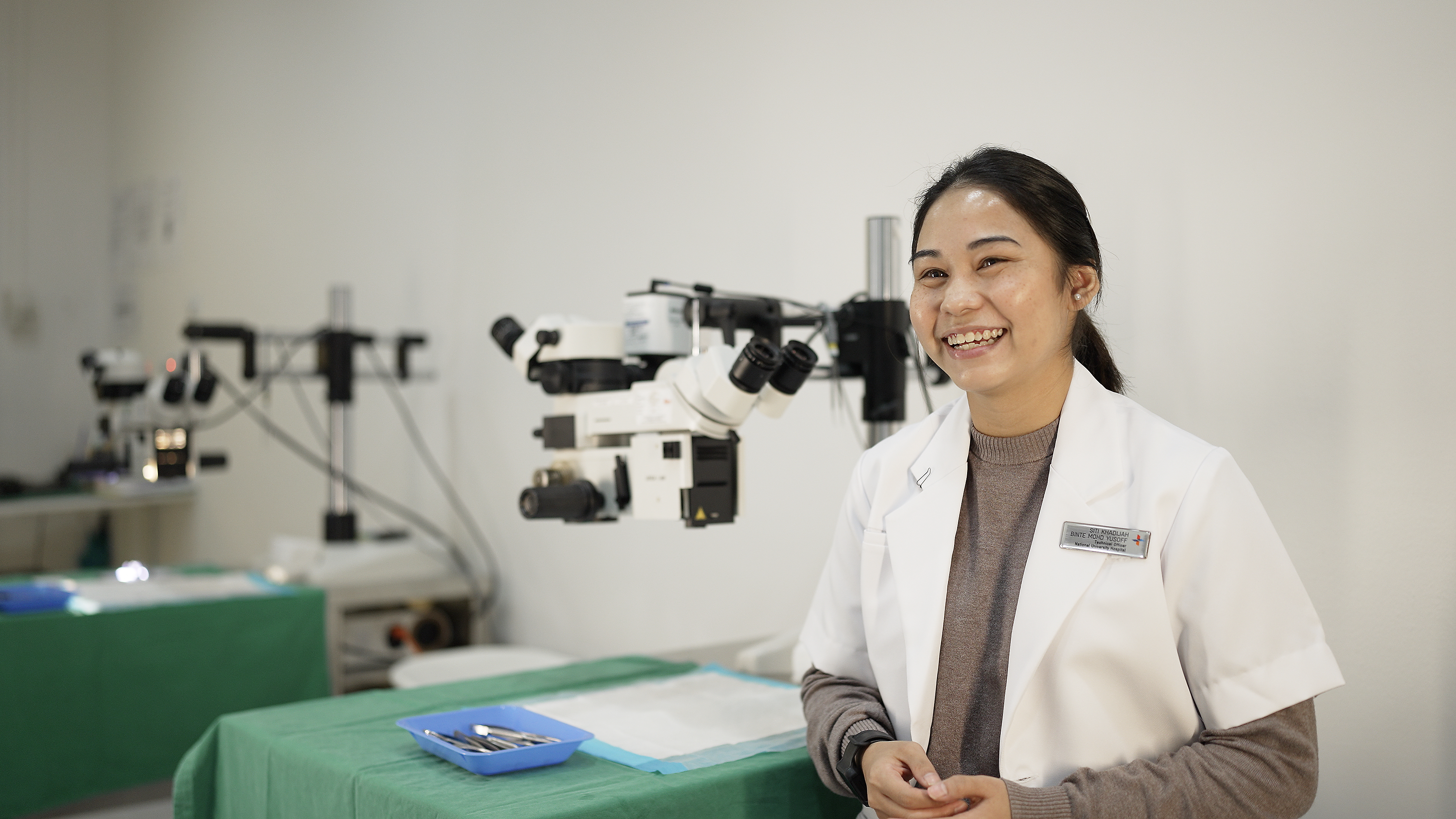 Now into her 11th year as a microsurgery instructor, Ms Khadijah remains as passionate about her job as ever, and continues to find meaning in helping others develop their microsurgery skills.

"I'm a very hands-on person, I don't like a deskbound job. I prefer moving around, and this job requires me to do that," Ms Khadijah said.

"I like that I get to meet different people from all over the world, and I feel a sense of pride when surgeons who have finished the course go into the operating theatre to perform microsurgery.

"Most of them even come back to thank me for teaching them! More importantly, I feel happy and find it meaningful to know that a patient's life has been improved because of the skills I've imparted. That gives me the motivation to keep doing what I do."
In consultation with Ms Siti Khadijah Mohd Yusoff, Technical Officer, Department of Hand and Reconstructive Microsurgery​, NUH.