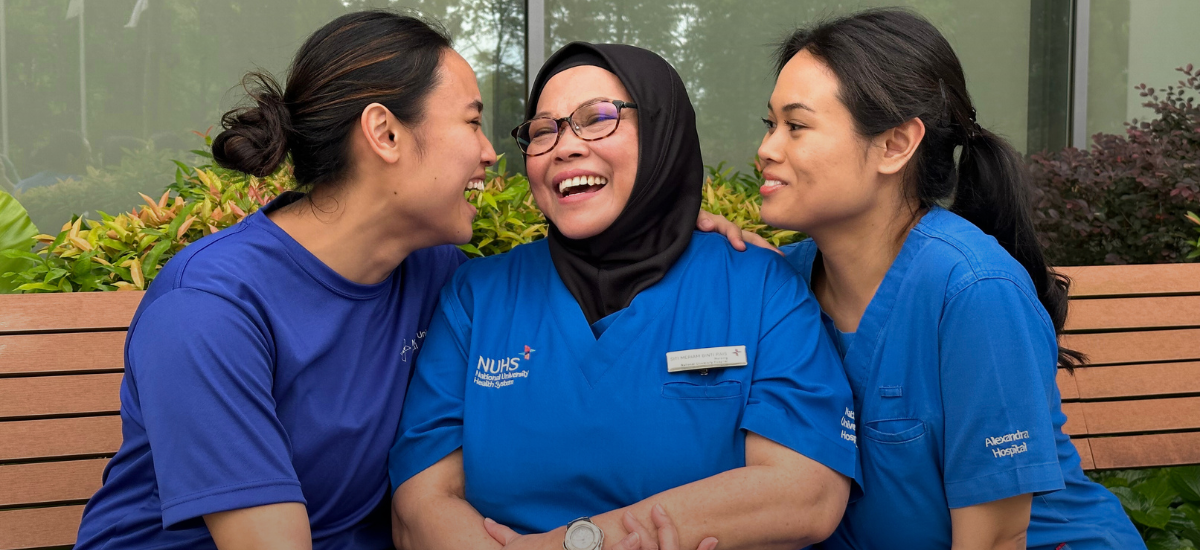 People
The nurse who inspired her daughters to follow in her footsteps
Published on 9 August 2023
Find out how Ms Siti Meriam Binti Rais, a Senior Nurse Manager at National University Hospital (NUH), inspired her two daughters to pursue a nursing career.
Imagine being only 12 years old and confronted with the distressing sight of your diabetic grandmother lying motionless on the floor, unresponsive to the world around her.

In that moment, how would you feel? Panicked? Helpless? Scared?

This was precisely how Ms Nurin Nayli Binte Abdul Halim felt when she encountered this scenario a decade ago.

While Ms Nayli found herself frozen in place, her mother, National University Hospital (NUH) Senior Nurse Manager Siti Meriam Binti Rais, sprang into action to attend to her grandmother, who had fainted due to hypoglycaemia.

Observing her mother administer treatment, Ms Nayli couldn't help but be awestruck by how skilfully and confidently she was handling the situation.

Urgent, yet calm. Swift, yet systematic. Decisive, yet gentle.

It was a response befitting of an accomplished and experienced nurse who has worked at NUH since its inception in 1985. More importantly, it left an indelible impact on Ms Nayli.

"My mother knew immediately what to do and acted without hesitation," Ms Nayli recounted. "Seeing how she took such great care of my grandmother and helped her regain consciousness was a 'wow' moment for me."

Ms Nayli did not know it at the time, but that incident sowed the initial seeds for her journey into nursing.

Today, as a Staff Nurse at the geriatric ward in Alexandra Hospital (AH), Ms Nayli acknowledges that it was her mother who inspired her decision to join the nursing profession.

"I always found it incredible how driven, hardworking, and dedicated my mum is as a nurse," Ms Nayli said. "She's also a leader at work, and it made me want to be like her one day as well.

"But what really stood out throughout my upbringing was how my mother always made me feel safe and assured when I'm with her. I can imagine that's how her patients feel when she takes care of them, and I want to bring that sort of comfort to my patients as well.
"My mother also always spoke about the fulfilment she got from being able to help people get better, and that's something I wanted to experience myself. So yes, I eventually chose to become a nurse because of my mum."

Another nurse in the family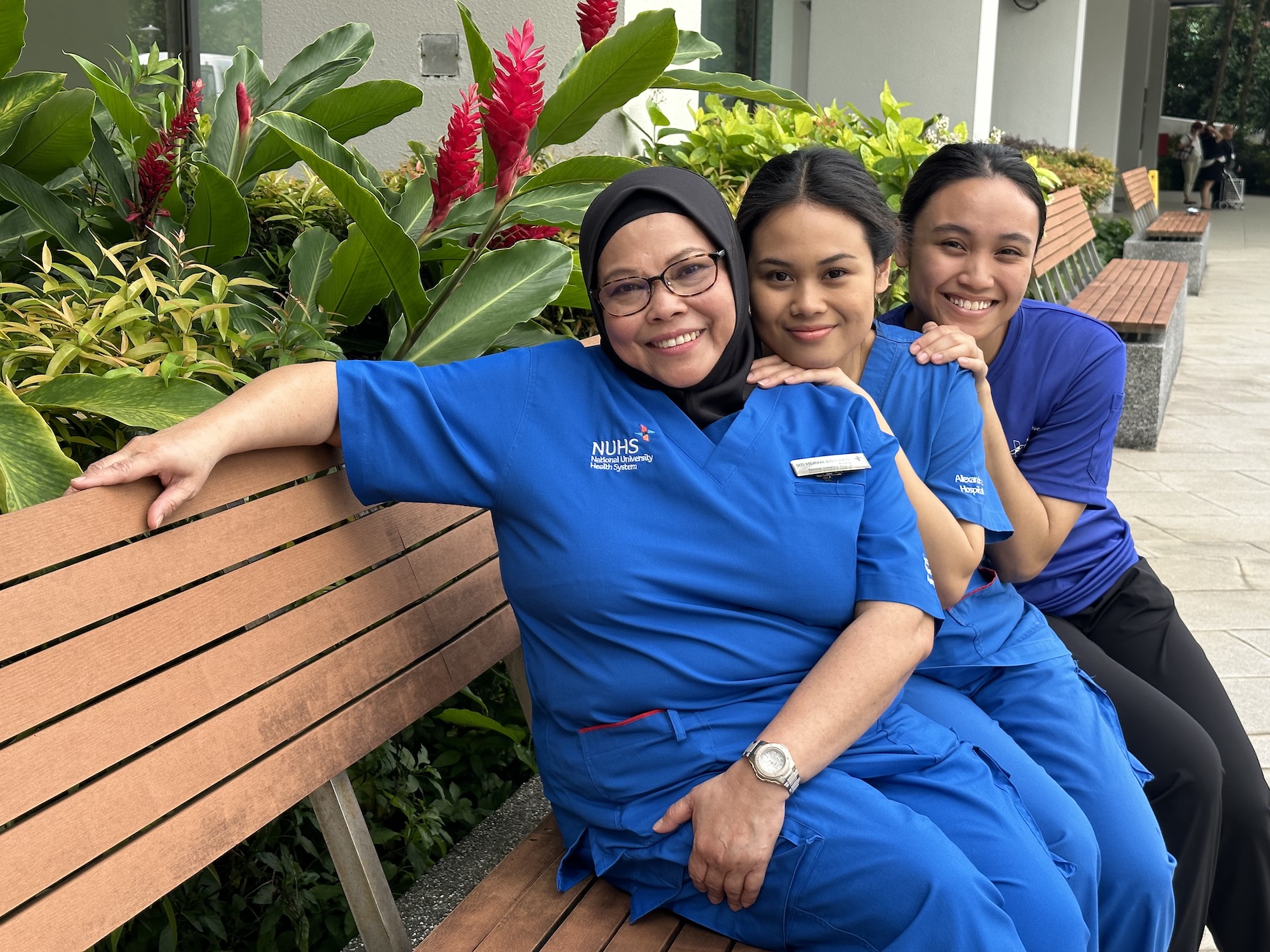 But Ms Nayli is not the only one in her household to have been influenced by her mother to pursue a nursing career.

Her younger sister, Ms Nur Kamilia Binte Abdul Halim, has also opted to pursue a nursing career within the National University Health System (NUHS). The 20-year-old, who has prior experience working as a locum nurse at National University Hospital (NUH), commenced her two-year Nursing course at the National University of Singapore (NUS) earlier this month.
"Family influence is one of the main reasons why I decided to go into nursing," Ms Kamilia, who aspires to one day join the Nursing management track, said.

"I was inspired by all the stories that my mum and sister shared, and as I like to help people, it felt like the right career choice for me.

"One of the aspects of nursing that I particularly enjoy is interacting with different people of different backgrounds. As a nurse, I get to communicate with not just patients, but also their family members, as well as other healthcare professionals."

A mother's pride

For Ms Meriam, getting her two daughters to follow in her footsteps and become nurses was not something she had planned.
Indeed, she even admits to having been "a little surprised" when Ms Nayli first expressed her intention to join the nursing profession.
But there is no mistaking the pride and joy in Ms Meriam's voice as she reflects on how it feels to have her daughters become nurses like her.

"I've always believed that nursing is a noble calling, which is what attracted me to the profession in the first place," Ms Meriam, who is currently posted to the Main Budling Operating Theatre (MBOT) at NUH shared.

"So, I'm delighted that both my daughters have also decided to become nurses. I'm confident that they will succeed in their careers, regardless of what nursing track they pursue."

Helping her daughters grow as nurses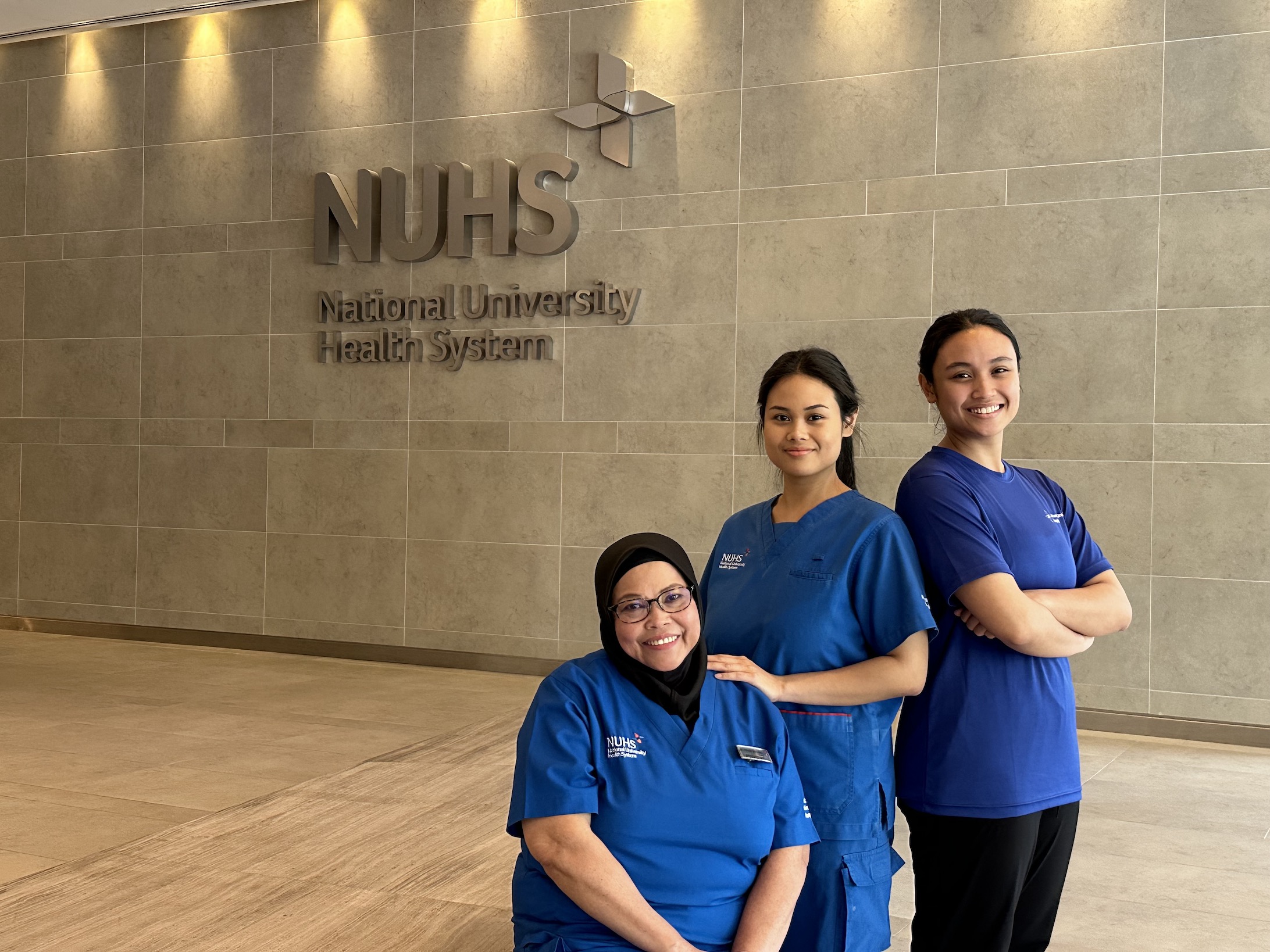 With over 38 years of experience under her belt, Ms Meriam is perfectly placed to provide her daughters with advice and mentorship.

"I've been encouraging them and sharing my knowledge with them to help in their development as nurses," Ms Meriam said. "For example, sometimes I'll try to build up their critical thinking by asking them to react to hypothetical situations.

"But there are several aspects of nursing that I constantly emphasise to them. Firstly, I remind them that they're dealing with people's lives, so they must always be 100% focused on their work to avoid errors, especially when it comes to medications.

"Secondly, they must be empathetic to their patients…to understand and acknowledge their patient's feelings is very important. Being able to put themselves in their patients' shoes is key to being a good nurse.
But Ms Meriam also highlighted the importance of taking care of their emotional and mental well-being.

She elaborated, "As a nurse, there will be days when you'll be deeply affected emotionally. However, I always stress to them the importance of upholding a professional demeanour regardless of the situation, and to continue fulfilling their nursing responsibilities.

"But equally crucial is the ability to leave work at the hospital and not carry it home. After completing their duties, they should engage in activities they enjoy, allowing for rest and rejuvenation. This balance is essential for ensuring a sustained and gratifying nursing career."
In consultation with Siti Meriam Binti Rais, Senior Nurse Manager, NUH, Nurin Nayli Binte Abdul Halim, Staff Nurse, AH
Visit our new NUHS Nursing Career Site where you can learn all about the vast opportunities to excel, innovate, lead, teach, and advance your nursing career.