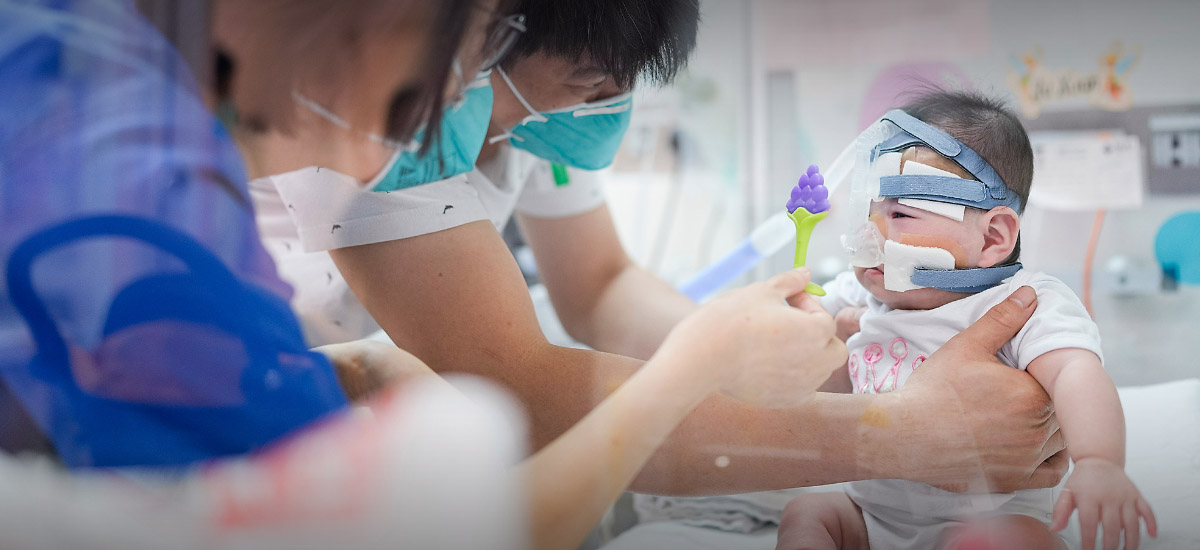 News
World's smallest baby discharged well from NUH after 13 months
Published on 15 October 2021
An infant thought to be the world's smallest survivor has been safely discharged after a 13-month stay at the neonatal intensive care unit at National University Hospital (NUH).
Born last June in the middle of the COVID-19 pandemic, Kwek Yu Xuan weighed just 212g when she was delivered. This might make her the world's lightest baby to be born and discharged well to home. The previous smallest survivor in the world, according to the Tiniest Babies Registry managed by the University of Iowa, was born at 245g in the United States in 2019.
She was delivered via emergency C-section at 24 weeks and 6 days of gestation, or almost four months premature, due to her mother's preeclampsia (high blood pressure during pregnancy). The survival rate of an infant born at 24 weeks is around 71 per cent.
Because of her size, Yu Xuan had to overcome a number of challenges. When she was born, she required a ventilator and a tube to help her breathe, as her lungs were inadequately developed. She gradually grew strong enough to breathe on her own, without the use of a tube. She also initially suffered from retinopathy of prematurity (ROP), an eye disease that occurs in premature babies, and had to go through two laser treatments to correct her vision.
In addition, her day-to-day care had to be both careful and comprehensive. Even finding a pair of diapers that fit her required improvisation and problem-solving, as regular diapers were far too big for the tiny infant, who measured just 24cm in length at birth, or about the height of a bottle of mineral water. The average length of a newborn ranges between 45 and 54cm.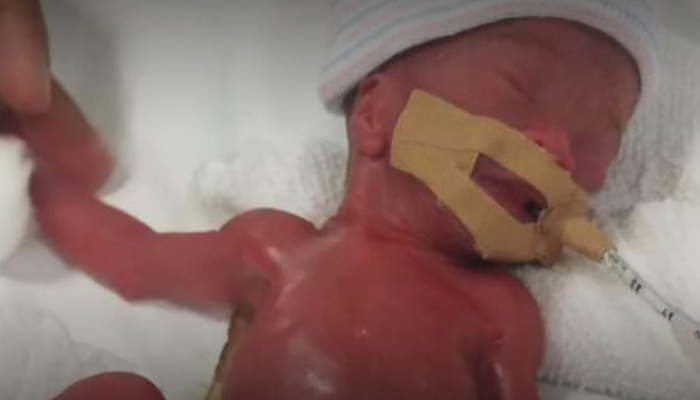 (Image courtesy of the Kwek family)
"Being so small, we had to put a lot of things on her body: a temperature probe, a probe to measure her oxygen saturation, an IV cannula…so that literally, her whole body [was covered with] our measuring devices," said Nurse Clinician and Advanced Practice Nurse Zhang Suhe, who was in charge of Yu Xuan's care.
The multifaceted nature of her care also meant involving not just her parents, but also a team including doctors, nurses, and allied health professionals. "It takes a village to raise a child," said A/Prof Zubair Amin, Head and Senior Consultant at the Department of Neonatology at NUH, describing the team effort as "wonderful".
"The challenge of looking after a very vulnerable baby means there's very little room for mistakes," he said. "But what the team did was to come together…they improvised, they showed quick thinking, they made the extra effort, they communicated with the family. They dealt well with a situation that we didn't predict. And that, to me, is the most important thing."
He also expressed his appreciation for the efforts of the community in Yu Xuan's journey. While the baby's 13-month hospital stay resulted in significant expenses for her parents, they managed to successfully crowdfund about $100,000 more than the required amount via GIVE.Asia, allowing them to set aside a sum for the infant's follow-ups, and also commit the remaining amount to help other babies facing similar situations.
The family also received assistance from the NUH Home Equipment Loan Programme (HELP), which provided them with the machines needed to support Yu Xuan after her discharge – such as an oxygen concentrator and a home ventilator – at no charge, for as long as she needs.
Today, Yu Xuan has grown to about 6.3kg, and was discharged well on 9 July. Her health and development have been progressing well, and her vision has also improved and is now under monitoring. She currently has chronic lung disease and pulmonary hypertension – two conditions commonly associated with extreme prematurity – and will continue to require some oxygen support for another six months or so. Nonetheless, she is expected to get better with time.
The baby's mother, Mrs Kwek Mei Ling, expressed her thanks towards the team, sharing that they treated Yu Xuan "like family". Even upon the baby's discharge, Ms Zhang still conducts daily video calls and WhatsApp chats with her to check on Yu Xuan's breathing and machine statistics, and to address any questions on care.
"I have to thank the nurses for taking care of her for such a long time, they really took very good care of her," she added.
In consultation with A/Prof Zubair Amin, Head & Senior Consultant, Department of Neonatology, NUH and Ms Zhang Suhe, Advanced Practice Nurse & Nurse Clinician, Department of Neonatology, NUH.