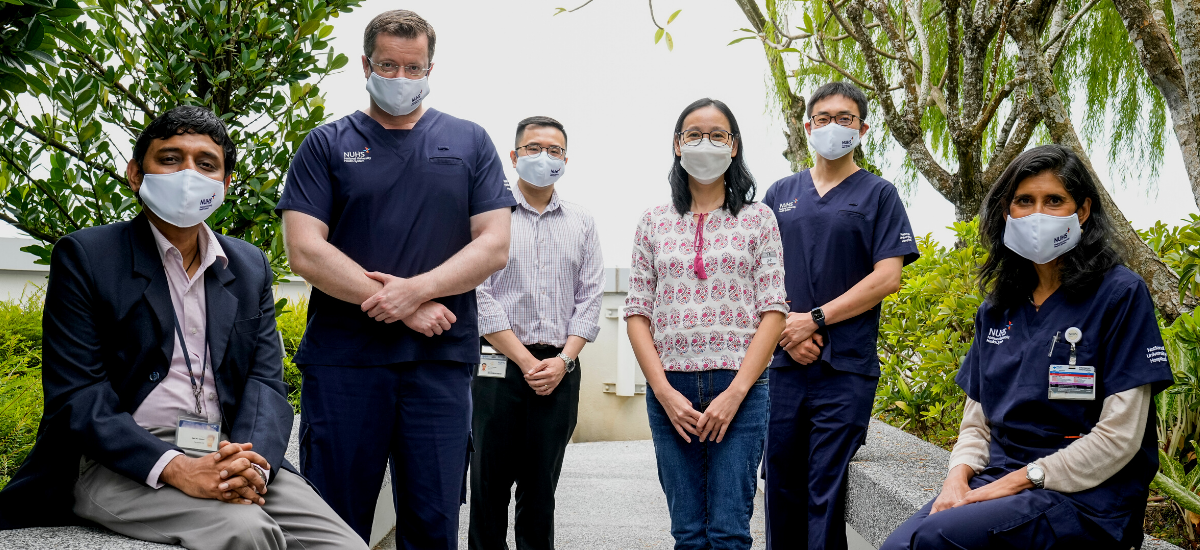 News
Science
A last stand against COVID-19
Published on 11 April 2022
Like an artificial heart or lung, the machine works tirelessly, pumping blood out of the patient's body.
Its clear plastic tubes are filled with dark, venous blood from the sleeping patient. The machine then adds much-needed oxygen to the patient's blood and removes carbon dioxide. Finally, the blood is pumped back into the patient, and the cycle repeats.
This therapy is called extracorporeal membrane oxygenation, or ECMO. It's a highly specialised form of life support used for catastrophic heart or lung failure. It's also a last-resort measure for the most critically ill of COVID-19 patients.
About 98.6% of COVID-19 patients are either asymptomatic or mildly symptomatic, and the first line of treatment is usually medication: remdesivir, dexamethasone, and immune modulator agents. But COVID-19 "is a little unpredictable," and some patients do end up with severe illness, or what is called a cytokine storm, said Dr Somani Jyoti, Director of Antimicrobial Stewardship Programme at the National University Hospital (NUH).
"When patients deteriorate, usually, the first thing they need is oxygen," said A/Prof Graeme MacLaren, Director of Cardiothoracic Intensive Care at the National University Heart Centre, Singapore (NUHCS).
If oxygen is insufficient, the next step is to give the patient a breathing tube, which is applied around the face or in the nose and gives them pressure and oxygen. And if that fails, then things start getting more invasive: the patient is put to sleep, a tube is inserted into their windpipe, and they are hooked up to a ventilator.
But some patients can't cope with that either, added A/Prof MacLaren, who is also Senior Consultant at the Department of Cardiac, Thoracic Vascular Surgery at NUHCS. In this case, the patients are flipped into a prone position – or, in other words, made to lie on their abdomen – a measure that research has shown can reduce the incidence of death.
It's when that too, fails, and the patient ends up in serious danger of dying, that the medical team considers ECMO – which, as A/Prof MacLaren puts it, "is really the last thing we have in our armamentarium."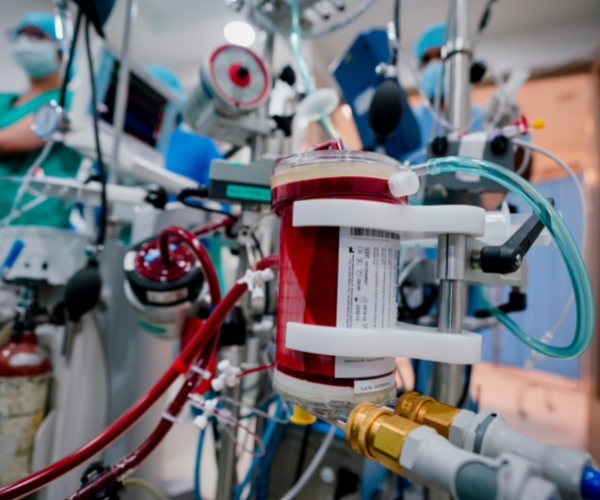 ECMO isn't just a life support machine. It's a highly specialised therapy that can only be provided by experienced centres, such as NUH in Singapore. It's also extremely resource-intensive, involving a team of intensive care nurses and physicians, perfusionists, and cardiac surgeons.
Furthermore, ECMO tends to be a lengthy treatment – over a quarter of the patients who underwent in NUH ECMO had to stay on it for five weeks or more.
"It takes a village to look after one ECMO patient," A/Prof MacLaren added.
Although ECMO can be a life-saving therapy for some patients, it's not suitable for everyone. Patients who are very elderly, or patients suffering from a lot of pre-existing diseases, for instance, may not benefit from ECMO.
The therapy also does have side effects, although it's often difficult to separate the side effects of the treatment from that of the illness.
For one, ECMO may result in bleeding problems. "The body has a reaction against that machine, because it realises that it's not flowing in blood vessels anymore, it's flowing in a plastic tube," explained A/Prof Graene. "And that can cause a group of problems."
There are also the side effects of being in intensive care: deconditioning of muscles from lying in bed too long, and increased risk of infections because of all the tubes, A/Prof Graene added.
"On the whole, though, most patients who have ECMO don't develop severe side effects from it."
Saved by ECMO
As a 43-year-old with no pre-existing medical conditions, Mdm Lee Sook Lee never thought that she would fall seriously ill with COVID-19, despite being unvaccinated at the time.
Until she did. Her fatigue over the weekend led her to take an Antigen Rapid Test (ART), which turned out positive. She was admitted to Ng Teng Fong General Hospital on 13 September, but at the time, her symptoms were still relatively mild. "I didn't realise how serious it was," she shared.
But soon, she was sent to the hospital in an ambulance, and consequently transferred to the ICU. Her symptoms started to get more severe – although her memories are fuzzy from the sedation, she remembers that when she woke up, she was coughing up "tissue after tissue" of blood.
Unfortunately, her condition continued to worsen, and she was put on a ventilator. Even so, her heart function remained poor and did not improve despite being given high doses of medication. "She was on the verge of cardiovascular collapse," said Asst Prof Ramanathan K.R., also a Senior Consultant at NUHCS's Department of Cardiac Thoracic & Vascular Surgery.
On the very same night, the team decided to put her on ECMO life support.
Road to recovery
Mdm Lee is the first patient in Singapore to undergo ECMO for COVID-19-induced myocarditis.
Her heart was "beating very poorly" when she was put on ECMO support, and the therapy helped to channel much-needed oxygen into her body tissues. It took a few days for her heart to recover enough to be taken off ECMO, after which she spent another few weeks recuperating under a heart failure team.
Still, the speed of her deterioration was alarming, not just for Mdm Lee, but also for her medical team. "You saw how fast she got sick – she woke up feeling fine, had a positive ART, and less than 24 hours she was on ECMO," said A/Prof MacLaren.
"So it's obvious that the severity of the illness can be somewhat frightening for everybody, including the healthcare workers."
Mdm Lee's heart function did eventually return to normal, and she was discharged on 6 October, after 22 days in the hospital. Her recovery was a long and taxing one – in the immediate aftermath of her illness, she suffered from extreme fatigue, and was unable to move properly.
She also had to relearn everything, including how to speak, swallow, eat, and so on – "like a baby," she quipped.
"[One time], I remember I asked for water because my throat was very dry," she recalled. "And they tried to give me one small teaspoon – 5ml – and I couldn't even swallow [it]."
After her harrowing experience, Mdm Lee now urges the community to get vaccinated if they can.
She shared that at first, she hesitated because of her history of allergic reactions. Later, she did decide to get the vaccine, but her plans were delayed. "My husband took his first shot in the early part of September," she explained. "I was supposed to take mine one week after him, because we have four kids…we must plan so that we don't have both parents down."
Unfortunately, she was infected just before she could get vaccinated.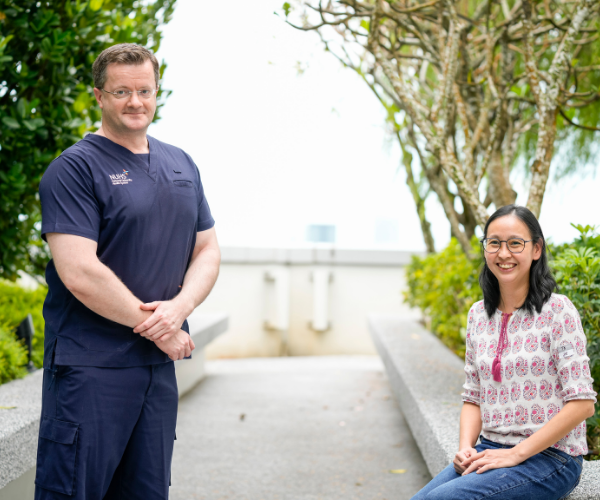 Making vaccination a priority
With even a relatively low-risk patient like Mdm Lee having faced such severe disease, the medical team called on people to make vaccination a priority.
"So far, all the patients who have needed ECMO here at NUH have been unvaccinated," said Dr Somani. She added that while there are vaccinated patients in the ICU, they are mostly older, immunocompromised, or suffering from comorbidities.
"We would prefer that everyone get vaccinated and not need [ECMO]…because even with the best supportive care…there are infections and complications, which we can't always prevent."
Mdm Lee, too, hopes that the community will not repeat her mistake and hold off on getting vaccinated.
"I have no medical history except for allergies, so I didn't think I would be that sick from COVID-19, as most people only had mild symptoms," she said.
"For those who are still hesitating…please do not delay any further. Check with your doctors and get yourself vaccinated.
"It could potentially save your life, and you wouldn't have to go through what I went through, what I put my family through…so please, get yourself vaccinated."
In consultation with A/Prof Graeme MacLaren, Senior Consultant, Department of Cardiac, Thoracic and Vascular Surgery,
NUHCS
and Director, Cardiothoracic Intensive Care,
NUHCS
; Asst Prof Ramanathan K.R., Senior Consultant, Department of Cardiac, Thoracic and Vascular Surgery, NUHCS and Dr Somani Jyoti, Senior Consultant, Division of Infectious Diseases, Department of Medicine, NUH and Director, Antimicrobial Stewardship Program, NUH.