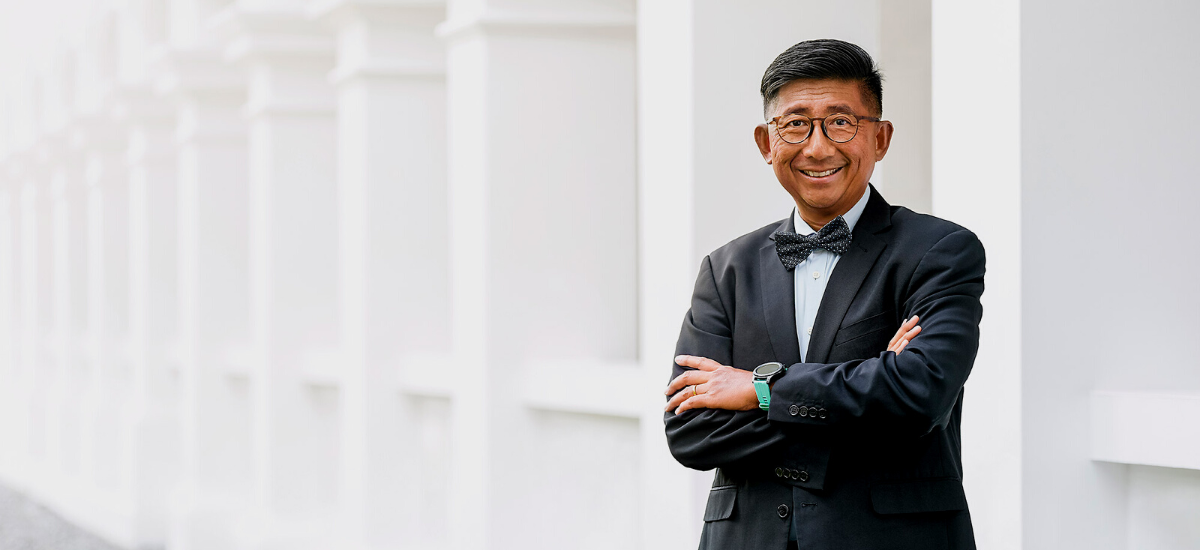 People
A life built on love
Published on 26 September 2022
From a childhood dream of being a teacher, to becoming one of the region's foremost pulmonary paediatricians – and one of NUH's best-loved mentors. Read about A/Prof Daniel Goh's story.
A/Prof Daniel Goh's office is a tiny universe contained in itself. Its comfortable disorder, incongruous with the sterility of the hospital campus, offers a glimpse into the people-loving clinician's life: every inch of space is filled with memorabilia, from photographs and thank-you cards to quirky and inspirational posters.
There's a certain youthful energy to the setup, and as such it's not entirely unexpected when he shares that his childhood dream was to be a teacher. He'd long held an affinity with children, explained the Senior Consultant at Khoo Teck Puat – National University Children's Medical Institute (KTP-NUCMI), NUH, who is also an Associate Professor with the Department of Paediatrics at Yong Loo Lin School of Med (NUS Medicine), so becoming a teacher was a natural next step.

But life had other plans for him. On his father's advice, A/Prof Goh ended up studying medicine in university, and discovered a new passion for treating patients. His love for children never dimmed, and he decided (after a number of twists and turns) to enter the field of paediatrics.

Today, he is one of the region's foremost paediatric pulmonologists, with principal appointments in the Singapore Paediatric Society, the ASEAN Paediatric Federation, and the Asia-Pacific Paediatric Association. A/Prof Goh is also a passionate advocate for mentoring future generations of medical professionals, having mentored young people in the medical field for close to 30 years – a role which he holds close to his heart.

"I think this is what I'm proudest of [in my career]," he said. "Some of the students I taught when I first started teaching are now full professors at the university, ahead of me. And many of them are true leaders in their own specialties.

"That's truly the most rewarding part…I'm just very happy to see them move on to serve and contribute to the next generation."
A love for teaching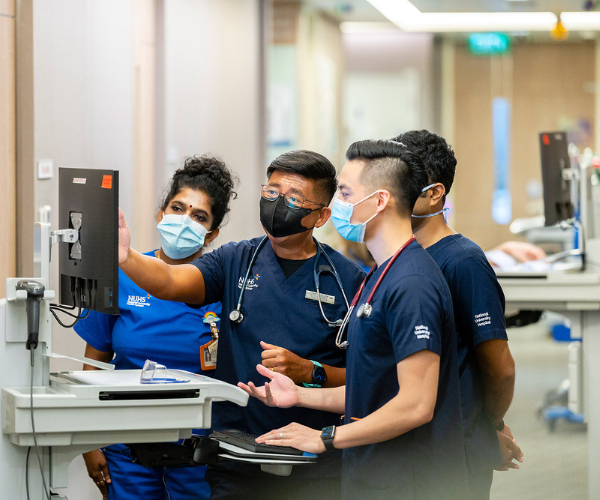 His dream of teaching stemmed from his own experience in school, where he professed to have been "a very average student".

"Some people effortlessly get straight As. But I didn't get good results so easily – I had to put in effort to do it," he said candidly. "Medical school was a little better, because I enjoyed the subject matter a lot…but A-Levels were a little bit of a chore to me."

His own experience led him to empathise with such 'average' students, particularly those who struggled with learning. "And that's why I wanted to be the teacher that could reach out to people like that – who couldn't just snap their fingers and memorise things like an elephant," he quipped.

It was a serious enough ambition that he even did a teaching stint at a secondary school after his A-Levels. "I really enjoyed it…I enjoyed working with the kids and helping them along," A/Prof Goh said. "So I told myself, 'I want to be a teacher'."
Although he ended up entering the medical field instead, his original philosophy remained – and which he was able to put into practice when he was eventually given the opportunity to teach in the medical school.

"Throughout my years of teaching in medical school, I always wanted to frame things in a way that was easy to understand, so that people enjoy learning it," he shared.
"Perhaps that resonated well with students, because I'm glad that in all these years I've been teaching, the students have always said very nice things. And the interaction with young people is a bit of an extension of paediatrics – I mean, these are still very young people – so it's fun to see them learn and get them a bit excited and help them keep the interest and pursue their passions."

A love for children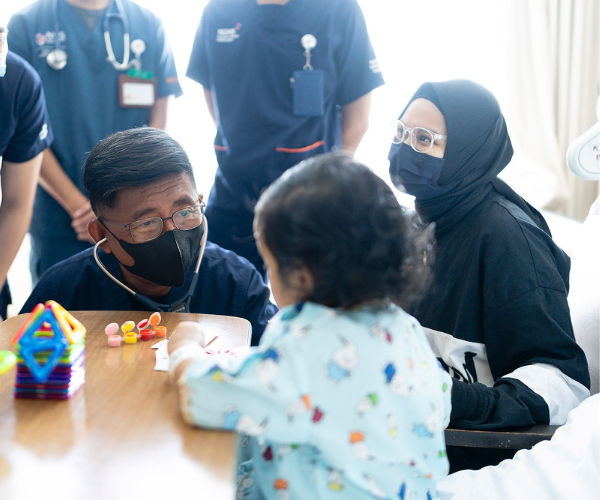 A/Prof Goh's love for children began early on, even before he had any of his own.
Back then, he'd look after his nieces and nephews, treating them as though they were his own children. "I would take them to the playground, and [people would say] 'oh, your daughter is very pretty!'" he quipped.

Even today, his patients are his favourite part of the job. Having been at NUH for three decades, he's seen his young patients grow up and their conditions stabilise – and keep coming by as adults, and sometimes even with their own children.
"It's a joy really to see my young patients with chronic disease get married, have their own children and bring their kids to see me," he shared. "It's like the whole journey is replaying in the next generation. And it's wonderful. I'm very thankful for that."

Things like these, he added, are what keeps him going even on the bad days. His face lit up as he pointed out a framed poster hanging on his wall, given to him by one patient who he watched grow up.
"I've been to quite a few patients' weddings," he acknowledged. "But I was very touched because for this particular patient, when he got married and invited me to the wedding…and I was seated at the family table. I felt so embarrassed, but I was very very touched."

A love that perseveres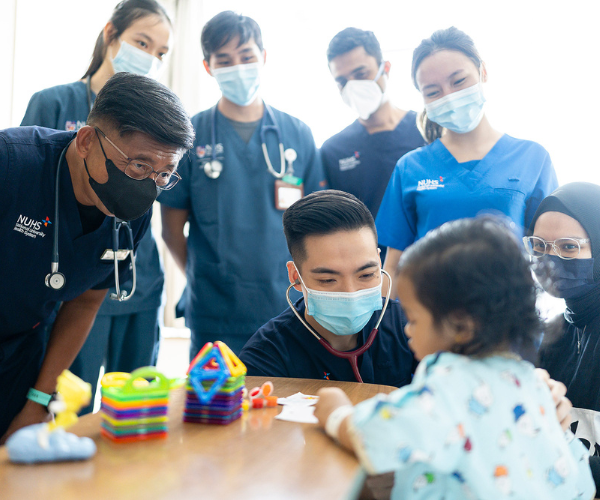 As effusive as he is about the good, A/Prof Goh is just as open and candid in sharing about the bad.

"In all honesty, some days in life you wake up on the wrong side of the bed. You think, 'I don't want to go to work', or 'why am I doing this?'" he shared. "Or other days you work very very late, or unpleasant things happen. Not everyday is all joy."

Working in paediatrics, he's received scoldings and even threats from parents. One particular parent even "threatened to beat me up," he said.

"It's interesting, because that parent ended up bringing all his other kids to see me," he laughed.
"But we do understand that parents whose kids are ill are under tremendous stress – they are very, very troubled. And so we understand and empathise with their anxiety."

In his teaching journey as well, he's come across his fair share of challenges – for instance, students who ended up going down the wrong path. "One of my ex-students was caught selling cough syrup, and he was sanctioned," he recalled. "It was very sad because I remember the student well.

"And sometimes you ask yourself why – why would somebody do that, a high-calibre student? But there are things in life that come along and change people…so [as mentors], we can only do our best."
Despite the hardships, A/Prof Goh still manages to find new reasons to keep doing what he does – in the students he mentors, and in the patients he sees. "Every new day is a new experience – a different learning experience, and a whole new journey altogether," he summarised.

"At the end of the day, we will face difficulties. Some people are harder to love than others.

"But we must still try…and no matter how nasty someone can be, we still need to do our best – to love them, to care enough for them to do our best for them."
A/ Prof Daniel Goh is a recipient of the National Outstanding Clinician Mentor Award at the National Medical Excellence Awards 2022 (NMEA 2022). The annual national award recognises the efforts of outstanding clinicians, clinician scientists and other healthcare professionals for their contributions.
In consultation with A/Prof Daniel Goh, Senior Consultant, Division of Paediatric Pulmonary Medicine and Sleep, Department of Paediatrics, KTP-NUCMI, NUH and Associate Professor, Department of Paediatrics, NUS Medicine