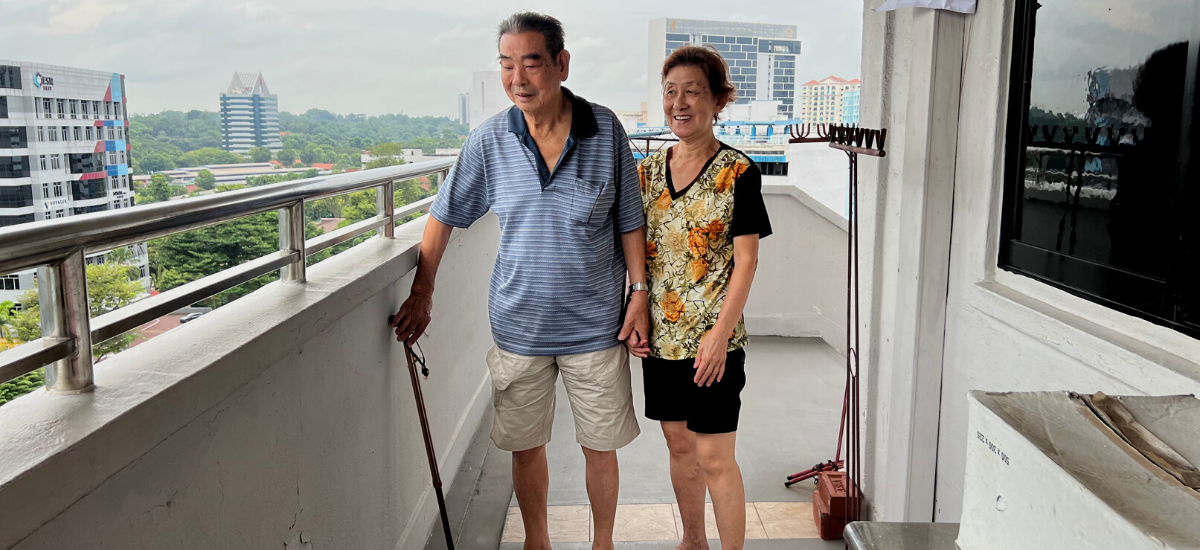 News
Battling cancer in your golden years
Published on 29 September 2022
GOLDEN: A new cancer service offers individualised treatment for older adults with cancer.
When Mr Chua was first diagnosed with gastric cancer in 2020, he was stunned. "I didn't believe it," he said in Mandarin. "I thought this couldn't be happening."
The 76-year-old had been admitted to the hospital for an unrelated knee surgery when the staff discovered blood in his stool. His gastric tumour was quickly discovered, and his medical team recommended an intensive treatment plan: surgery to remove the tumour, followed by chemotherapy to reduce the chances of his cancer recurring.
Unfortunately, Mr Chua was still recovering from the aftermath from a previous knee surgery three years ago. While he'd been completely independent before, his condition had since declined; he now had to wear diapers and use a walking frame. The prospect of going for yet another surgery and deteriorating even further left him reluctant.
"I asked the doctor, 'Is it OK if I don't do it?'" said Mr Chua, who lives with his wife and adult son with special needs. "I was anxious and fearful. But she said it wouldn't be good [to avoid the surgery]."
The back-to-back surgeries took a toll on Mr Chua's already frail body. He stopped working due to the prolonged hospitalisation, giving up the hawker centre drink stall he owned with his wife to focus on his health. But it wasn't enough, and he remained too weak to undergo chemotherapy.
Realising that he needed more help, his medical oncologist referred him to a specialised geriatric oncology service, known as the GOLDEN (Geriatric Oncology Longitudinal End to eNd) program led by National University Cancer Institute, Singapore (NCIS) Geriatric Oncology team.
Supported by JurongHealth Fund, the GOLDEN programme is a one-stop clinic for older adults diagnosed with cancer. Available in National University Hospital (NUH) and Ng Teng Fong General Hospital (NTFGH), the multidisciplinary team would recommend a personalised treatment plan for Mr Chua that was tailored to his unique needs and state of health.
Helping patients achieve their goals
In Mr Chua's case, his priority was to regain his independence so he could care for his son with special needs and his wife, who has dementia. Having seen his friend end up bedbound due to cancer, he was determined not to meet the same fate.
His first goal, as a result, was to walk better. With the help of the care team, he worked towards his goal: first shedding the walking frame for a walking stick, and gradually becoming strong enough to walk independently for short distances.
Helping patients meet their individual needs, explained Ms Chun Meiling, Care Coordinator, NTFGH, is the core of what the service is. Launched in 2019, the GOLDEN program in both NUH and NTFGH aims to offer tailored care to older adults with cancer – who, given their often unique circumstances, tend to fall through the cracks of the system.
Patients referred to the service first undergo a Comprehensive Geriatric Assessment. "This helps the medical team understand what is seen and voiced – and what is unseen and unvoiced – about the patient," Ms Chun explained.
She added, "It takes conversations to understand a patient's goals and preferences and what's important to them in life…and it takes a village to provide [that care]."
One flaw of conventional cancer treatment is that cancer clinical trials usually include younger patients but exclude the older population. "[Doctors] may not be cognizant of the fact that even though one can cure the cancer in an older adult, the long term side effects of cancer treatment may significantly impact the quality of life of a frail older person," said Dr Angela Pang, Visiting Consultant at NCIS's Department of Haemotology-Oncology. "And this may not be in line with what these patients wish to live with."
In contrast, the GOLDEN program brings together a multidisciplinary care team – oncologists, geriatricians, coordinators, nurses, and allied health team members in a one-stop clinic. By combining their expertise, the team is able to detect frailty in the older adults and tackle the pressing challenges they face ranging from mobility issues, nutritional challenges to lack of psychosocial support, recommend appropriate treatment and support them in their cancer journey.
This way, the program is also able to provide care that is truly end-to-end, from the time of diagnosis all the way till the completion of the cancer journey. This is especially important in an era of increasing life expectancy, when more people are living with chronic illnesses and disabilities – "adding another layer of complexity to their care," noted Ms Chun.
Today, the GOLDEN program has helped 650 older adults in their battle against cancer – and it hopes to help many, many more. "It's a mammoth effort on everybody's part, coming together to work as a team with a common goal in mind to help our older adult cancer patients receive optimal care in their cancer journey," Dr Pang quipped.
"But that's the beauty of the one-stop clinic…so we can ensure that [the patients] can receive maximal benefit from their visit to the GOLDEN clinic."
A concerted effort
For Mr Chua, his condition led to a number of issues that the team had to tackle in concert. For instance, part of his stomach was removed in the surgery. This led to a severe loss of appetite, his portion size dropping to less than half of what it was prior.
In response, the team recommended for him to have more time to recuperate post-surgery instead of rushing into commencing chemotherapy post-surgery.
The GOLDEN team dietitian prescribed him supplements to catch up with his nutritional requirements and strengthen his body. The geriatrician prescribed him medication for his incontinence, while the pharmacist helped him resolve his constipation and postural dizziness. The physiotherapist on the team assigned him exercises to keep him mobile, and the medical social worker made contact with his other children to come up with a plan to meet his long-term needs. Once Mr Chua was deemed strong enough for chemotherapy, the team oncologist devised a suitable treatment care plan for him.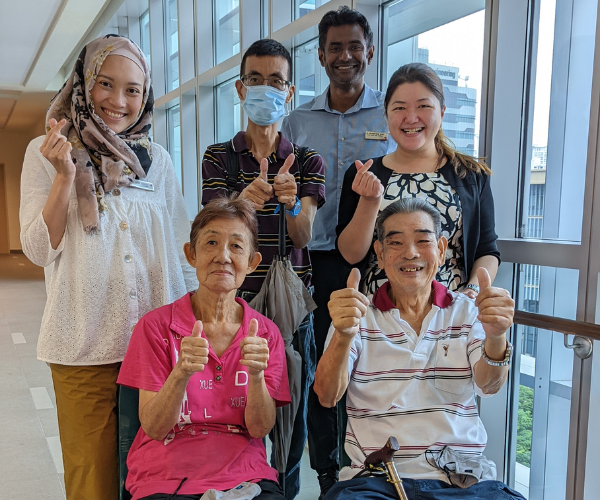 Today, Mr Chua is cancer-free. Having successfully completed six months of chemotherapy post-surgery, he walks well, eats well, and no longer needs diapers.
In contrast to his fears of becoming bedbound, he's now able to cook, clean, and make short grocery runs. He continues to look after his family, reminding his wife to take her medications and supporting his son in his work (although he maintains that they look after him, too). He also continues to do his assigned exercises – daily 30-minute walks a day up and down the corridor outside his house, which he shares is "nice, windy, and convenient".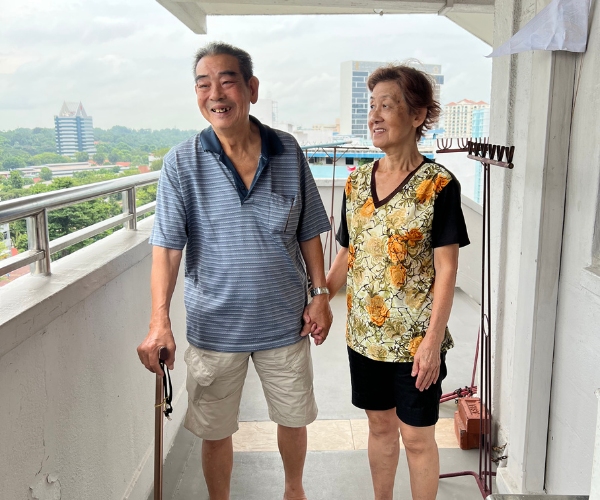 And throughout his recovery, the GOLDEN team has been there to help him with his goals and overcome his challenges – a fact for which he is grateful.
"[The team] saved my life," he asserted. "I'm happy that so many people are helping to care for me...they were kind and friendly, and I felt very comfortable during each visit."
"And because of their help, I'm able to live a dignified life."
In consultation with Dr Angela Pang, Visiting Consultant, Department of Hemotology-Oncology, NCIS and Ms Chun Meiling, Care Coordinator, NTFGH.