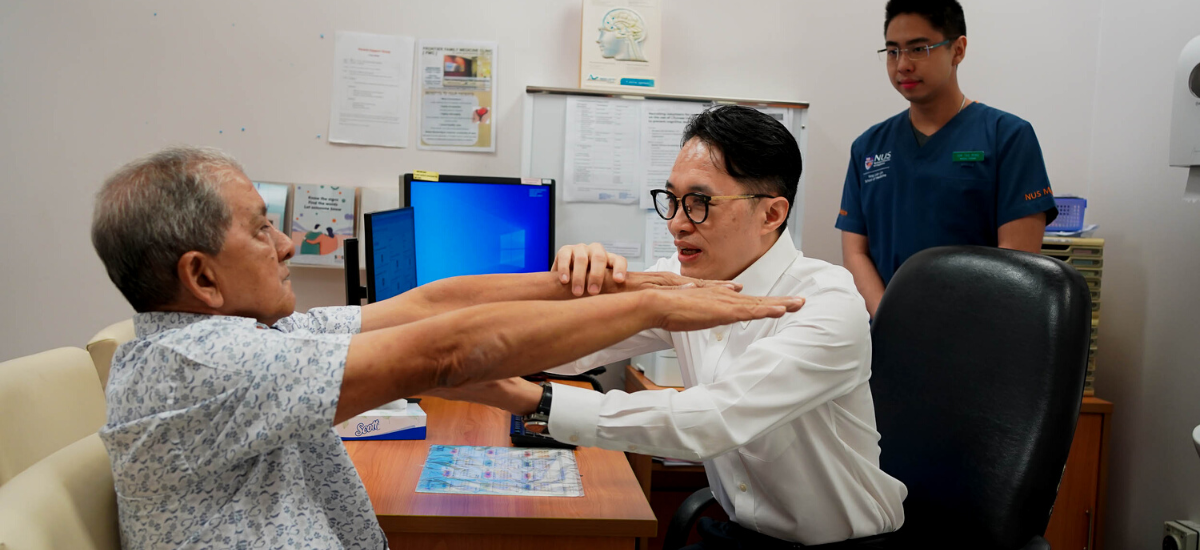 News
People
G-RACE: On the forefront of dementia care
Published on 17 November 2022
Pooling a multidisciplinary team to offer support that goes beyond the confines of a consultation room and right into the homes of dementia patients.
It was more than 10 years ago, in 2011, that Dr Chris Tsoi, Senior Consultant, Department of Psychological Medicine, National University Hospital (NUH), first spotted a worrying trend in the emergency department (ED) of the hospital.
He noticed that there was an increasing number of patients in the ED who were suffering from dementia. But what really perturbed Dr Tsoi was that many of them were unaware they had the condition, which meant that they were undiagnosed dementia patients.
This prompted Dr Tsoi to set up an outreach service to provide adequate support to not only an increasing pool of dementia patients, but also their caregivers.
And so, the Geriatric Psychiatry Out-Reach Assessment, Consultation and Enablement (G-RACE) service at NUH was born.
An outreach service to provide psychiatric assessment and treatment for elderly
Statistics show that around one in ten Singaporeans aged 60 and above suffer from dementia. With Singapore's ageing population, this number is expected to increase significantly in the near future.
Given this outlook, healthcare providers in Singapore shoulder much of the responsibility of supporting and caring for patients with dementia.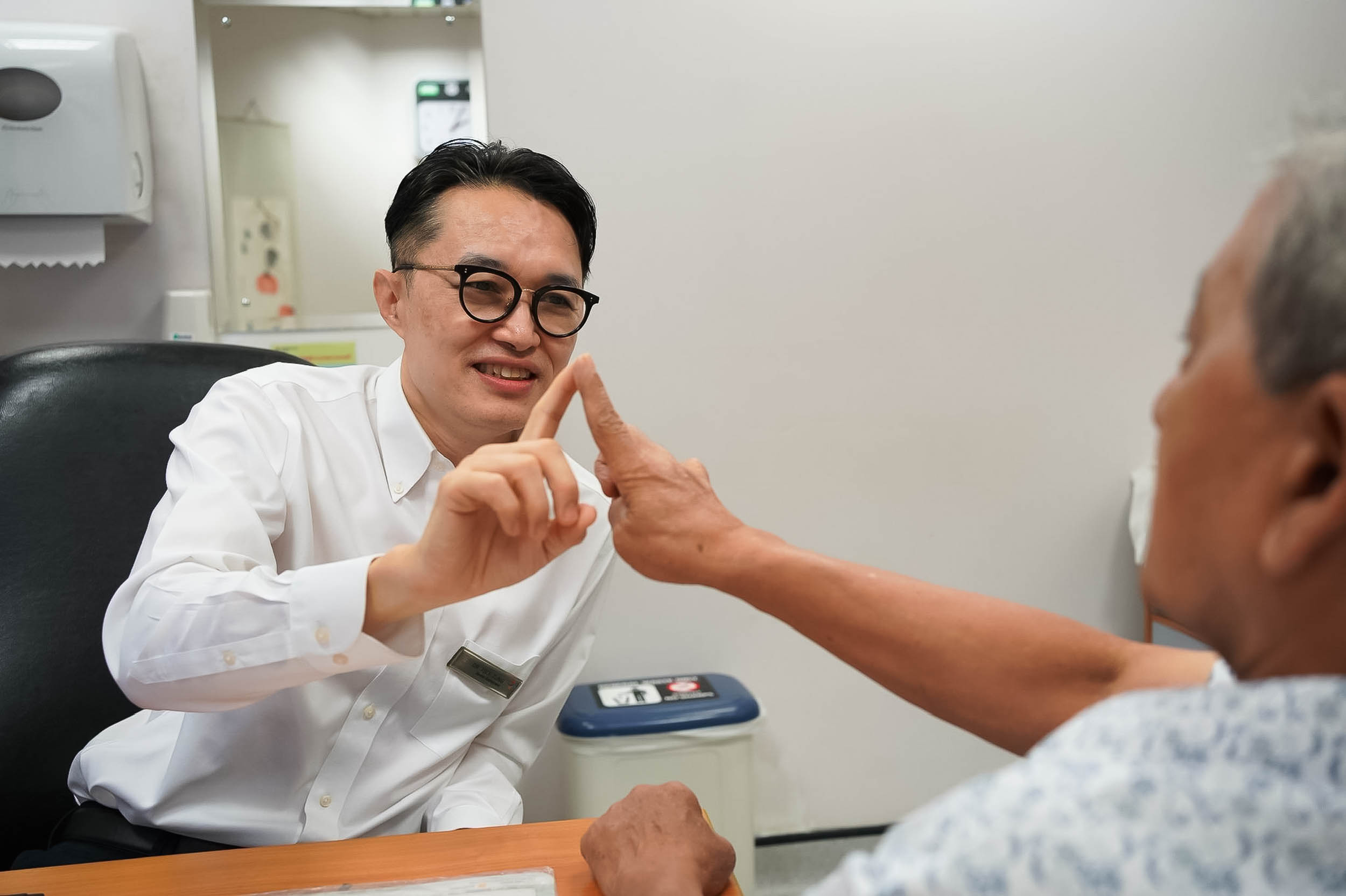 National University Health System (NUHS) has consistently been at the forefront of dementia care with its G-RACE service, which pools together a multidisciplinary team of healthcare professionals, including psychogeriatricians, case managers, and occupational therapists, to cater to the elderly living in Singapore.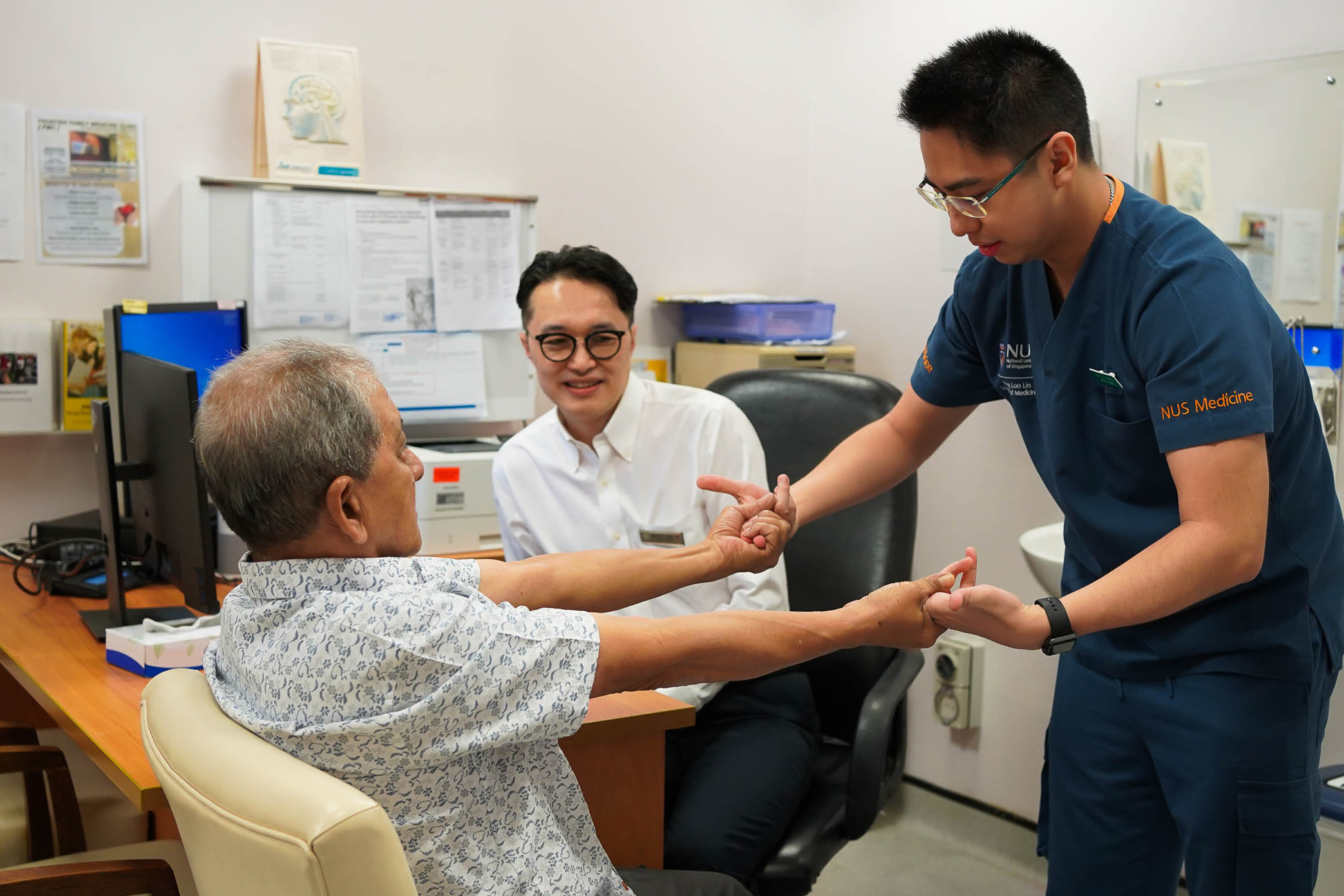 "The G-RACE service is a MOH funded shared care programme that started in 2011. It was conceived to support dementia patients and their caregivers to enable them to continue living in the community for as long as possible," shared Ms Eng Jia Yen, Senior Principal Occupational Therapist at NUH.
NUHS's G-RACE service is a pioneering shared care programme that collaborates with hospitals and private clinics. This close partnership has made it easier and quicker for family physicians treating dementia patients to get in touch with a specialist, if needed.
The training that specialists provide to family physicians also ensures that all dementia patients are managed safely and appropriately, even at the polyclinic level.
Ms Eng explained, "We have even embedded our G-RACE case managers at National University Polyclinics (NUP) to support patients and their family from the early stages when they are first diagnosed with dementia."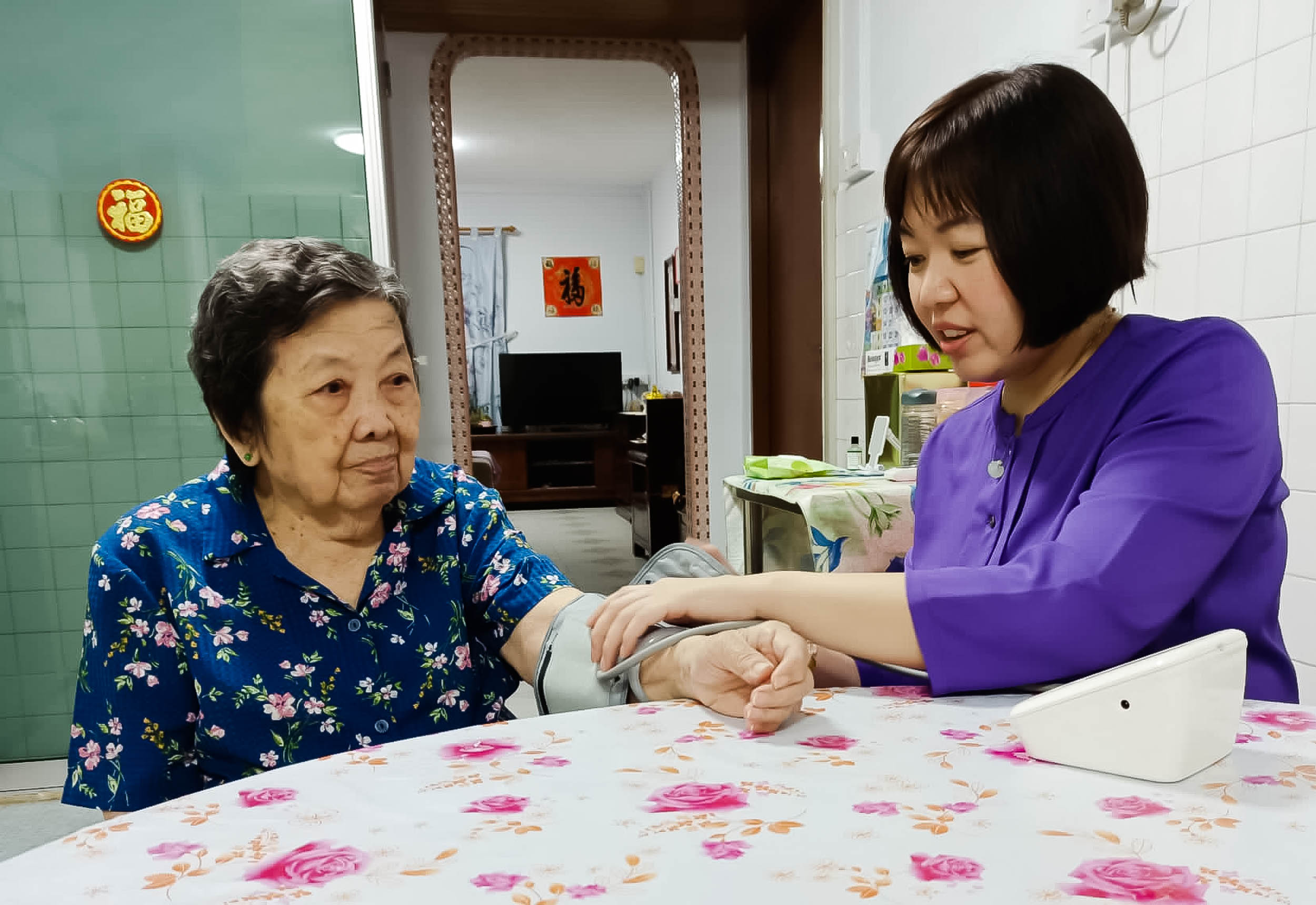 She added, "Another part of our work is also providing dementia management training to our community partners such as nursing homes and elderly centres."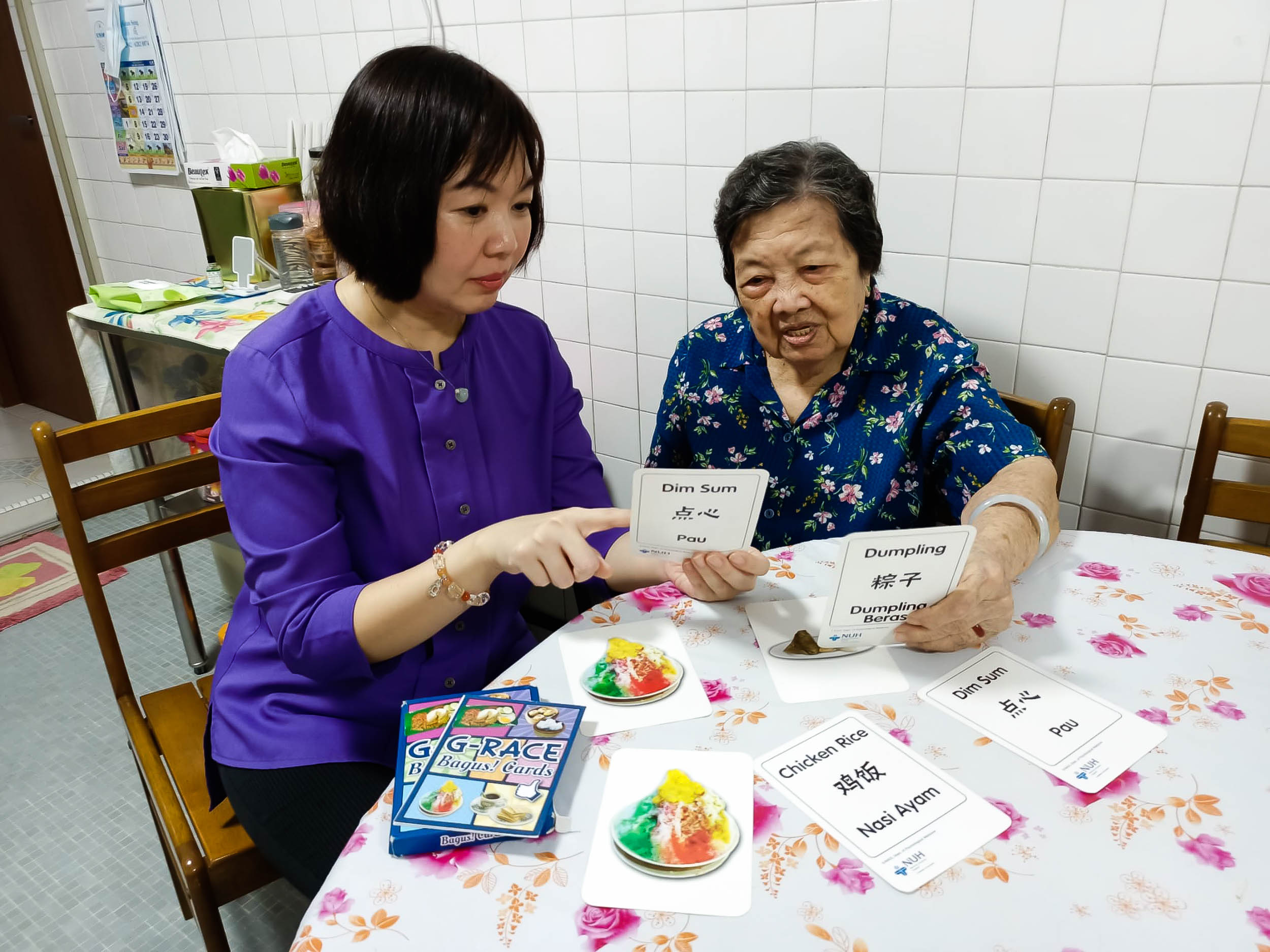 This collaboration between primary and tertiary care healthcare professionals –spearheaded by Dr Tsoi – has since grown into an extensive network that provides care and support to dementia patients in not just the consultation room, but also in their homes and communities.
"The G-RACE service provides the necessary and timely support to both patients and caregivers [and] deal with crisis even at patients' homes to keep them out of the hospitals," said Dr Tsoi.
"We saved 1,839 hospital bed-days in 2020 and 1,612 hospital bed-days in 2021."
A shared care system that has proven effective through the years
One the many dementia patients who have benefitted from the round-the-clock care offered under the G-RACE service is a 75-year-old who wants to be known as Mdm H.
After being diagnosed with dementia in 2020 – right in the middle of the pandemic – Mdm H, as well as her daughter and primary caregiver, Cecilia, came under the purview of the G-RACE service.
"The G-RACE service allowed me to reach out for help through various ways, including telecommunication and emails, whenever I needed assistance," recalled Cecilia.
"I would write down all the questions I had regarding my mother's condition, and I always received prompt responses from the occupational therapist. It led us to realise just how important the medication was to my mother's state of mind."
Through regular consultations with the G-RACE healthcare professionals, Cecilia was equipped with the necessary knowledge and tools to provide effective dementia management for her mother. This included the prescription of medication, teaching key communication skills, as well as referring Cecilia to Dementia Day Care Centres to alleviate her caregiving stresses.
With the guidance from Dr Tsoi and his team of healthcare professionals, Cecilia has been better able to care for her mother and manage her condition.
"We also have a plan in place that we came up with Occupational Therapist Jia Yen. Having someone who is experienced in the field to guide us along is very important. With Jia Yen's guidance, we have already begun planning for when my mother might require palliative care," shared Cecilia.
Since its conception, the G-RACE service has transformed dementia care on the various levels of primary, tertiary, and even home care with the following measures in place:
Crisis home visits

Fast tracked crisis specialist referral and medication management

Psychoeducation and support for caregivers

Assessment of crisis and resolution
Working in partnership with community service providers from the western region of Singapore, G-RACE seeks to improve care coordination, care transitions and management of elderly with mental health conditions in the community.
Click here to find out more or to join us as an occupational therapist.
In consultation with Dr Chris Tsoi, Senior Consultant, Department of Psychological Medicine, NUH and Ms Eng Jia Yen, Senior Principal Occupational Therapist, NUH.