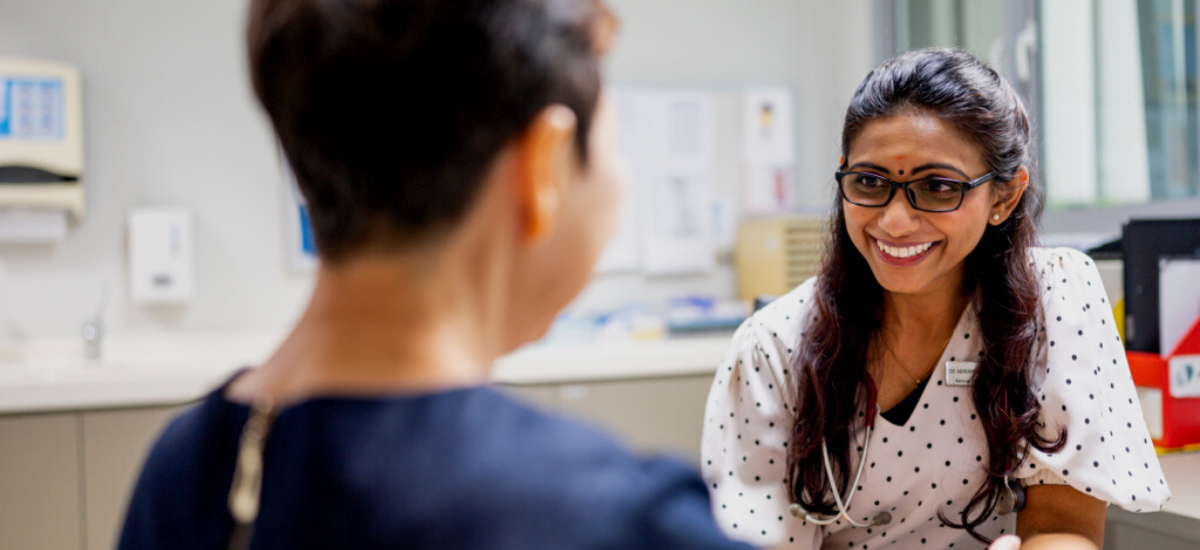 People
Going above and beyond to speak the language of care
Published on 29 November 2022
Dr Abiramy has always valued the connection with her patients. As such, she decided to learn two new languages – Mandarin and Malay – so as to better communicate with them.
Dr Abiramy D/O Anathan, wearing a warm, gentle smile that would make anyone feel at ease, cuts a reassuring figure, even in the austere backdrop of a clinic.
It is an image that suits her to a tee – after all, Dr Abiramy prides herself in being a healthcare professional who would not hesitate to go above and beyond for her patients.
That is why, apart from tending to the medical needs of her patients as a family physician, Dr Abiramy also makes sure to pay close attention to their emotional well-being – the importance of which she picked up from her grandmother.
"My grandmother was my biggest teacher," shared Dr Abiramy D/O Anathan, Family Physician, Associate Consultant, National University Polyclinics (NUP), "When I used to accompany her for her medical visits, she would gauge whether someone was a good doctor based on touch. I learnt that all the patients essentially want a listening ear and the human touch to reassure them that we as doctors are here for them.
The desire for this human connection that led to her transition from a previous role in hospital care to her current tenure as a family physician.
With the administrative duties that also come with my role as a family physician, I have the chance to check in with the patients," explained Dr Abiramy. "For instance, if I've seen the patient a month ago, I can follow up with them and evaluate if they might need an appointment scheduled earlier than what was previously set."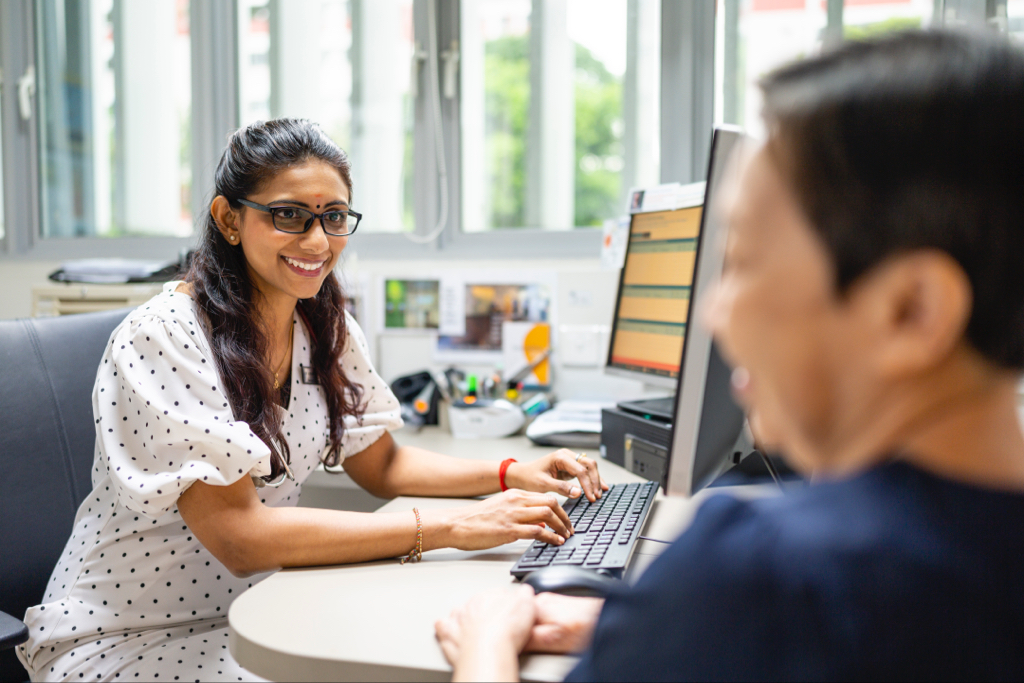 For Dr Abiramy, offering personalised care is also very much steeped in the connections she establishes with her patients. In a bid to deepen the connection with her patients, Dr Abiramy made a special effort to learn Mandarin and Malay, so that she can better communicate with non-English speaking patients who come through the door.
Dr Abiramy, who can also speak Tamil, said: "I realised that when you build a rapport with your patients, they will listen to the management plans that you have for them. And innately, I want to do the best in whatever field I am in."
She first took up a basic Chinese language course after her GCE 'O' Level examinations to land a part-time job, most of which required a Mandarin-speaking candidate at the time. Subsequently, she went on to also take up an intermediate Chinese language course prior to university.
Dr Abriramy has since further honed her Mandarin in recent years to aid in her communication with patients.
"When I went to Australia for university, I completely lost touch with the language, so I had to pick it up from scratch again. To start, I bought a book on learning Mandarin for healthcare professionals," she revealed.
However, her early attempts to converse with her patients in a new language did not go smoothly.
"Many patients were sceptical of me when I first started speaking in Mandarin, and some of them even challenged me," she recalled.
Despite the initial setback, Dr Abiramy steadfastly held onto her belief that it was important to converse with her patients in their native tongue and continued to work on refining her Mandarin and Malay.
"It's the personal satisfaction that keeps me going. It brightens up my day when I'm able to connect with non-English speaking patients," said Dr Abiramy, who added that she has plans to add the Hokkien dialect to her linguistic repertoire.
"I guess people also look to me for encouragement and as a role model, and that's something that makes me proud as well. But at the end of the day, nothing beats the feeling of being able to make a positive difference in someone's life – that is the most important factor for me."
In consultation with Dr Abiramy D/O Anathan, Family Physician, Associate Consultant, National University Polyclinics (NUP).