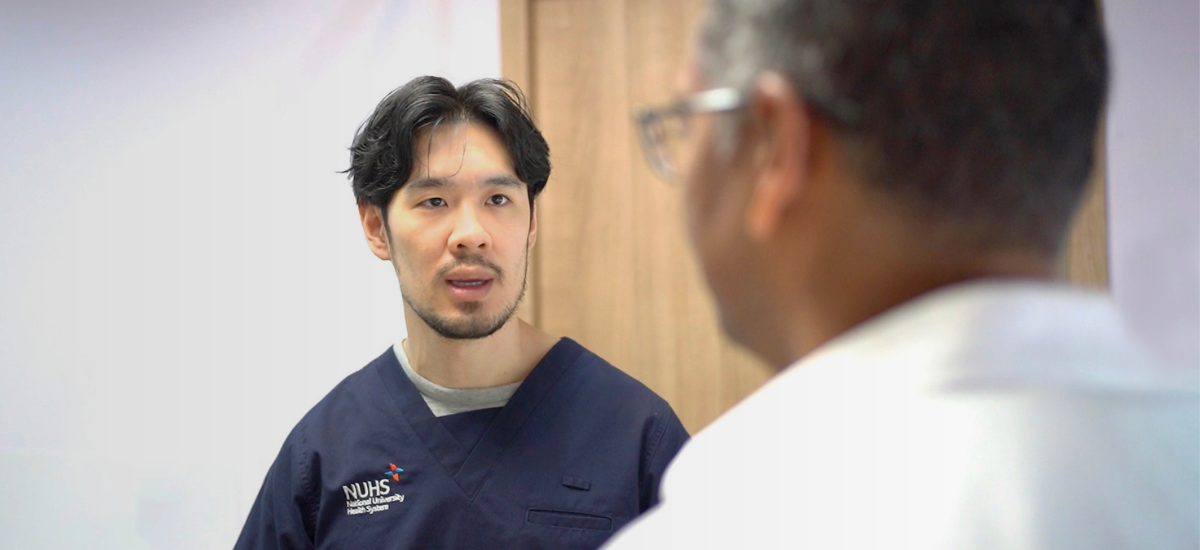 People
This chatbot could revolutionise healthcare in polyclinics
Published on 5 January 2023
One family physician's aim to alleviate the time stresses doctors face at polyclinics comes to fruition with the creation of an AI chatbot.
By his own admission, Dr Wayne Lee, family physician at National University Polyclinics (NUP), was a "total nerd" when he was growing up.

Dr Lee's candid characterisation of his younger self stemmed from the fact that he had always held a deep fascination with computers and technology.

"I've been interested in technology since I was young. For example, I liked to play around with computer consoles, mp3 players, and mobile phones. I even watched the video of Steve Jobs unveiling the first iPhone," recalled Dr Lee.

On the surface, Dr Lee's interest in technology appears to be unrelated to healthcare. However, he was recently able to merge his two passions – IT and medicine – by tapping on the former to help solve an issue that he had identified in his day-to-day responsibilities as a family physician.

"In a polyclinic, we are always working under time pressure. There are usually many patients we have to see, but not as much time as we would like to see them," Dr Lee explained.

"However, I actually think it's important for us doctors to spend more quality time with our patients."

To try and reduce the time pressure on general practitioners (GPs) in polyclinics, Dr Lee has been actively involved in building an Artificial Intelligence (AI) chatbot to automate the process of collecting patient information.

"What I'm currently building with National University Health System (NUHS) and NUP is a chatbot that patients can 'talk' with to input their blood pressure – throughout the week," Dr Lee elaborated.

"Currently, patients would write down on a piece of paper their blood pressure readings, and I've got to spend time trying to make sense of it.

"But with this chatbot, the patient's data is recorded in our system, and it shows me immediately what their maximum, minimum, and average blood pressure is during the week. So, I can spend more time talking with our patients to find out more about them, rather than staring at a computer screen keying in and looking for information."

This chatbot serves a dual purpose in that it not only offers clinicians a more efficient way of processing information, but also provides patients with an easier way of recording their medical information.

While this chatbot has currently been rolled out in NUHS, Dr Lee's goal is to share this service with GPs across the country, as Dr Lee shared, "We want to give the automation support to all patients and doctors.

"My colleagues are all very supportive of this chatbot, and they can see the potential for it as well. After all, we have this culture of wanting to always improve and progress so we can better serve our patients."
In consultation with Dr Wayne Lee, Family Physician, NUP