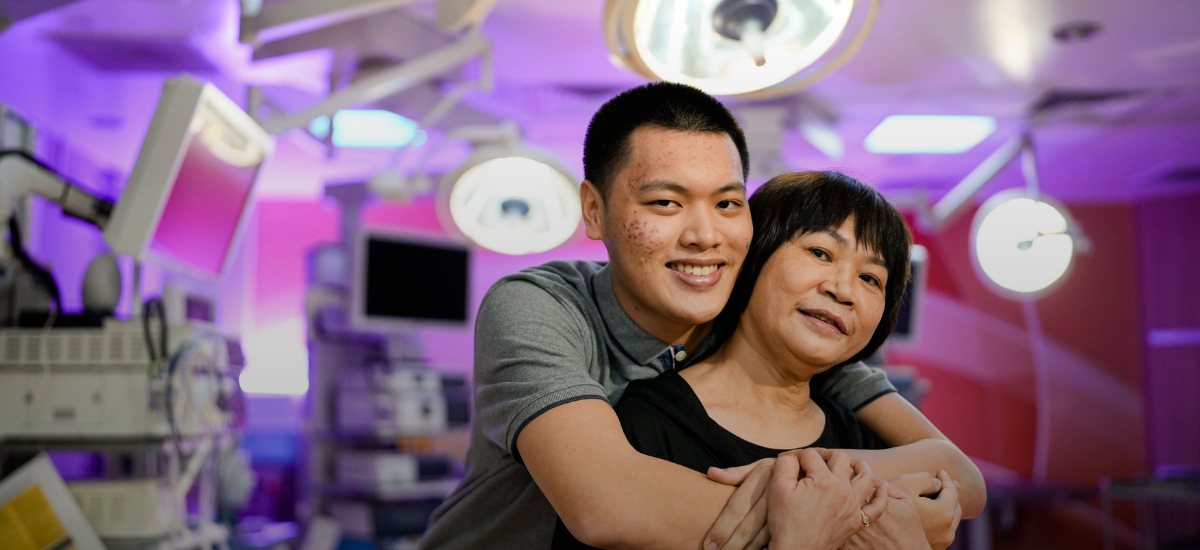 News
Science
Hope for patients with stage 4 colorectal cancer
Published on 28 March 2023
Selected patients with extensive cancer spread to the liver may have the option of transplantation now.
When Madam Lim Gek Meng found out she had stage four colorectal cancer in October 2020, she immediately braced herself for the worst – after all, less than 20% of patients with a similar diagnosis survive beyond five years, even with chemotherapy.
To make things worse, the cancer had also spread to Madam Lim's liver, which further stacked the odds of survival against her.
In Singapore, colorectal cancer is the most common cancer in men and the second most common in women. The liver is the most common site of the development of growths, or in the medical world, "metastasis". For most patients, surgery is not an option.
In more than 50% of the cases, the cancer cell spreads from the colon to the liver – some of this is resectable, meaning that the liver's cancer can be removed with surgery. In such cases, surgery is followed by chemotherapy to ensure cancer doesn't come back.
In many cases, however, liver metastases are unresectable, and cannot be cured with surgery. This occurs when the cancer cells have spread to different parts of the liver. As such, removing the cancerous parts would leave too little of the liver to sustain life following the surgery.
A chance of survival
Despite the grim outlook, Madam Lim remained determined to fight the cancer. In a bid to limit its spread, she underwent chemotherapy, which helped to reduce the size of the tumours in her colon and liver.
But it was not enough – patients often develop resistance to chemotherapy over time, thus allowing the cancer cells to spread in the body once again.
However, the multidisciplinary team of medical professionals at National University Health System (NUHS) who were caring for Madam Lim refused to give up on her. Instead, they suggested a revolutionary solution for Madam Lim – to undergo a liver transplant from a living donor.
Such a procedure had never been performed in Singapore or the region, but that did not deter Madam Lim from seizing on this unexpected chance of survival.
Meeting the criteria for a liver transplant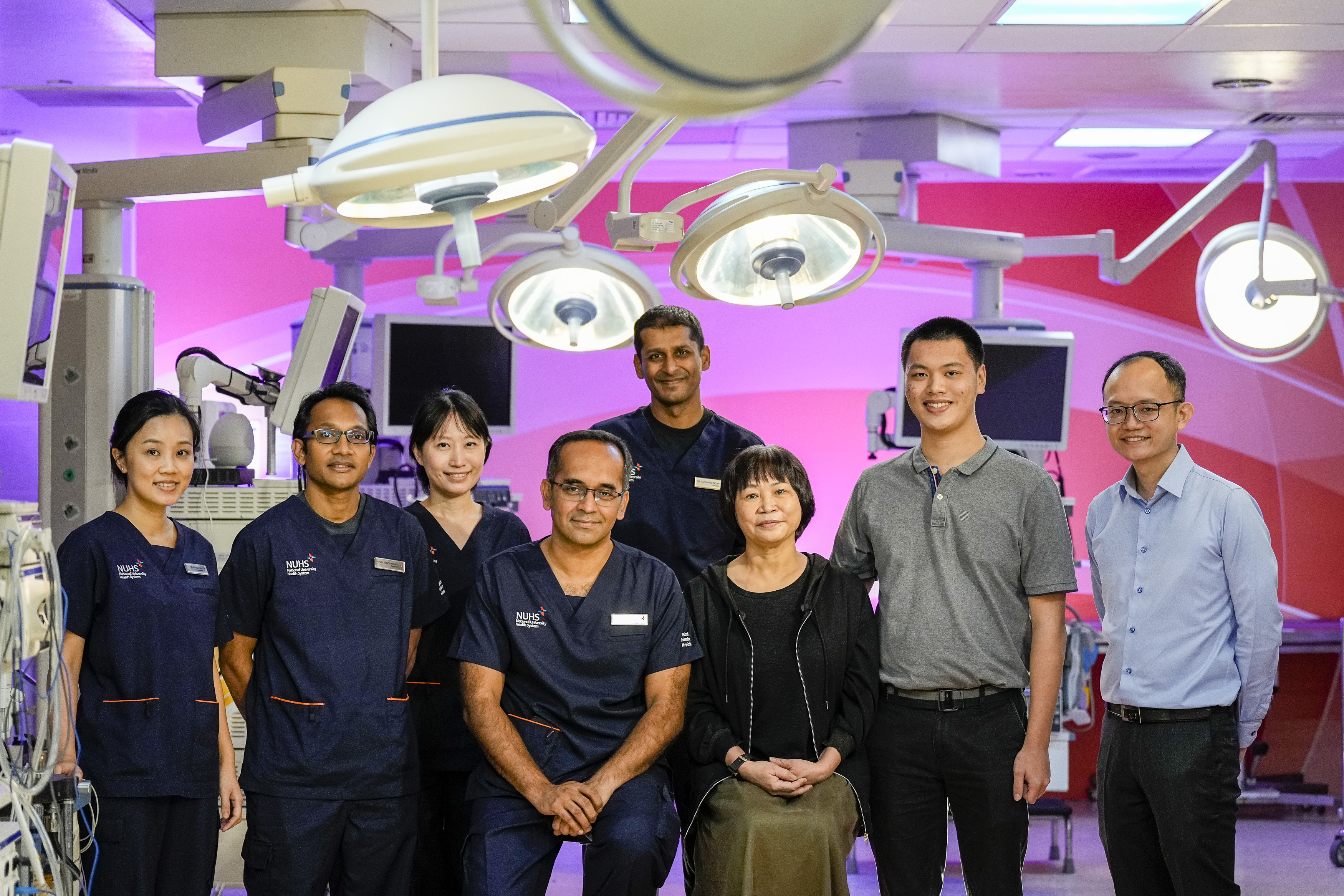 The team involved in the liver transplant for Madam Lim comprised pathologists, radiologists, surgeons, hepatologists, and oncologists at the National University Centre for Organ Transplantation (NUCOT) and the National University Cancer Institute, Singapore (NCIS).
Led by A/Prof Glenn Bonney, Consultant in National University Hospital's (NUH) Division of Hepatobiliary and Pancreatic Surgery, as well as the Adult Liver Transplantation Programme at NUCOT, the team – along with world-leading experts in the field – had formulated a practical patient management algorithm of 44 criteria to help them decide which patients are suitable for liver transplant.
A/Prof Bonney, who is also a consultant in NCIS, Division of Surgical Oncology, said, "It is important in a multidisciplinary context, backed by best evidence worldwide to accurately identify these patients that potentially could have a cure to Stage 4 colorectal cancer. We are privileged to be in an ecosystem that allows for such practise backed by this important publication."
The consensus guidelines – which was published in the scientific journal Lancet Gastroenterology and Hepatology in September 2021 – also help categorise patients into groups. These definitions allow for better management of patients, as well as the specific tests and classifications that are needed to treat them, including anti-cancer treatment, transplant, and downstream care after transplantation.
Only those who fulfil all 44 stringent criteria – like Madam Lim – will be eligible for a liver transplant.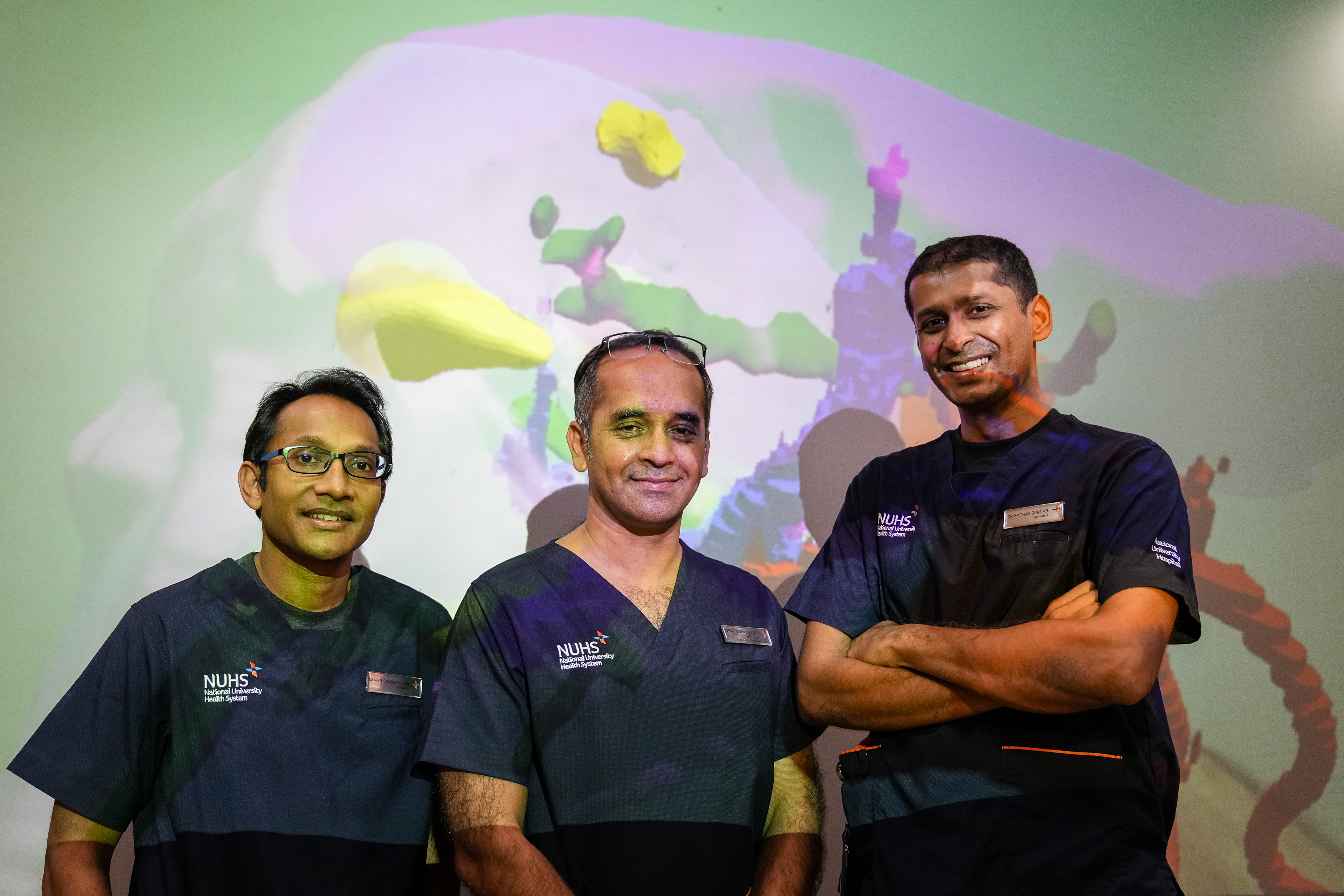 Dr Mark Muthiah, Consultant and Medical Director of the Adult Liver Transplantation Programme at NUCOT, and one of the authors of the study explained, "The biggest risk to these patients is the risk of cancer recurring after the transplant. The clear algorithm determined by the consensus group helps doctors select patients who can avoid this."
Dr Raghav Sundar, Consultant at the Department of Haematology-Oncology, NCIS, added, "The biological behaviour of the cancer to therapy is a crucial factor in the evaluation for eligibility to transplant. The criteria also define the importance of patients being treated by a multidisciplinary team with good communication among the various clinicians. If patients are to undergo treatment, and their cancer responds well, defined with specific criteria, they may be suitable to undergo living donor transplant."
Free of cancer, at last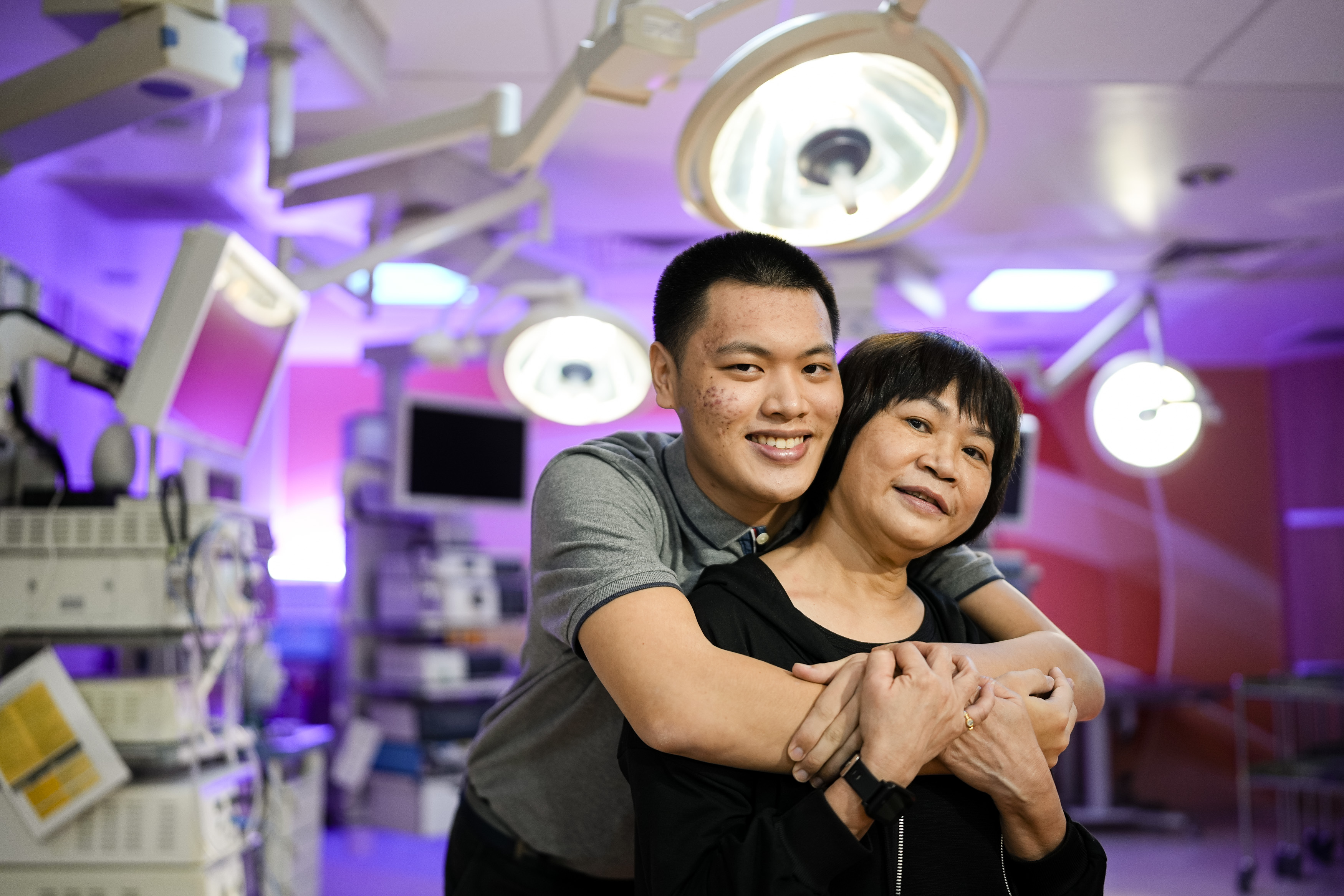 Before the liver transplant on July 28, Madam Lim first underwent surgery to remove the tumour in her colon.
Madam Lim's son, who had agreed to be the donor, then had 60 to 70% of his healthy liver removed – this was subsequently used to replace Madam Lim's cancerous liver.
Thanks to the skill, dedication, and professionalism of the NUHS medical team in charge of the liver transplant, the procedure was a resounding success.
Indeed, both Madam Lim and her son were discharged barely a week after the surgery, and she is now completely free from cancer.
New possibilities come with stringent criteria
Conventionally, patients whose liver metastases are unresectable would have no further options for a cure. The typical treatment for such cases uses chemotherapy, which simply controls and prevents further spread of the disease.
But this could all change following the success of Madam Lim's liver transplant.
Now, patients who have unresectable colorectal liver metastases, but show good response to chemotherapy, and fulfil all 44 consensus criteria, will be eligible to be considered for a liver transplant.
"This transplant highlights a new treatment paradigm, where specific patients with Stage 4 colorectal cancer who fulfil the necessary criteria may be candidates for liver transplantation. Liver transplant in this case should be seen as complementing other forms of modern cancer treatments to improve survival in this disease. The key to Mdm Lim's successful recovery involves a multi-faceted approach by a strong multi-disciplinary team involving pathologists, radiologists, surgeons, hepatologists and oncologists in NUHS," said Prof Chng Wee Joo, Director of NCIS.
In consultation with Prof Chng Wee Joo, Director, NCIS; A/Prof Glenn Kunnath Bonney, Consultant, Division of Hepatobiliary & Pancreatic Surgery, Department of Surgery, NUH; Consultant, Adult Liver Transplantation Programme, NUCOT, NUH; Consultant, Adult Pancreas Transplantation Programme, NUCOT, NUH; and Consultant, Division of Surgical Oncology, NCIS; Dr Mark Muthiah, Consultant, Division of Gastroenterology & Hepatology, Department of Medicine, NUH; Medical Director & Consultant, Adult Liver Transplantation Programme, NUCOT, NUH; and Assistant Professor, Department of Medicine, Yong Loo Lin School of Medicine, National University of Singapore (NUS Med); and Dr Raghav Sundar, Consultant, Department of Haematology-Oncology, NCIS, and Assistant Professor, Department of Medicine, NUS Med.