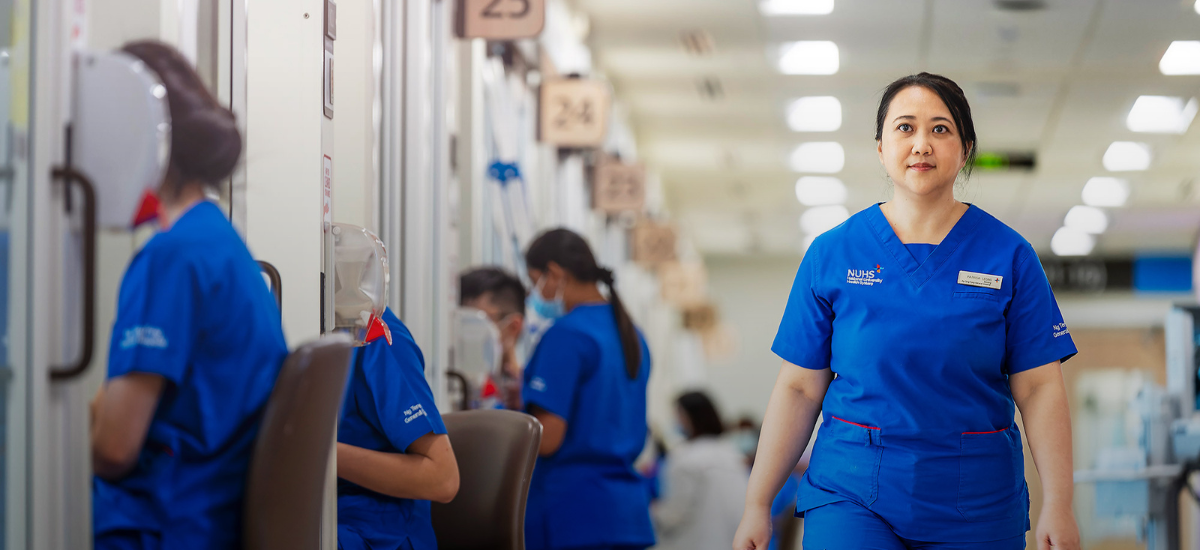 People
Leading the next generation of nurses to be the heart of care
Published on 1 August 2023
With her exemplary leadership, resourcefulness, and compassion, Senior Nurse Manager Patricia Leong is inspiring the next generation of nurses at Ng Teng Fong General Hospital to become the heart of healthcare.
With over 24 years of experience under her belt, Ng Teng Fong General Hospital (NTFGH) Senior Nurse Manager (SNM) Patricia Leong has seen it all, and done it all.

It is no surprise then that she has been tasked to mentor and guide the next generation of nurses, in her capacity as one of the leaders of NTFGH's integrated Intensive Care and High Dependency Unit (ICU/HD).

However, it is not solely her extensive experience that earns Ms Leong respect as a leader among her peers and junior nurses.

What sets her apart as an exceptional leader is her commitment to treat everyone she encounters – from colleagues to patients – with genuine kindness and compassion.

"As leaders, we are role models for the junior nurses, so we have to embody the right values in everything we do," said Ms Leong. "Being compassionate and supportive are essential qualities in nurses, but it is also important that we – as leaders – are resourceful and approachable, so that we can effectively assist our team with any challenges that they might encounter."

With strong clinical skills and an innate ability to lead, Ms Leong's journey into the nursing management track was inevitable.
But she admits that she could not have become the leader she is today without receiving some guidance from her previous and current supervisors and peers.

"It was my supervisor who first tasked me to manage the ICU/HD unit," Ms Leong revealed. "As the overall nursing lead, I oversaw the planning, organising, and managing of the nursing workforce within the unit.

"I also had to supervise and provide direction to the team, as well as delegate tasks to the nurses under me, while being accountable for the overall patient care.
"It's a heavy responsibility, but I was able to do it thanks to the guidance of my supervisor, who reassured me along the way."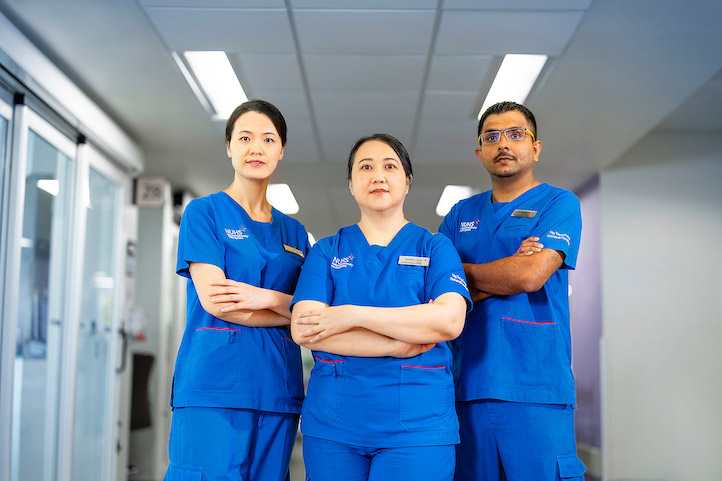 Ms Leong emphasised that one of the most significant challenges of being a leader lies in the art of effectively managing people.

She explained, "Yes, there are operational challenges that we face, such as audits and administrative paperwork.

"But another aspect of our role as SNMs involves dealing with conflicts, which can be quite challenging. Additionally, there are times when we have to counsel nurses, and that is not always a pleasant task.

"A nurse leader needs to have the emotional intelligence to handle all these situations. Effective communication and the ability to work as part of a team are also essential qualities that they must possess."

For Ms Leong, however, the rewards of grooming the next generation of compassionate and skilled nurses far outweigh the challenges she encounters as a nurse leader.

"It is rewarding to see the nurses under you realise their potential and go on to achieve great things in their own careers," Ms Leong elaborated. "Knowing that I can serve as a positive influence and role model in their careers reaffirms the value of my role as a leader.
"My aspiration is to inspire more nurses to embrace their roles wholeheartedly and become the heartbeat of healthcare."

In consultation with Patricia Leong, Senior Nurse Manager, NTFGH
Visit our new NUHS Nursing Career Site where you can learn all about the vast opportunities to excel, innovate, lead, teach, and advance your nursing career.