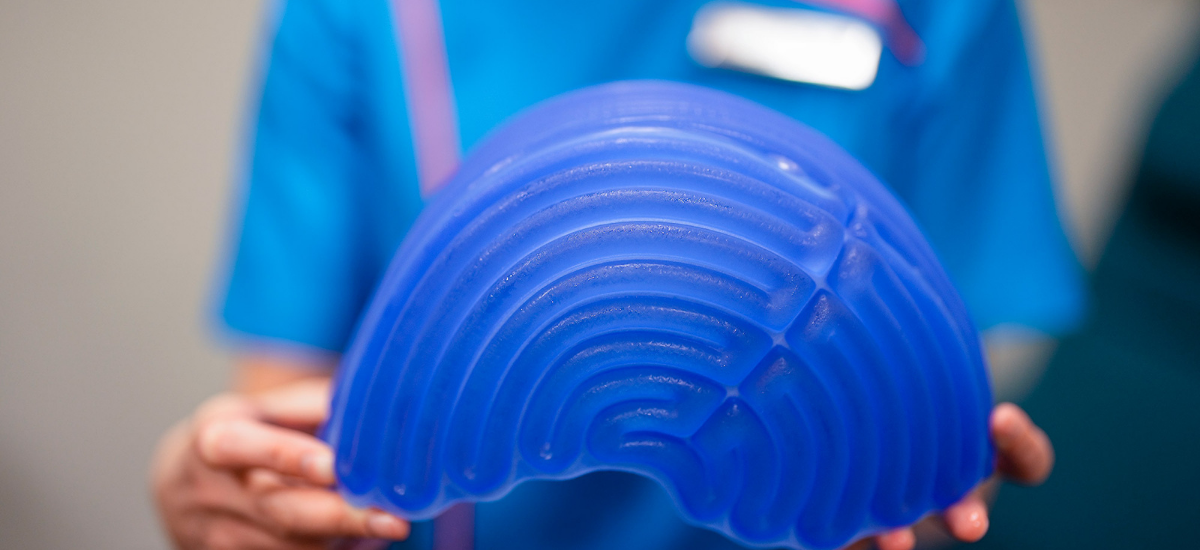 News
Science
New scalp cooling therapy could reduce hair loss in cancer patients
Published on 15 March 2022
Hair loss (or alopecia) can be a distressing side effect for cancer patients undergoing chemotherapy. But scalp cooling therapy could alleviate this issue in more than half of patients, a study says.
For patients undergoing chemotherapy, hair loss can be one of the more distressing side effects.
"A lot of times, hair loss and complete [baldness] is an indication that someone has cancer," said Dr Joline Lim, Consultant at the Department of Haematology-Oncology at the National University Cancer Institute, Singapore (NCIS).
Hair loss, or alopecia, is a common side effect that affects more than 75% of patients undergoing chemotherapy. It occurs when chemotherapy, a treatment designed to remove, kill, and damage cancer cells, inadvertently reaches the hair follicles, causing them to die and hair to fall.
While this may seem like a purely cosmetic phenomenon, it can cause great stress and anxiety to patients, Dr Lim explained. She added that she has seen some patients express reluctance – or even refusal – to undergo chemotherapy, out of the fear of losing their hair.
One reason could be the desire to avoid unwanted questions or attention. Dr Lim said, "Inevitably, when we see someone who is bald, or wearing a scarf or a hat…out of concern, we might ask questions. But it may not be something that the patient is willing to share [about]."
Other patients – such as Dr Lim's own late father-in-law – may worry about causing distress to their family members, such as young children.
"For him, it was not vanity," she shared. "He felt that if he became bald, our children would be sad, they would wonder what's happening to ye ye (grandfather).
"And to him, it was very important that [his cancer] didn't affect his grandchildren, who he loved very much."
Scalp cooling therapy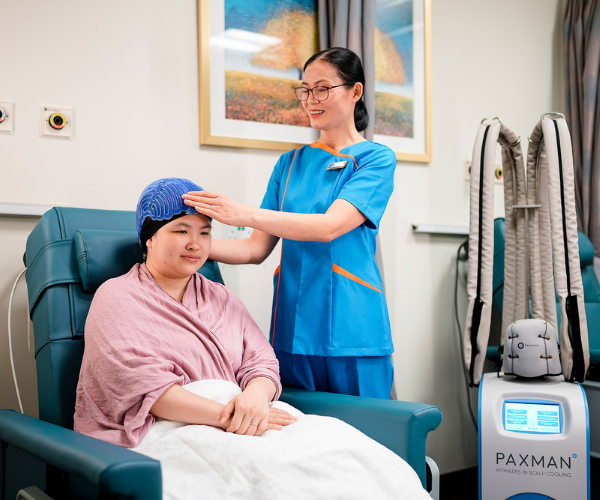 It was this – the desire to help alleviate their patients' distress – that led the NCIS team to study and eventually, introduce, scalp cooling therapy to their patients.
"Our aim [has always been] to make sure that [patients] get the best treatment, that we can cure them of their cancers," Dr Lim explained. "But we're already at the stage where we're looking beyond just treating their cancer…we really want to take care of the patient as a whole."
The therapy works by reducing the temperature of the scalp before, during, and immediately after the administration of chemotherapy. Patients wear a 'cold cap' that lowers the scalp's temperature to 18 to 22 degrees Celsius, constricting the blood vessels and reducing the effect of chemotherapy on the hair follicles.
In a pilot study involving over 80 patients, over 50% of patients reported hair preservation, or had hair loss but experienced good regrowth, even during the course of chemotherapy treatment.
This data shows that the efficacy is comparable to that in Caucasian populations, Dr Lim added. As such, NCIS has now expanded this pilot trial into a full-fledged service, available to NCIS patients with solid tumours undergoing chemotherapy at NUH.
But Dr Lim cautioned that the therapy's effectiveness may vary depending on a number of factors, such as the type of chemotherapy. Taxane regimens, for instance, saw more success than anthracycline regimens.
"You find that the effectiveness does drop with stronger chemotherapy," she said. "And it does differ from patient to patient too."
Preserving patients' dignity
Breast cancer survivor Mdm Yeoh is one such patient who has benefitted from the scalp cooling therapy.
She began undergoing chemotherapy in October 2017. By the time the trial began in December that year, she had already lost all her hair.
"Hair is very important to a woman. When I saw hair coming out in clumps, in the shower, it was devastating," she shared. "Looking so sickly, and with other people always staring at you…psychologically, it was difficult."
At that point, there was no data yet regarding the therapy's efficacy on patients already midway through their chemotherapy process. Nonetheless, Mdm Yeoh decided to give it a try. "And it did help," she said, adding that she felt "hope" when she and her husband noticed the first few baby hairs growing.
By the time Mdm Yeoh was done with the therapy, she had a full head of hair, and was able to go out in public without wearing a beanie. Her only regret: that the therapy wasn't brought in sooner.
"I'd recommend it to everyone," she said. "[With cancer], you'd sometimes rather other people not know, because you don't want to keep telling them about your experiences, it's very private. You don't want them to ask too many questions.
"But if you don't have hair, you can't avoid it."
Going beyond to provide holistic care
The NCIS team hopes that the therapy will offer more patients peace of mind.
"We don't want patients to feel that on top of dealing with chemotherapy, the whole devastating diagnosis of cancer, and trying to deal with the side effects of treatment…that they also have something else they have to deal with," said Dr Lim.
"Although it may seem cosmetic to some people, we feel very strongly that this is part of ensuring that patients should maintain the dignity that they have, even through the treatment process."
There are plans to extend the service to Ng Teng Fong General Hospital by the second quarter of 2022. In addition, the team is working with the manufacturers to study the potential use of cooling technology to relieve limb numbness in cancer patients – another side effect of chemotherapy that occurs when the medication affects nerve endings.
"It is very important to us as oncologists, that we take care of our patients – not just their cancer, but we take care of them as a whole," concluded Dr Lim.
In consultation with Dr Joline Lim, Consultant, Department of Haematology-Oncology, NCIS.