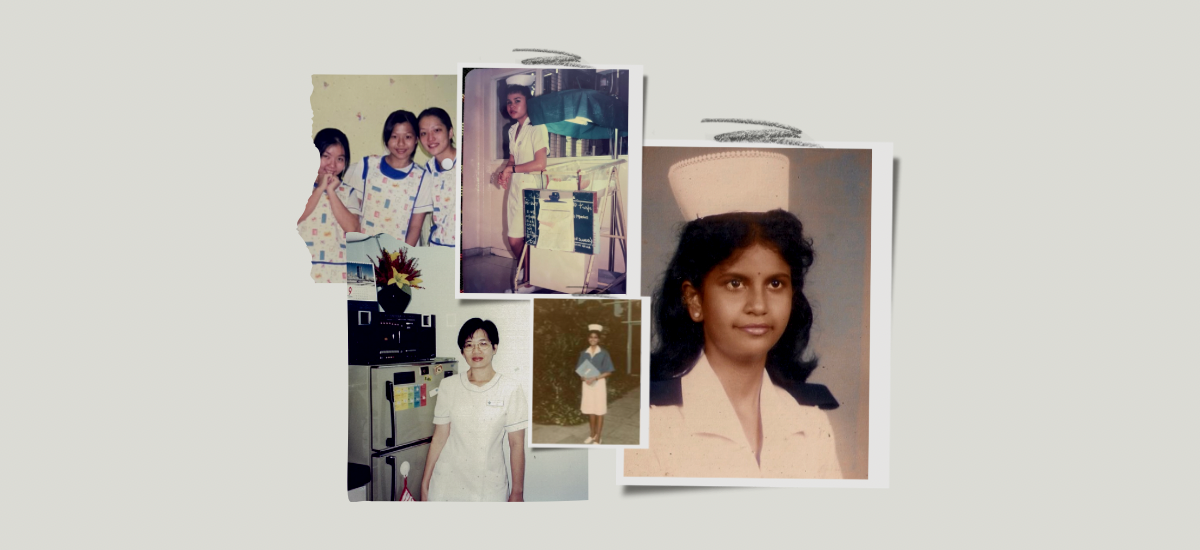 People
Nurses' Day 2022: Reminiscing the past, reaching for the future
Published on 31 July 2022
It's no secret that being a nurse is a tough job.
But in the face of adversity, many nurses have persevered through the years (and even decades), committing their lives to serving the sick, the hurting, and the dying.
This Nurses' Day, we speak to four senior nurses as they share about their early days within the profession, and how they have grown and changed – from their youthful past to their equally vibrant present.
Watching patients grow
Assistant Nurse Clinician Hashimah Bte Hashim, Choa Chu Kang Polyclinic
Ms Hashimah Bte Hashim had just graduated from nursing school when she saw a baby die in front of her.
It was during her very first posting in a paediatrics ward. She'd been looking after the baby (who had a history of asthma) for a few weeks when the infant collapsed.
Watching his mother break down, crying and hitting her head against the wall, she felt "really very sad".
"At the time, I thought, 'why is this happening? Why would he collapse and leave us?'" she shared. "It was an experience that I really couldn't take."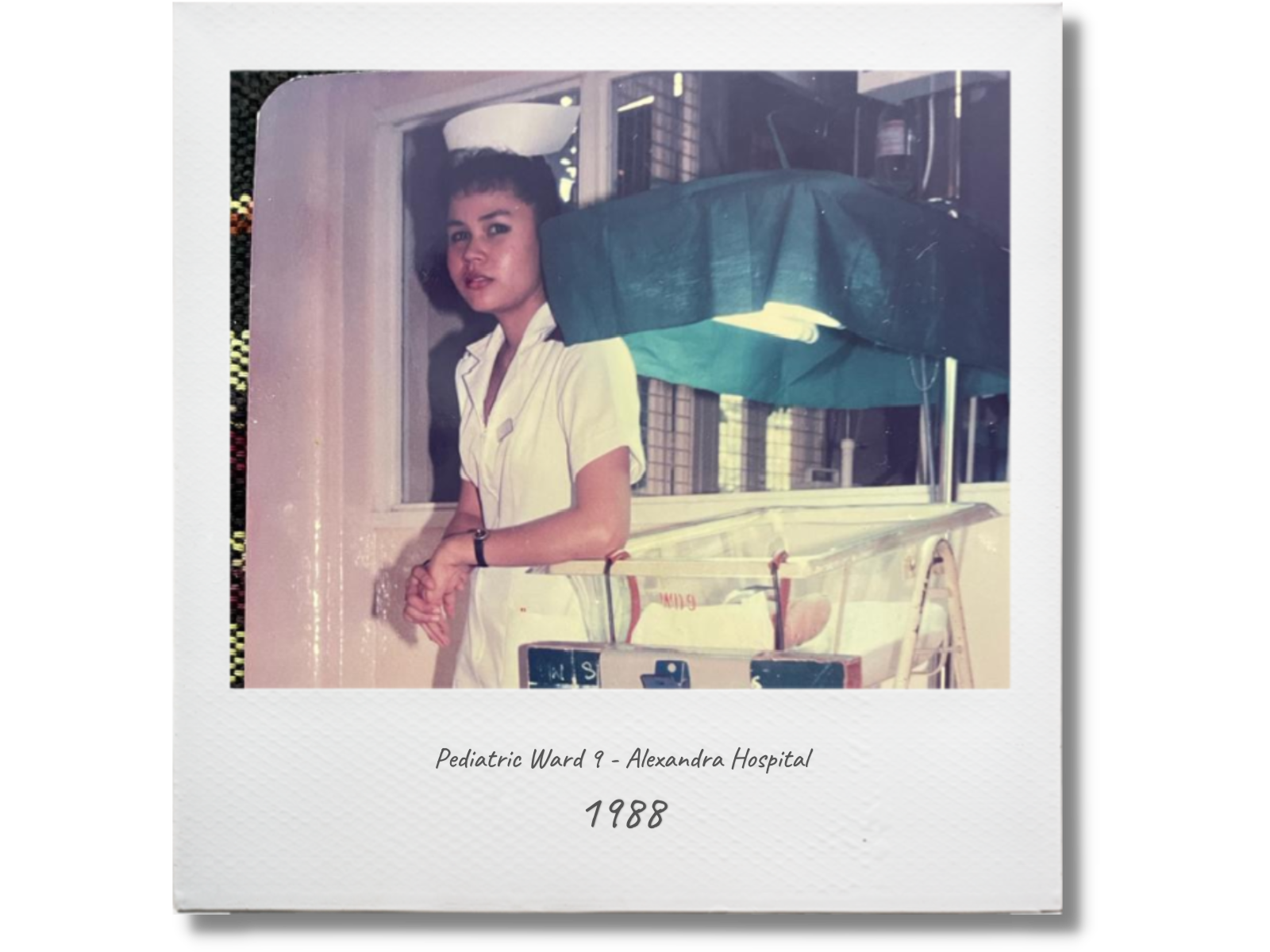 But as time went on, she began to see not only the painful parts of the job, but also the joyful parts. One memorable instance happened during one of her early shifts at Choa Chu Kang Polyclinic – when a patient was involved in a hit-and-run.
"He was flung [by the impact], so he had multiple injuries…there was blood all over him," she recounted. The team rushed out to help the man and called for an ambulance, and the patient was whisked away to a hospital for further treatment.
But that wasn't the end of the story. Ten years later, she saw the patient and his son walk into the polyclinic. "And he said, 'Eh, Missy! You are the one who saved me!'" she shared. "He still remembered, and I felt very touched."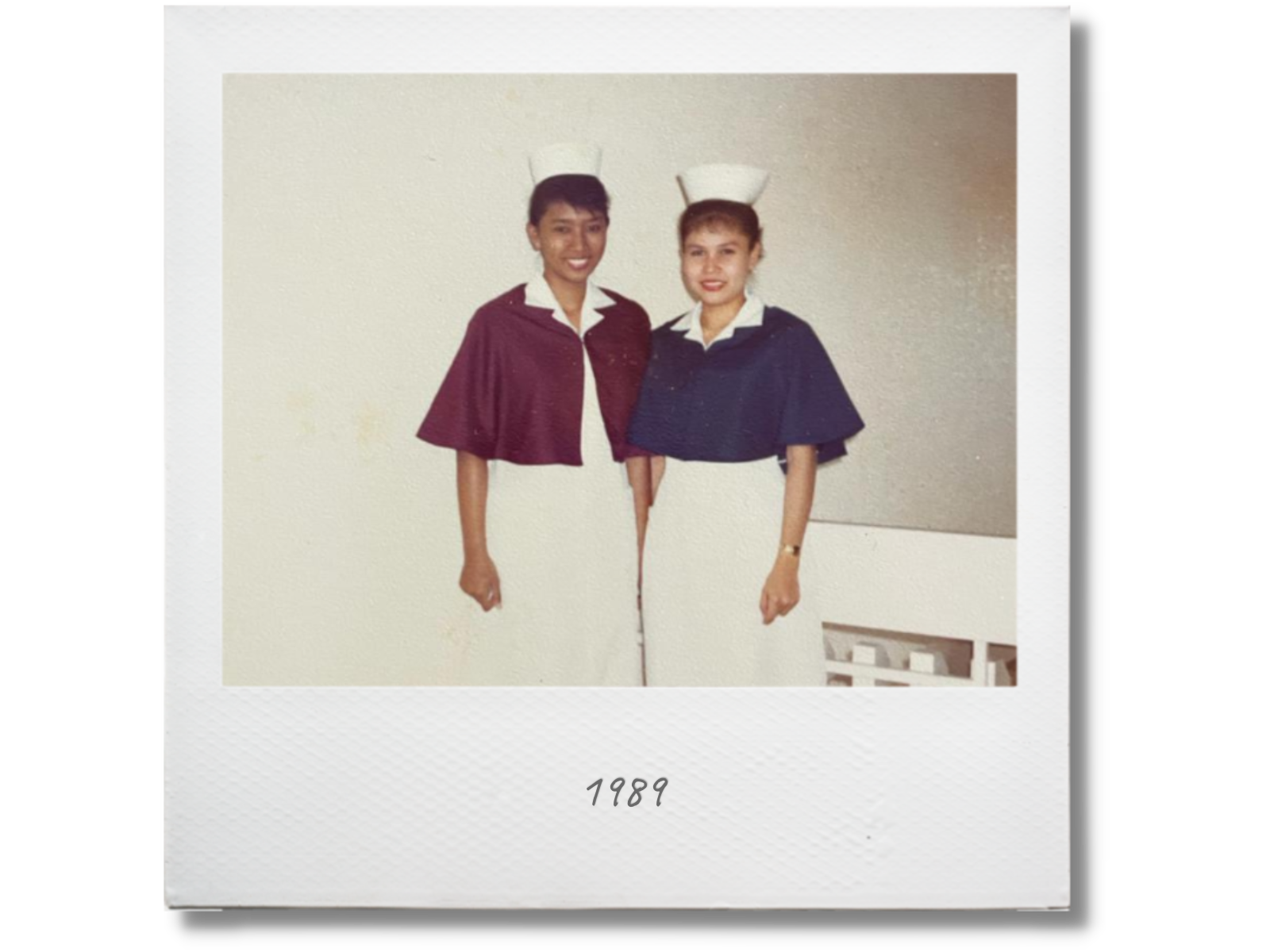 Another thing that she finds particularly meaningful as a nurse: seeing patients she vaccinated as infants come back as teenagers and adults.
"When [my patients] see me in the polyclinic, the parents will say, 'do you remember this nurse? She's the one who looked after you!'" she said with a laugh.
"Of course, they probably don't remember because they were babies, but the parents remember…they will tell their children, 'this nurse gave you your jab when Mummy brought you to Choa Chu Kang Polyclinic!'"
Today, Ms Hashimah remains one of the pillars of the polyclinic's nursing team. Her endeavours have won her a Ministry of Health Nurses' Merit Award in 2018 – and besides that, she has found a new calling as a clinical instructor for nursing students.
"I love nursing," she said. "That's why I've been here for more than 35 years. And I love sharing the experience, knowledge, and skills to young healthcare professionals…I want to make sure that they become good nurses and do the right thing.
"And one day, they could even become my reporting officer!" she quipped.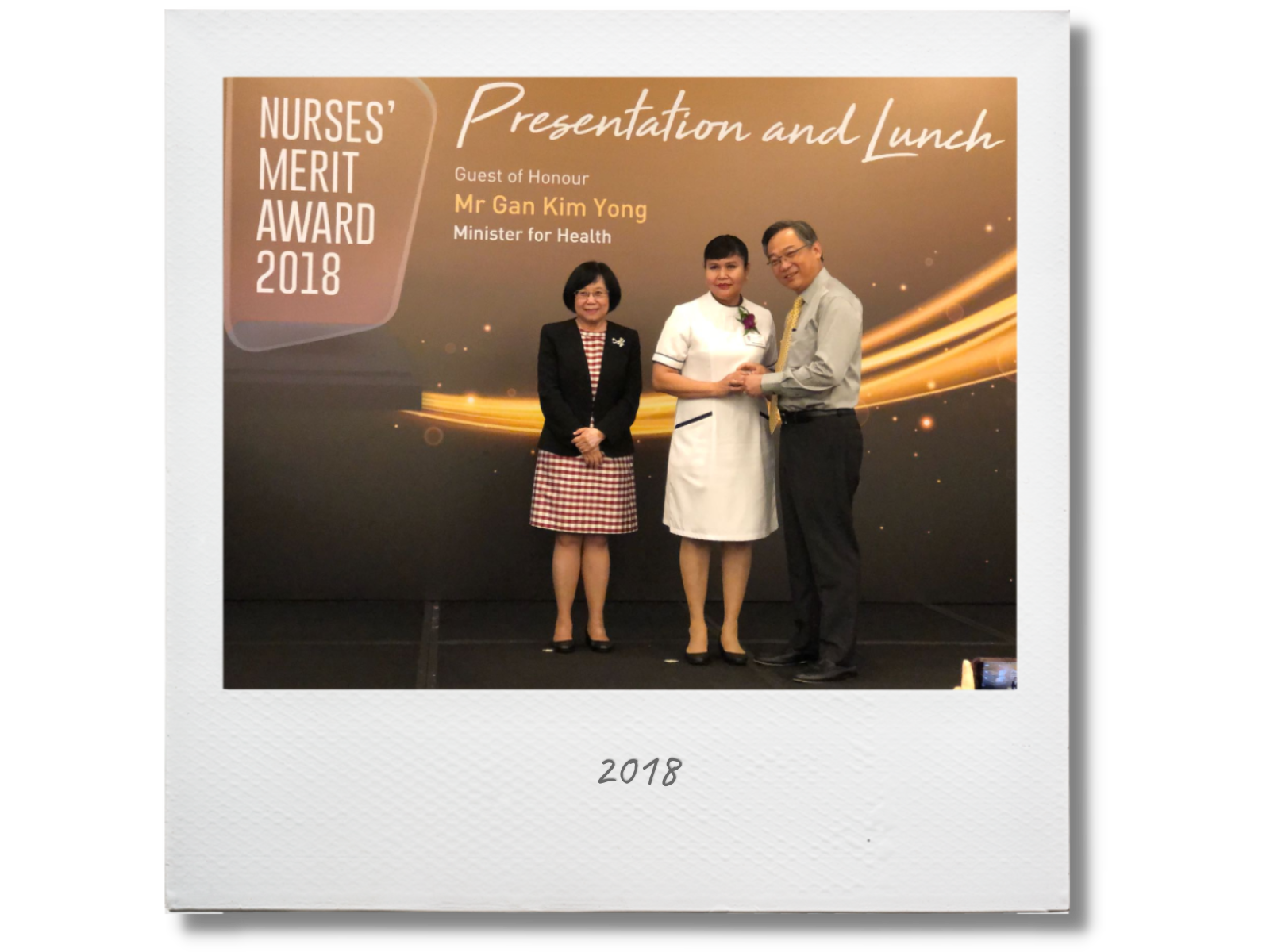 Being a frontliner in Singapore's first outbreak
Senior Nurse Manager Lim Luen Ying, NUH
For Ms Lim Luen Ying, one of her strongest memories in nursing was when she worked through the 2003 SARS outbreak.
Having joined nursing in 1974, she was already a veteran at the time. But even her years of experience could not prepare her to face the the ordeal of being a frontliner in one of Singapore's worst public health disasters.
"It was quite sad when I heard about some nurses being chased out of the house by their landlords," said Ms Lim. "[There was an incident] when the moment the nurse reached home, the landlord threw her bags outside the door."
She still recalls that at the time, some of the wards at the hospital had to be repurposed into temporary accommodation for healthcare staff who had nowhere else to go.
"It was quite sad, seeing your colleagues being treated that way," she said. "I felt angry, but among ourselves, we supported each other as a team, as one."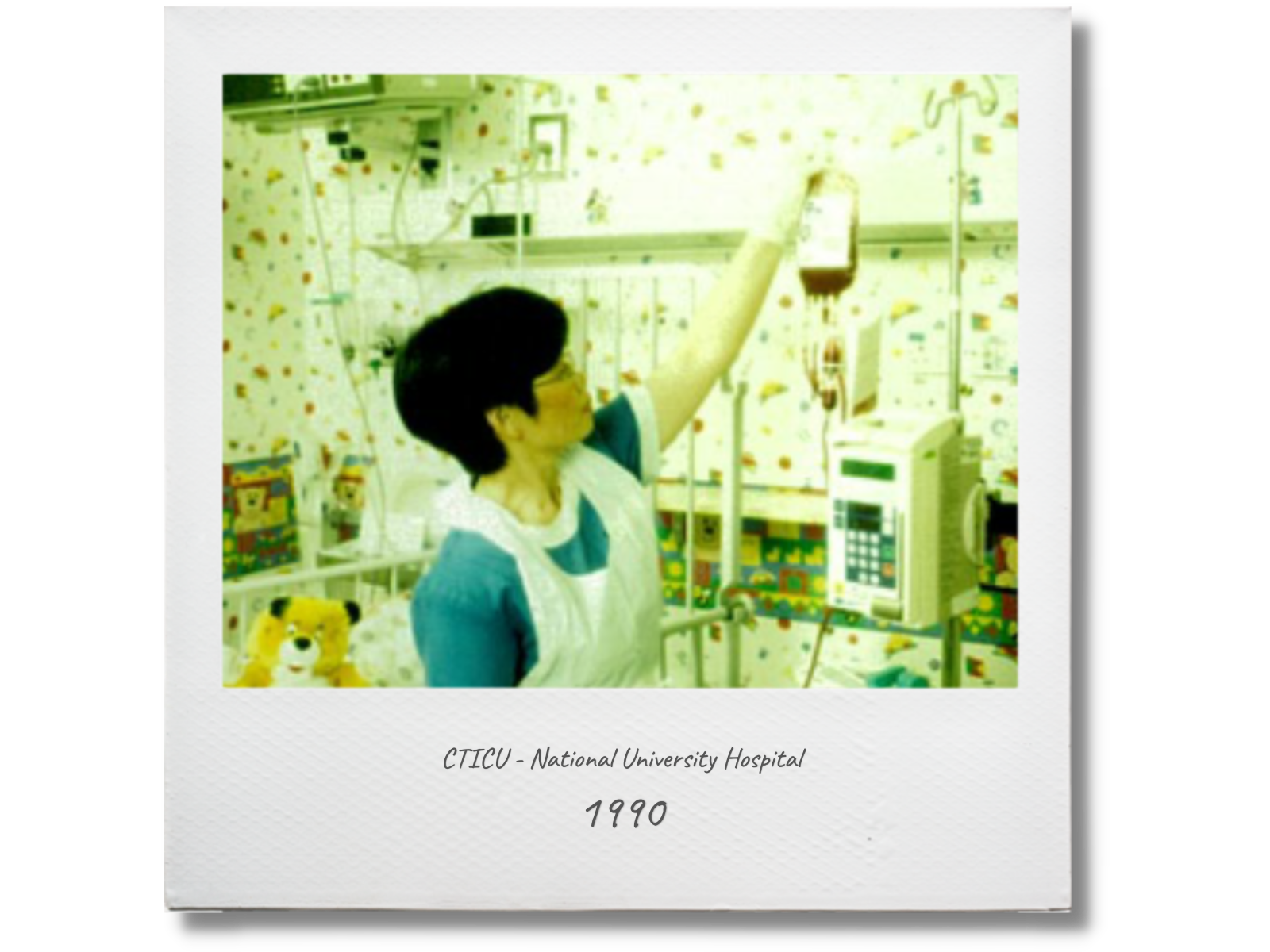 It was such experiences that built the healthcare system's resilience. And during COVID-19, Ms Lim was gratified to see the spirit of camaraderie resurface – just as she experienced almost two decades ago.
"In a healthcare system, during a crisis, everybody has to work as one. So everybody stood together, we helped each other to get through the tough times," she shared.
She added that it was a pleasant surprise that this time, the public stepped in to encourage the frontliners through small acts of support as well.
"We received a lot of encouragement from the public, who gave us things like snacks…and schoolchildren, who gave us cards to support us," she said. "It was very meaningful."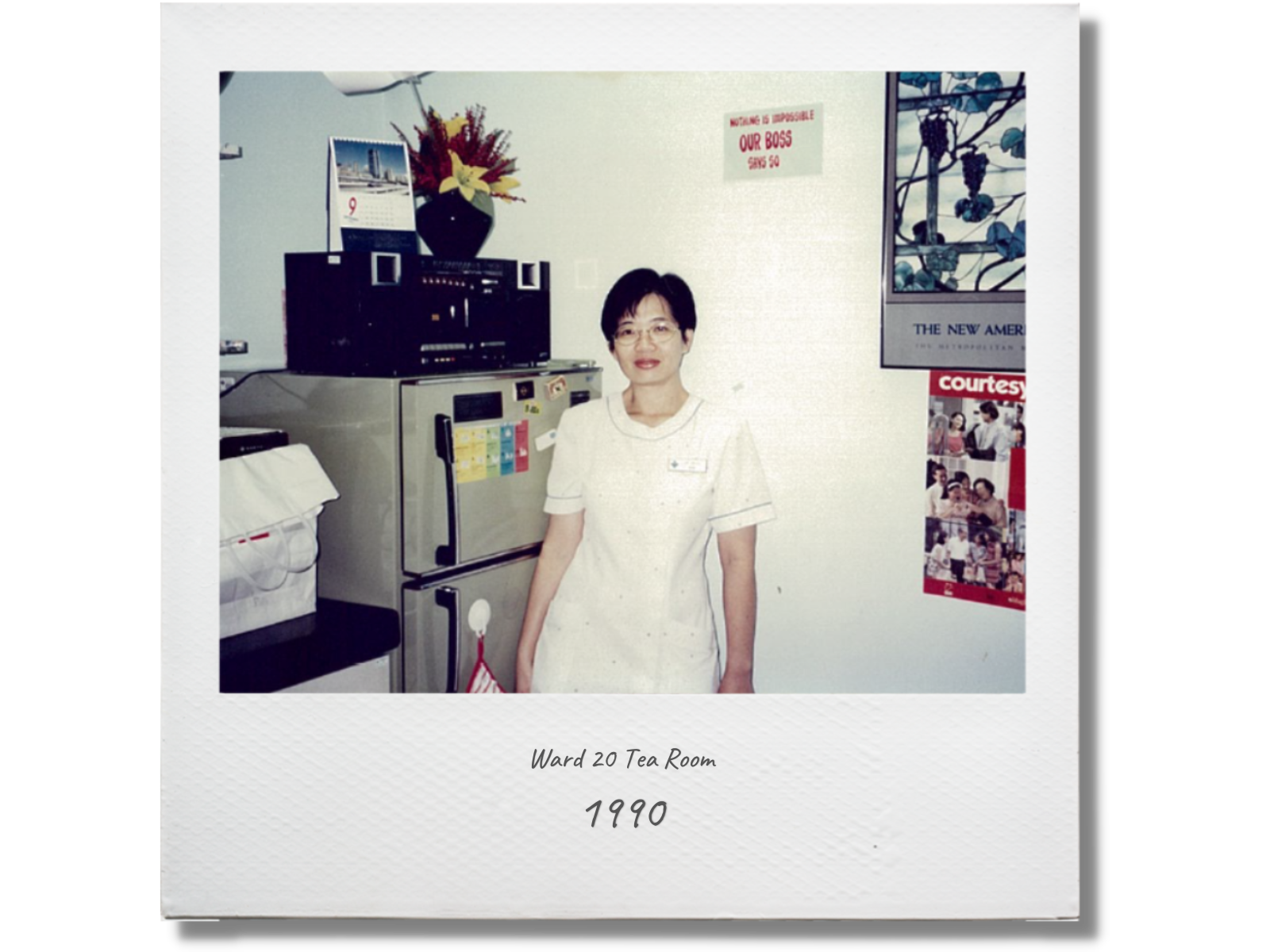 Growing in strength and resilience
Senior Nurse Manager Nagarethinam D/O Ramasamy, JurongHealth Campus
Some 40 years ago, after working her first shift as a nurse, Ms Nagarethinam Ramasamy walked out of the hospital – and very nearly didn't go back.
"When I went into the ICU (Intensive Care Unit), I saw all the tubes coming out from [the patients'] heads…every head was bandaged, and there were a lot of alarms," she said. "So that that really frightened me."
After that harrowing experience, she went home and cried. Alarmed by her daughter's breakdown, Ms Naga's mother urged her to resign.
But when her brother returned home that evening and heard about his sister's plan – "he said, 'I'm ashamed you're my sister,'" Ms Naga recalled. "'It's just your first day and you want to quit. You didn't even give yourself a chance…at least try for three months before saying you cannot do it.'"
So she did. And till today, she remains a committed nurse.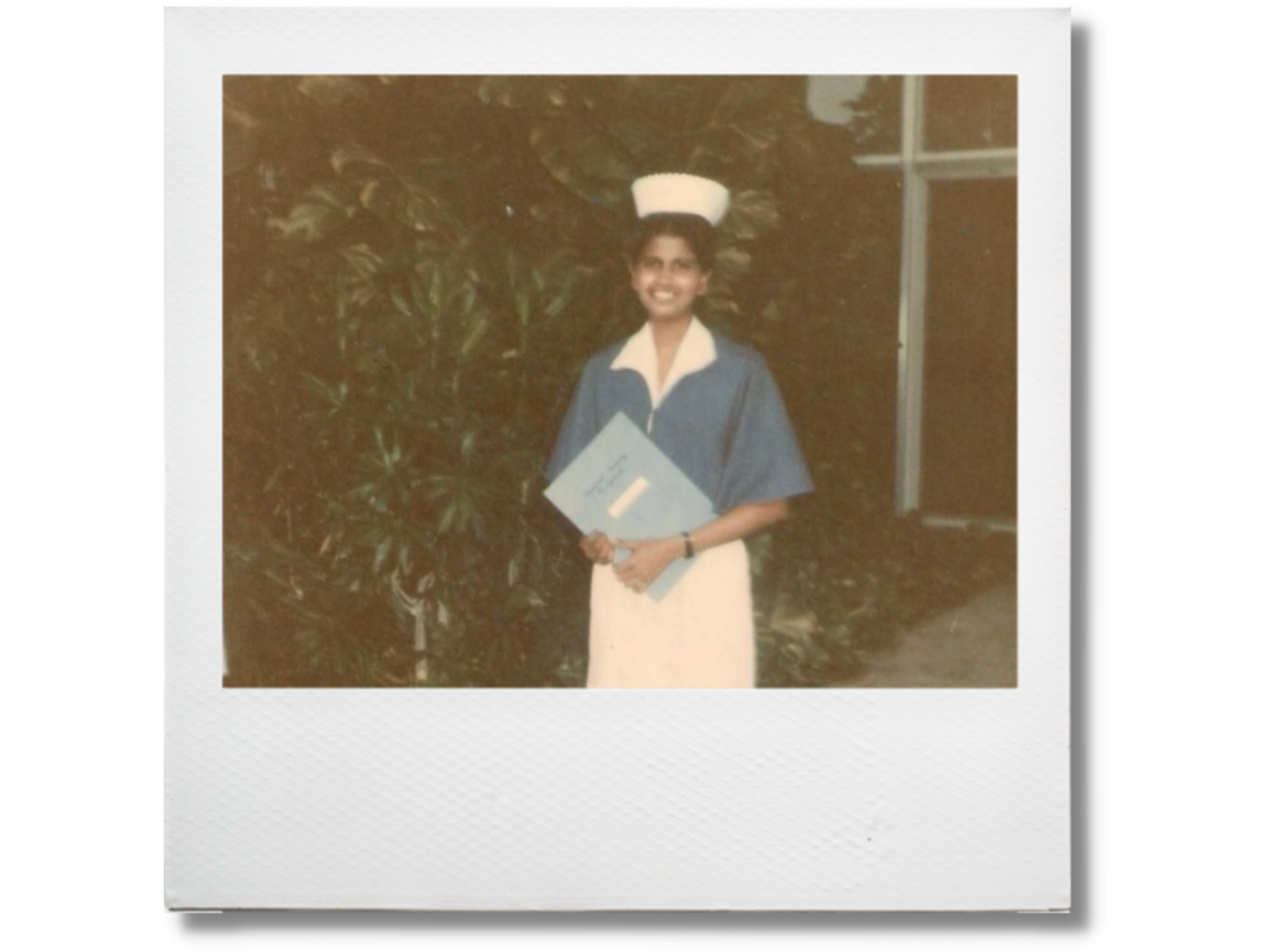 In stark contrast to her youthful self, the present-day Ms Naga gives off an air of calm, collected confidence. She recounts stories of her past experiences with unselfconscious humour, seemingly amused at her old timidity.
One of her earliest memories as a junior nurse, she shared, was when she went to the mortuary with the body of a patient who had passed away from disease – her first time doing so.
"It was past midnight," she recalled. "The others brought the body inside, so I was alone outside the mortuary. I was pretty young at the time…so I was a bit scared."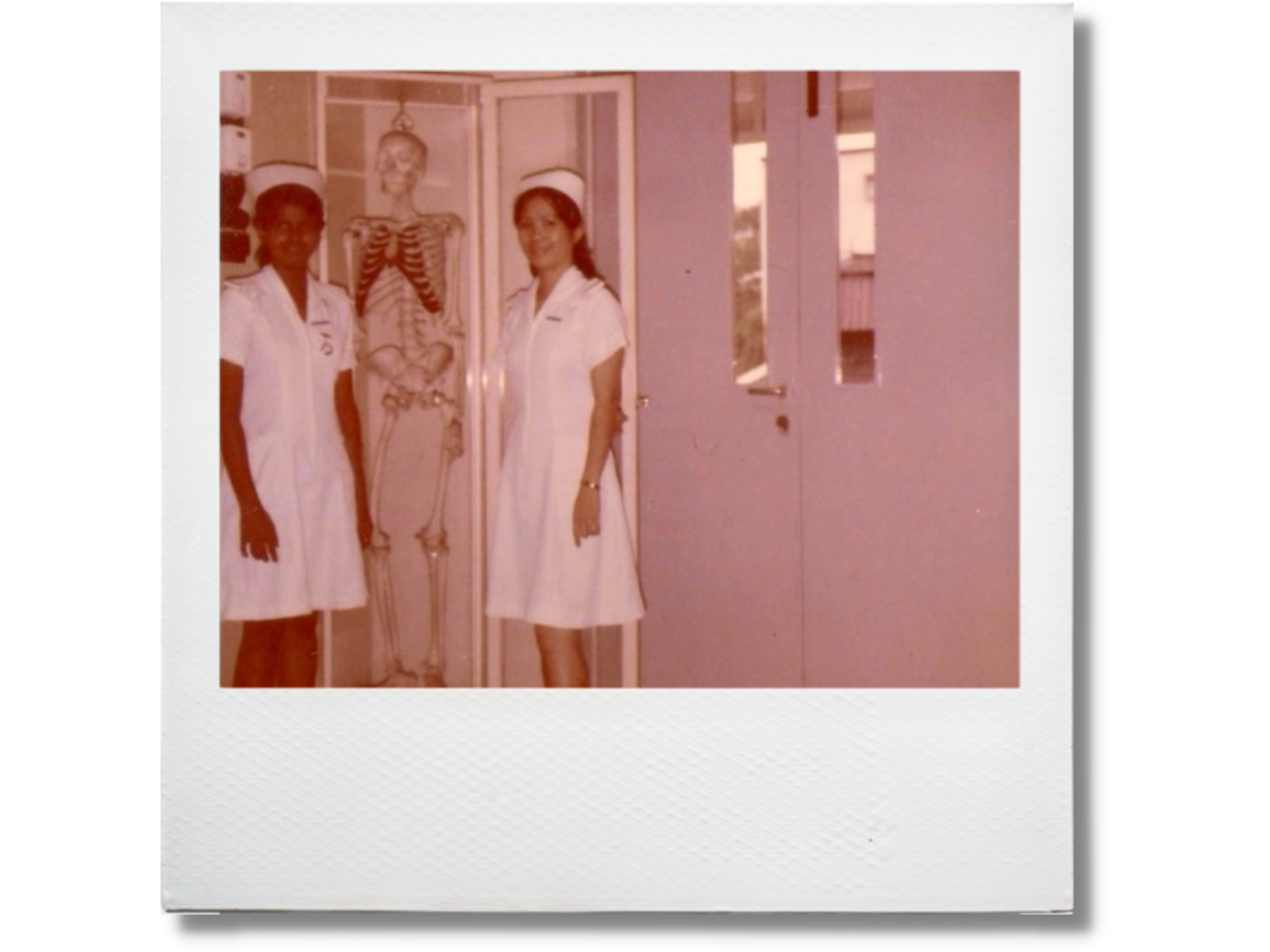 Ms Naga is no longer a stranger to tragedy – in fact, they form some of her most poignant memories. One moment that stands out was with a patient who died relatively young, in his middle age.
Despite the shock of the loss, the patient's son took the time to approach her afterwards and even shook her hand.
"He said, 'thank you very much, you have been beside my dad through his last breath,'" she shared. "That was when I really felt that nurses could make a difference."
Four decades on, reflecting on that emotional first day, her brother's admonishment made her "very sad", said Ms Naga, who intends to remain a nurse as long as her health allows her to.
"But now…I would thank him a million times."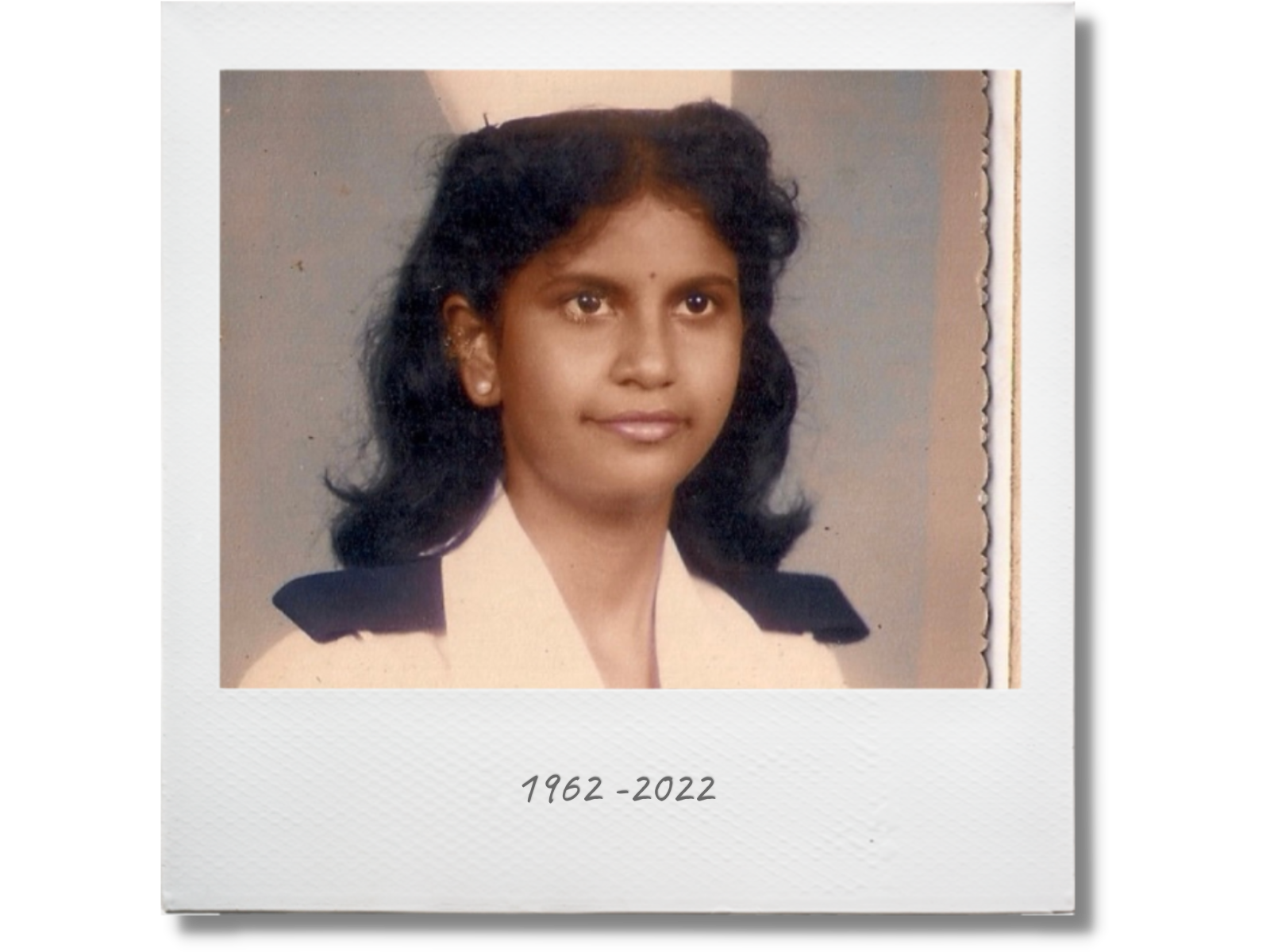 *Sister Naga has passed away peacefully as of 3rd July 2022.
A happy accident
Senior Nurse Clinician Pauline Chong, Alexandra Hospital
As a teenager in nursing school, Ms Pauline Chong thought her future was set in stone.
Ever since watching an advertisement on TV in her youth, she'd wanted to be a nurse. She entered nursing school and, with her love of children, quickly gained an interest in the field of paediatrics.
But her carefully planned future soon began to take on a life of its own. After graduating in 2002, she applied for her dream job – but was instead posted to a General Medicine ward. She also had to contend with SARS, one of Singapore's worst public health disasters, just a year after entering the service.
Her initial experience as a junior nurse was challenging. Her patients, mainly older adults, mainly spoke in dialects, most of which she was unfamiliar with. "The patients would say, 'Eh, Missy, how come you speak like that?' They couldn't quite understand me," she explained.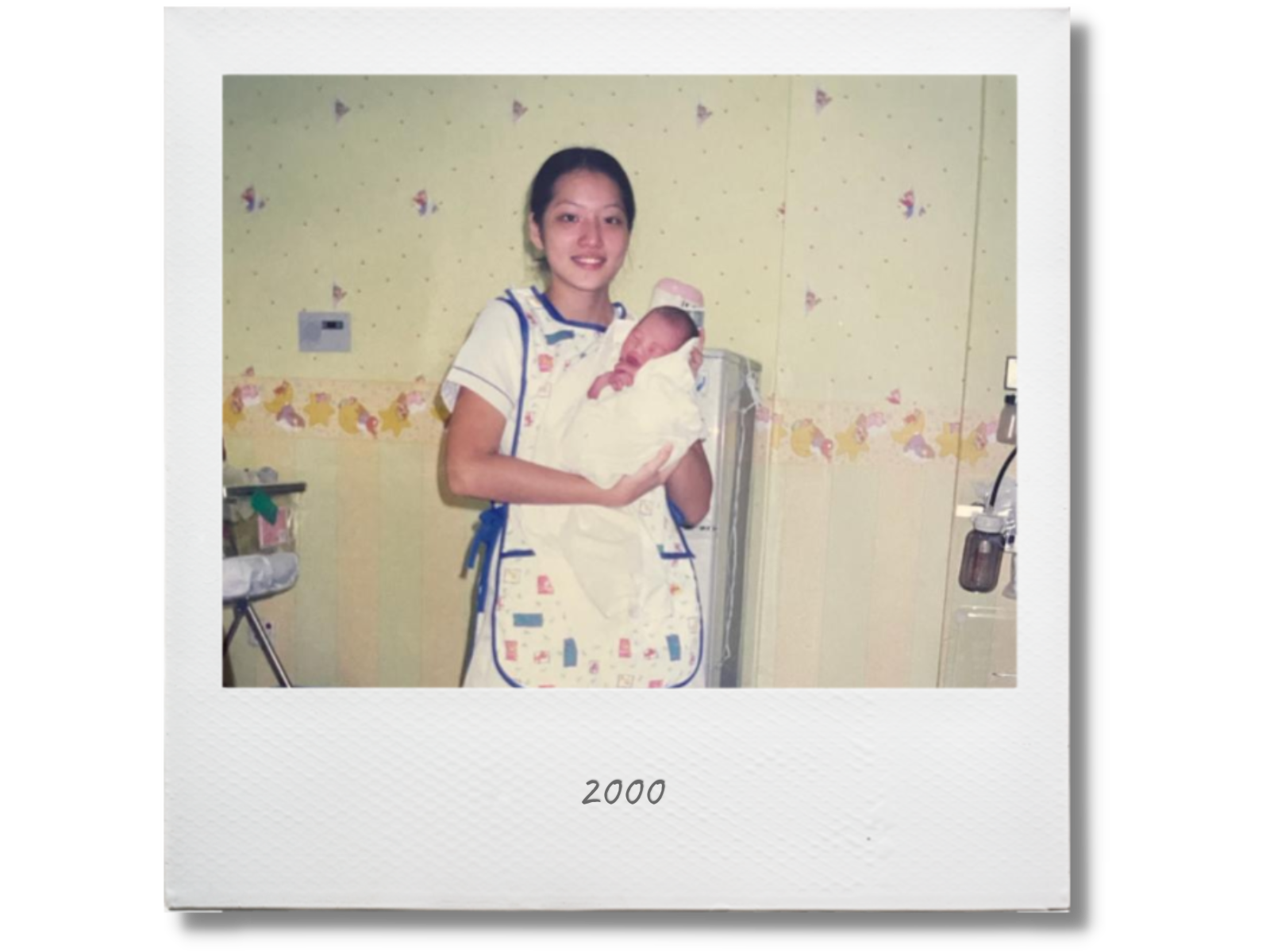 In addition, she found herself having to manage patients who – because of their conditions – frequently became disruptive. She recalled a patient who became confused in the middle of the night and started calling for help.
"She was shouting in Hokkien, 'Giu mia, giu mia!' (Help me, help me!)" said Ms Chong. "So I told her, 'bek liang ai kun' (others are sleeping). So instead, she whispered 'giu mia, giu mia'. [In retrospect], it was quite funny."
On another occasion, she had a patient who tried to leave the ward in the middle of a busy evening shift. "I was very overwhelmed, because I was busy serving medicine to the other patients…but [she] insisted on going out of the ward," she said.
"That was when I was a junior nurse, and I remember I was very small at that time – and she was very big-sized. So I was holding on to her, coaxing her to stay, saying 'Auntie, bu yao zhou' (don't leave).
"But she was so strong and dragged me [with her]."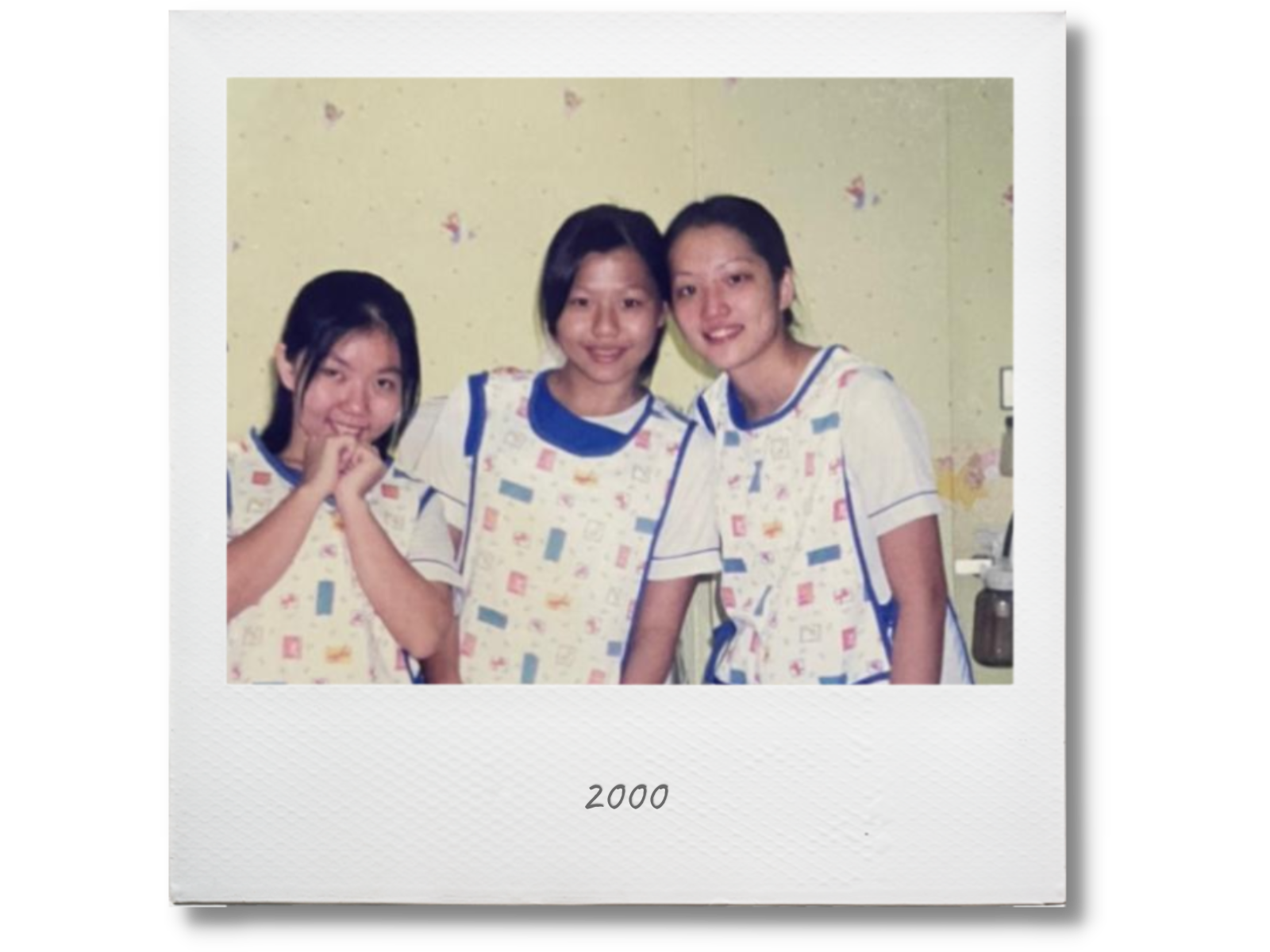 While distressing at the time, these events have since become fond memories for Ms Chong, who today proclaims a passion for serving older adults, even obtaining a specialist diploma in gerontology along the way.
As such, she has "no regrets" about forgoing her dream job. In fact, she misses attending to patients (she mostly supervises these days) and still tries to chat with patients whenever she visits the wards.
"I once had a patient who told me, 'Missy, I give you four words – shen lau bing si'. That means birth, age, sickness, and death," she said.
"That's one of the reasons I developed a passion in gerontology. Because I feel that [my patients] are very wise…I've learnt a lot from them, from their walks of life."