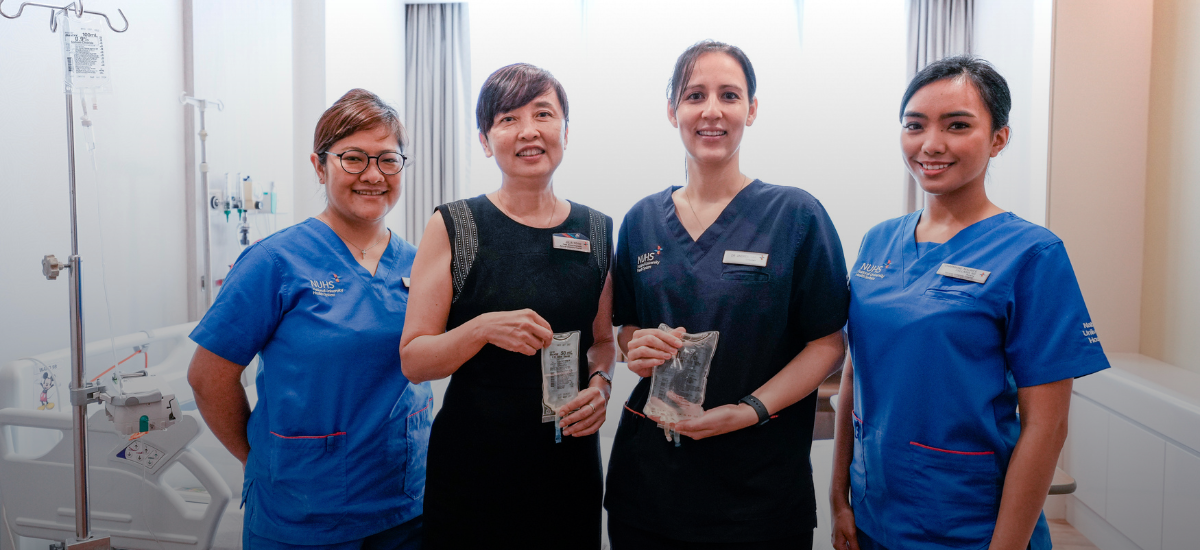 News
Recycled IV drip bags at NUH can be made into rain boots
Published on 13 February 2023
Approximately one million IV fluid bags were used in NUH in 2022 – equivalent to over 24 tonnes of PVC – and the hospital aims to recycle 80% of the waste produced.
When Dr Andrea Yap moved to Singapore and joined National University Hospital (NUH) as a Consultant in the Department of Anaesthesia in 2018, she was surprised to learn that many did not know polyvinyl chloride (PVC) could be recycled.
After all, at healthcare institutions in the United Kingdom and Australia – where Dr Yap had previously studied and worked at respectively – PVC recycling was a common practice.
Determined to implement this initiative at NUH, Dr Yap approached several recycling and waste management companies early last year to ask if they could recycle the hospital's intravenous (IV) fluid bags, which are made of PVC.
IV fluid bags are used every day in medical practice to help prevent dehydration, maintain blood pressure and provide medication or nutrients as part of treatment. NUH uses approximately one million IV fluid bags – which translates to more than 24 tonnes of PVC – every year.
After multiple rejections, Dr Yap finally found a suitable recycling and waste management company that agreed to help NUH with this new initiative.
"The amount of PVC waste generated in a hospital is quite significant, so I was determined to get this recycling initiative going," Dr Yap recounted. "But I was told by many companies that this was not possible in Singapore due to factors like cost. Thankfully, one of them responded to say they could do it, and we started our pilot PVC recycling programme in November last year."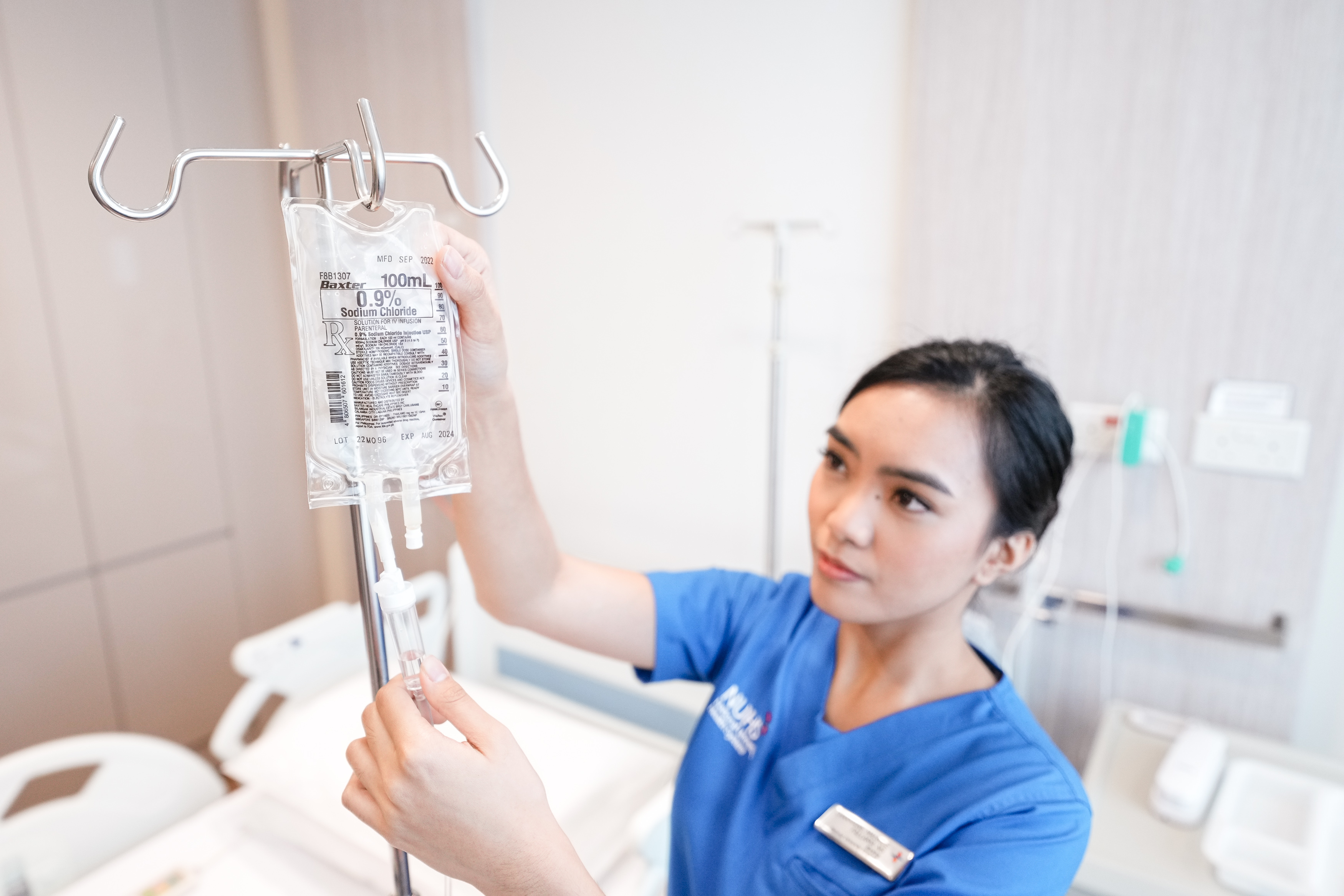 As part of the pilot, collection bins were placed in operating theatres and selected wards for healthcare staff to discard used and uncontaminated IV fluid bags to be collated and sent for recycling.
These bags are then broken down into PVC pellets and repurposed to produce new consumer items such as playgrounds, garden hoses and rain boots.
According to Dr Yap, this initiative – a collective effort by the Department of Anaesthesia, nursing, inpatient operations, and group hospitality teams in NUH – has been well-received by staff who took part in the pilot programme.
"Education and awareness of the programme along with the environmental benefits of PVC recycling were key to influencing change in practice," Dr Yap said. "This required significant contributions from all staff including nurses, housekeepers, administrative and operations staff as well as doctors.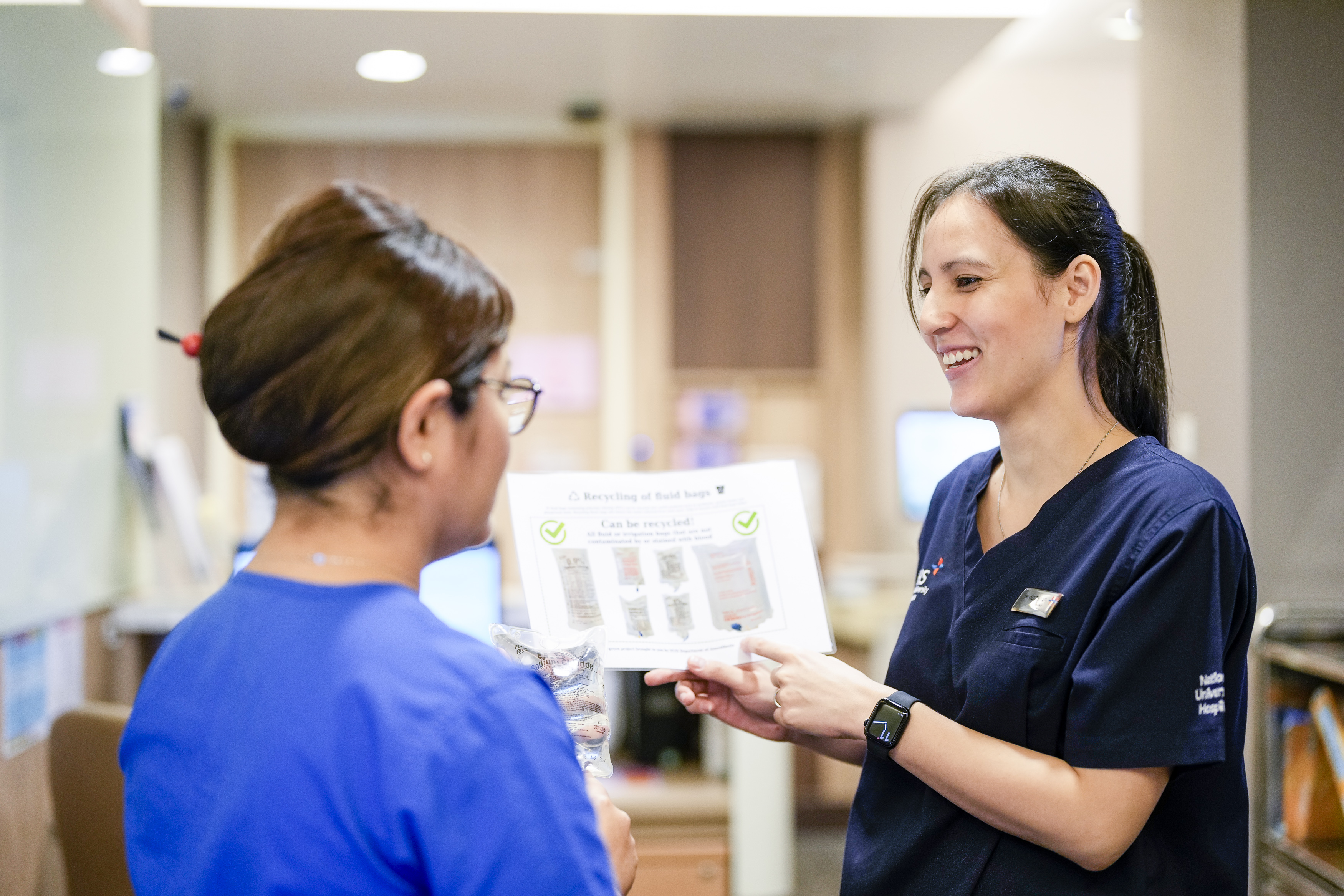 "Recycling must be convenient, simple, and easy to access, and that's what we tried to do when implementing this. Now that it's been going on for over three months, it's become almost second nature for many staff to recycle the IV fluid bags."
This practice will be extended to all wards by the end of February as part of NUH's sustainability commitment. The target is to recycle at least 80% of IV fluid bags, with the aim of reducing the amount of plastic waste that would otherwise be sent to the landfill or incinerator.
The sustainability movement will be progressively rolled out across institutions within the National University Health System (NUHS), including Alexandra Hospital (AH) and Ng Teng Fong General Hospital (NTFGH).
The team is also exploring ways to recycle other medical equipment that are made of PVC, such as medical tubing and oxygen masks. Awareness campaigns on the proper disposal of the IV fluid bags are underway to educate staff on what can be discarded into the recycling bins .
"We hope this initiative will encourage others to make a difference in reducing medical waste in Singapore," said Ms Clara Sin, Chief Operating Officer, NUH. "Healthcare is an industry that consumes significant resources and energy, and generates just as much waste. Every decision we make can have a lasting impact on our environment.
"Hence, as one of the largest tertiary hospitals in Singapore, NUH is intensifying our sustainability efforts to reduce carbon emissions and footprint. This effort will require everyone to do our part."
In consultation with Dr Andrea Yap, Consultant, Department of Anaesthesia, NUH.