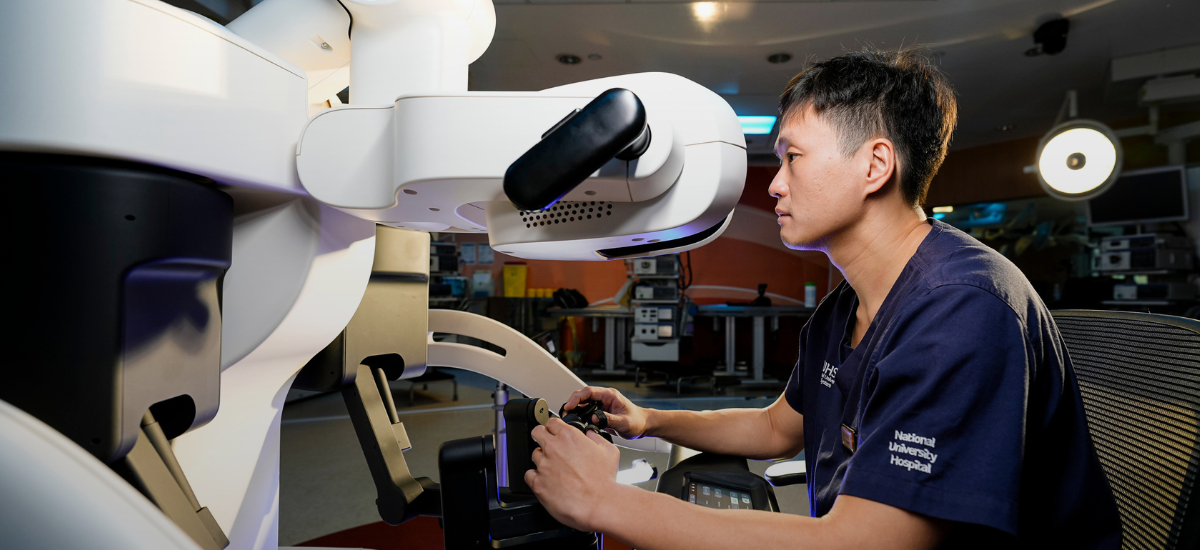 News
Robotic telesurgery trial offers glimpse into the future of healthcare
Published on 7 November 2023
Patients in Singapore and the region could benefit from enhanced global access to specialised medical care in the future with the introduction of long-distance robotic telesurgery.
Imagine being operated on by a world-renowned surgeon from thousands of kilometres away.
Instead of the surgeon's hands, it is a pair of robotic arms that performs the procedure – cutting, executing intricate incisions and excisions, and also suturing.

While this scenario might sound like fiction, it could soon become a reality for patients in Singapore and the region.

This concept of robotic telesurgery was put to the test on 9 to 11 October 2023 by clinician-scientists from the National University Hospital (NUH) and the NUS Yong Loo Lin School of Medicine (NUS Medicine).

Seated in the surgeon console at the Advanced Surgery Training Centre in NUH, both Prof Jimmy So and Asst. Prof Kim Guowei – who are from the department of surgery at NUS Medicine – remotely controlled a robotic operation unit located over 5,000km away at Fujita Health University (FHU) in Japan.

With a dedicated international fibre-optic network supporting the operation, the two surgeons were able to successfully perform three gastrectomies (stomach cancer surgery) on a high-precision model stomach at FHU.

The procedure marked the first robotic telesurgery trial between Singapore and Japan.

This collaboration between NUS Medicine and FHU – one of Japan's leading universities with a strong research focus in robotic surgery and telesurgery – follows a Memorandum of Understanding (MOU) that the two entities signed in August this year.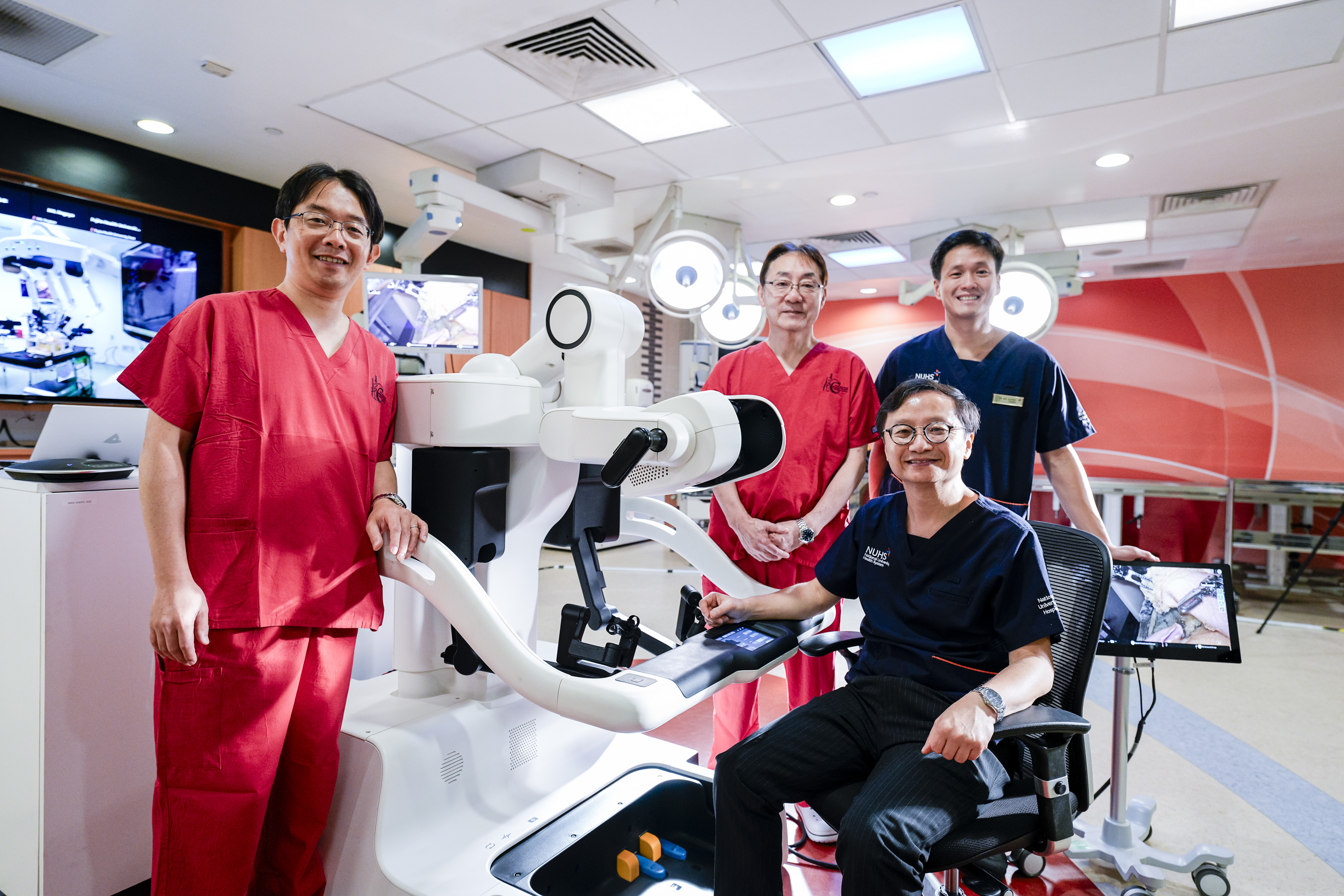 The MOU aims to deepen academic partnership through active joint collaborations including the execution of remote surgical experiments, and to promote mutual exchange activities such as student exchange programmes.

One of the main objectives of the trial was to assess the transmission delay between the surgeon console and robotic operation unit, which is a common issue with telesurgery.

According to Prof So, the initial results from the trial were encouraging.

"The time lag arising from the trial was minimal and within the acceptable industry benchmarks," said Prof So, Head and Senior Consultant, Division of General Surgery (Upper Gastrointestinal Surgery), Department of Surgery, NUH.
"The trial proceeded smoothly with safe outcomes and proved that such robotic telesurgeries across borders and large distances are feasible."

Nonetheless, Prof So admitted that it could take anywhere from five to 10 years before robotic telesurgery is deemed safe and ready to be used on live patients.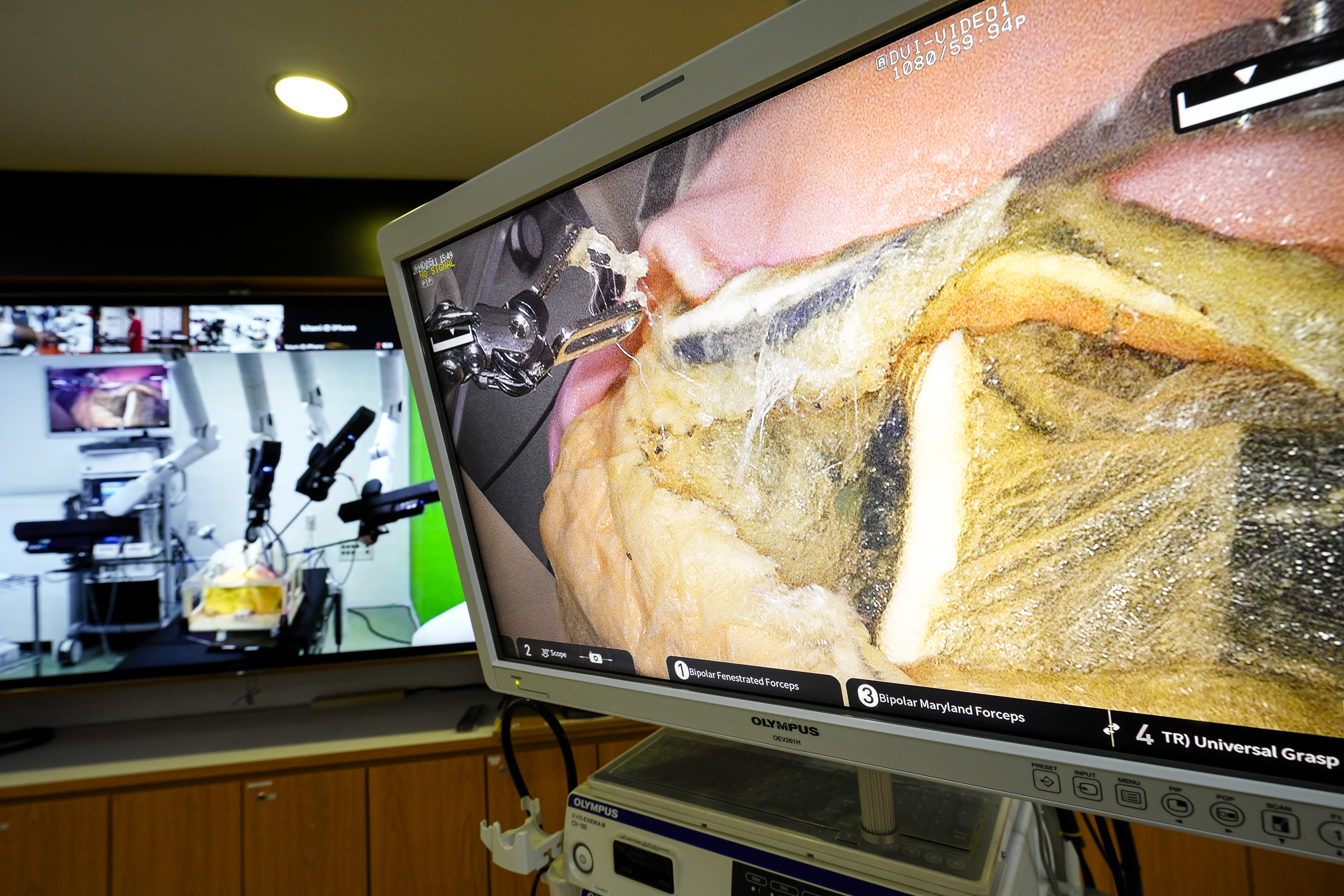 For now and the near future, the surgical robot will be used predominantly for training.

One of the benefits of the surgical robot system is it can help promote tele-mentoring or distance learning in medical education, allowing young doctors and medical students to learn surgical techniques and skills from lecturers and medical experts based in different parts of Singapore, and also anywhere in the world.
Asst. Prof Kim elaborated, "In partnering our Japanese colleagues, we hope to advance and unlock the potential of telesurgery for patients and doctors alike. This continuous exchange of knowledge, best practices, and advanced surgical techniques across borders contributes to the improvement of surgical expertise and outcomes."
Among the other advantages of remote telesurgery include providing global access to specialised care, and reducing the travel and wait times for patients.
Prof So added, "Remote telesurgery can minimise health risks during emergencies and pandemics, and foster training and collaboration among medical professionals worldwide. It also contributes to improved surgical expertise for complex cases, particularly benefiting underserved areas."
In consultation with Prof Jimmy So, Department of Surgery, NUS Medicine, Head and Senior Consultant, NUH, and Asst. Prof Kim Guowei, Department of Surgery, NUS Medicine, Consultant, NUH