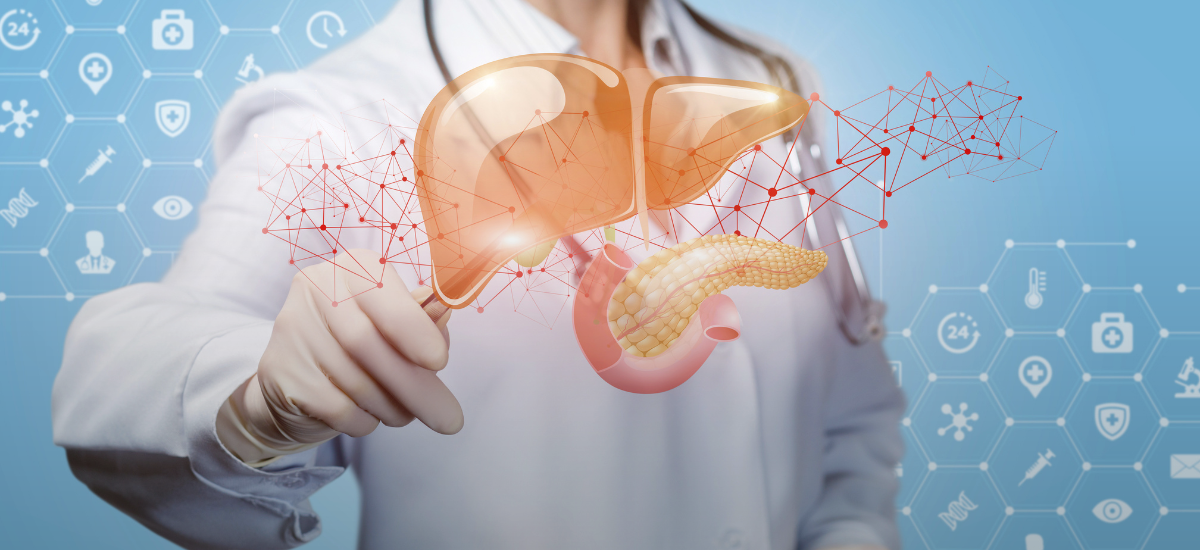 Lifestyle
Saving lives through kidney and pancreas transplants
Published on 2 April 2023
For patients with organ failure, a transplant surgery could be the only way out of a lifetime of short-term treatments like dialysis and insulin injections. Learn the facts about two types of transplants: kidney and pancreas.
For those with end-stage organ failure, a transplant can be a life-saving procedure. Over the years, organ transplantation success rates have improved significantly due to improvements in surgical techniques and more effective medicines to prevent infection and rejection.
The National University Centre for Organ Transplantation (NUCOT) is a specialist centre for organ transplantation of the kidney, liver, and pancreas.
Kidney transplants
A kidney transplant involves a healthy donated kidney from a living or deceased donor. It is used to treat end-stage kidney failure caused by:
Glomerulonephritis (inflammation of kidneys)

Diabetes

High blood pressure

Auto-immune disease

Inherited or congenital diseases
When the kidneys fail, they are unable to perform their role as the body's waste disposal system and produce important hormones that make red blood cells, regulate blood pressure and maintain calcium regulation.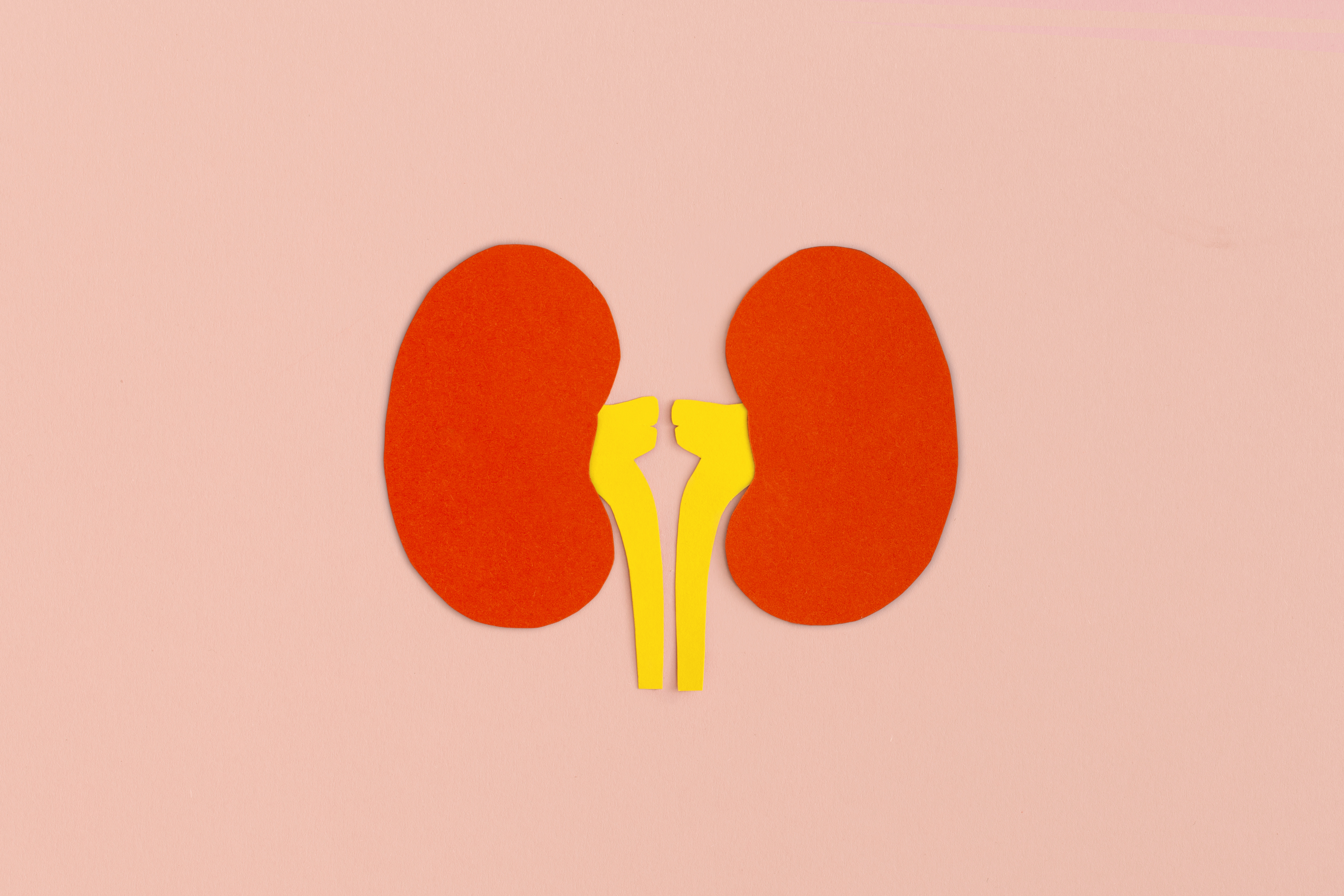 This causes waste to build up and an imbalance of water and electrolytes, said A/Prof Tiong Ho Yee, Senior Consultant, Kidney & Pancreas Transplantation, NUCOT, National University Hospital (NUH). A/Prof Tiong is the Surgical Director for the adult kidney transplantation programme at NUCOT.
Dr Hersharan Kaur Sran, a Senior Consultant at the same department in NUCOT, shared that common symptoms of kidney failure include weakness, fatigue, nausea, and water retention. Left untreated, the fluid-electrolyte imbalances and toxins build up to dangerous levels in the blood, and can be life-threatening.
A kidney transplant can help restore function and is considered a better treatment compared with dialysis, said Dr Hersharan, who is also the centre's Medical Director for the adult kidney transplantation programme. "Kidney transplant patients live longer, have better heart health, fertility, and sexual function," she pointed out. "After a transplant, there is also less restriction on activity, diet, and fluid intake for a much better quality of life."
While kidney transplants can be a highly effective treatment for those with end-stage kidney failure, the rate in Singapore remains low. Many patients also prefer to wait for a deceased donor instead of opting for a living donor surgery, even though the wait for the former averages eight to nine years. However, the outcomes of living donor transplants are much better for recipients.
Studies also show that living kidney donation does not change the life expectancy of the donor. Most people with a single normal kidney can live normal lives with minimal restrictions and do not need medications specifically after kidney donation.
To keep them well, donors are also monitored closely with yearly checks.
The donor surgery is also typically done via a minimally invasive keyhole procedure for shorter recovery times and hospital stays. This makes living donor transplantation the ideal option with better outcomes.
Pancreas transplant
A pancreas transplant involves a healthy donated pancreas from a deceased donor. It is used to treat end-stage pancreatic failure caused by insulin-dependent diabetes.
A/Prof Tiong explained that the pancreas – a small organ connected to the small bowel – has two vital roles: producing insulin and other hormones, as well as secreting digestive enzymes. "When it does not work, severe illness can occur," he said.
To treat pancreatic failure, a transplant is sometimes recommended. A/Prof Tiong, who is also Programme Director for Adult Pancreas Transplantation at NUCOT and Director of the National Pancreas Transplant Programme at the Ministry of Health, explained that there are three types of pancreas transplants.
The most common pancreas transplant is a Simultaneous Pancreas-Kidney (SPK) transplant, where both a kidney and a pancreas are transplanted at the same time to a patient who also has kidney failure. Other types are Pancreas Transplant Alone (PTA) and Pancreas After Kidney (PAK) transplant.
SPK transplants are a not a common mode of treatment, but may be considered if:
Type 1 diabetes cannot be well-controlled with standard treatment

Blood sugar control is poor

There is severe kidney damage

The patient is unable to manage hypoglycemia or has frequent hypoglycemic attacks (low blood sugar)

A type 2 diabetic has both low insulin resistance and low insulin production – transplants are less common for this group but may be offered to those on insulin
With a successful transplant, the donated organ(s) will take over the function of the failed ones and help to restore function and health. This means a type 1 diabetic patient will have normal insulin production and no longer need insulin injections after the procedure.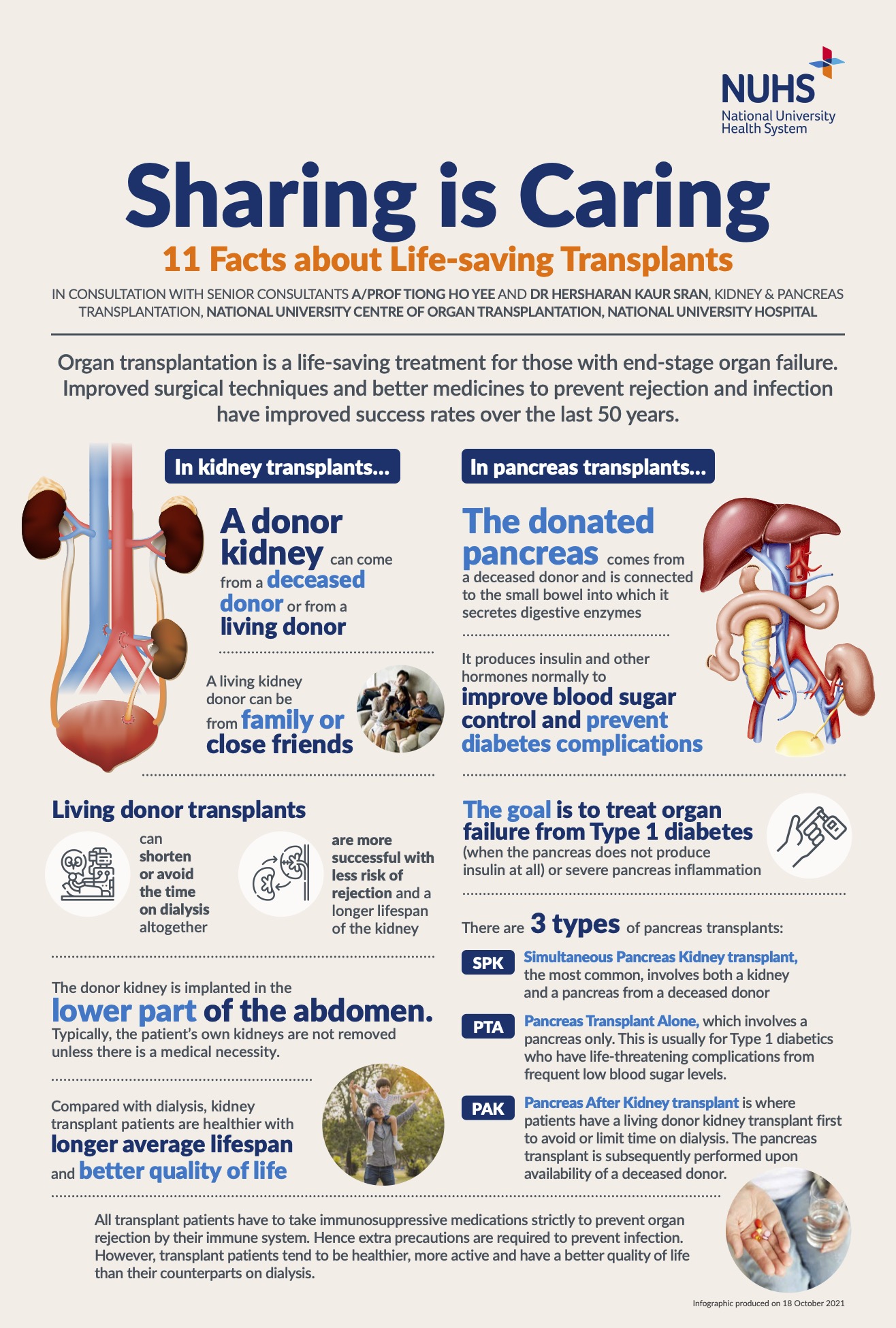 In consultation with A/Prof Tiong Ho Yee, Senior Consultant, Kidney & Pancreas Transplantation, NUCOT, NUH and Dr Hersharan Kaur Sran, Senior Consultant, Kidney & Pancreas Transplantation, NUCOT, NUH.