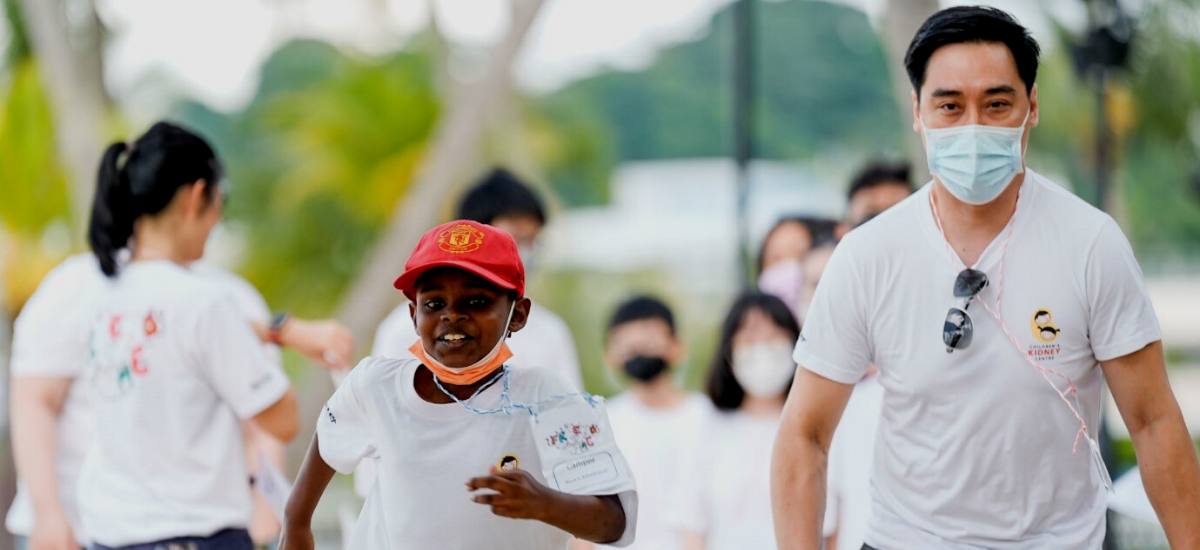 News
Sun, sand and dialysis: Camp for kidney patients returns
Published on 17 January 2023
After a two-year hiatus due to Covid-19, the highly-anticipated annual Children's Kidney Centre (CKC) camp returned in-person last year with 54 participants.
Eleven-year-old Ryan Mathew dug in the sand at Siloso Beach, then gleefully fished out a paper containing a riddle and ran back to his team mates to brainstorm for an answer.
While he and his group of nine youth were playing games at a camp, they were watched closely by a team of medical professionals comprising two doctors, a nurse and a psychologist.
This was no ordinary school camp, but one run by the Shaw-NKF-NUH Children's Kidney Centre (CKC), which is part of the National University Hospital's (NUH) Khoo Teck Puat – National University Children's Medical Institute (KTP-NUCMI), from December 16 to 18.
Most of the 54 participants at this year's camp – which is making a comeback after a two-year hiatus due to the COVID-19 pandemic – are patients with chronic kidney conditions. A few have diabetes. Yet for many of them, the medically supervised camp is their only chance to experience being away from home.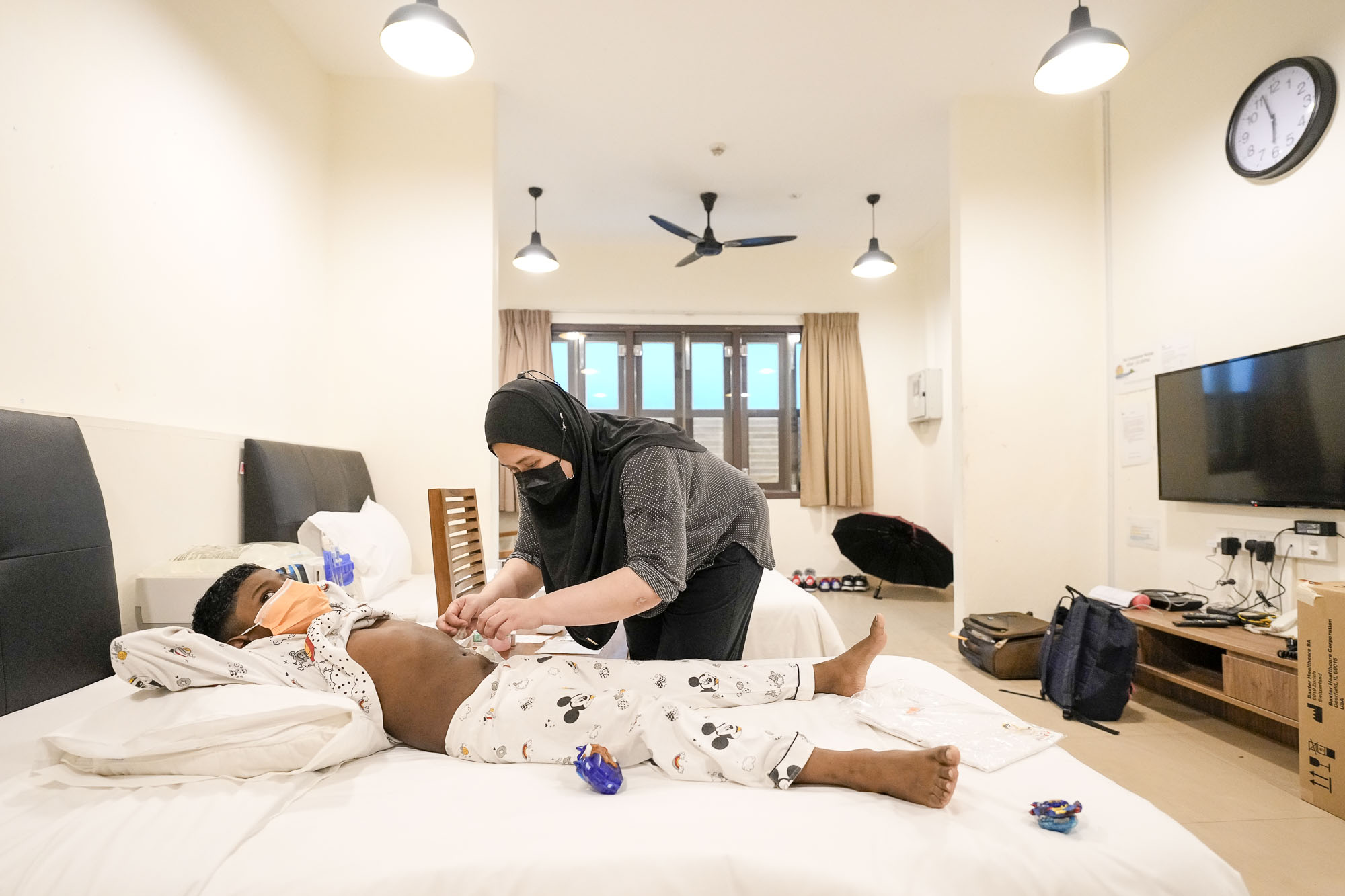 Nurse Manager Noor Haziah Binte Hussain helps Ryan prepare for his 10-hour peritoneal dialysis session on the first day of the camp on 16 December 2022.
On both nights of the three-day camp, Ryan had to watch the clock and return to his room at the Civil Service Club @ Changi by 8.30pm to prepare for his 10-hour peritoneal dialysis session. This is a method in which a patient's inside lining of the abdomen, called the peritoneum, is used to filter waste.
The Primary 5 pupil from Punggol Cove Primary School has a rare birth defect in which a fold of tissue in the urethra blocks urine from flowing out of the bladder completely (posterior urethral valves), causing urine to be retained in his body and damaging his kidneys.
For three years now, Ryan has been undergoing overnight dialysis. At the camp, it was a dialysis nurse – instead of Ryan's mother – who helped him to connect the tube inside his abdomen to the dialysis machine, so that a cleansing fluid called dialysate can be used to wash off the filtered waste inside his abdomen.
The petite boy, the oldest of three children, was nonchalant about the process, lying back on the bed and fiddling with his mobile phone when the NUHS team went on with their various tests and procedures. He was one of five peritoneal dialysis patients who attended the camp.
Senior Staff Nurse Hamidah Binte Mistam said, "I take over the role of family caregivers in this camp, allowing them to take a break and prevent caregiver burnout."
Another boy needed to adjust his dialysis duration as his blood pressure was found to be higher than recommended during the evening health check.
Ryan Aditya, 12, had to undergo 11 hours of peritoneal dialysis on each of the two nights, instead of his usual 10 hours. The medical decision was made by his team of doctors and nurses, who joined the camp for this purpose of customising treatment for patients when the need arose.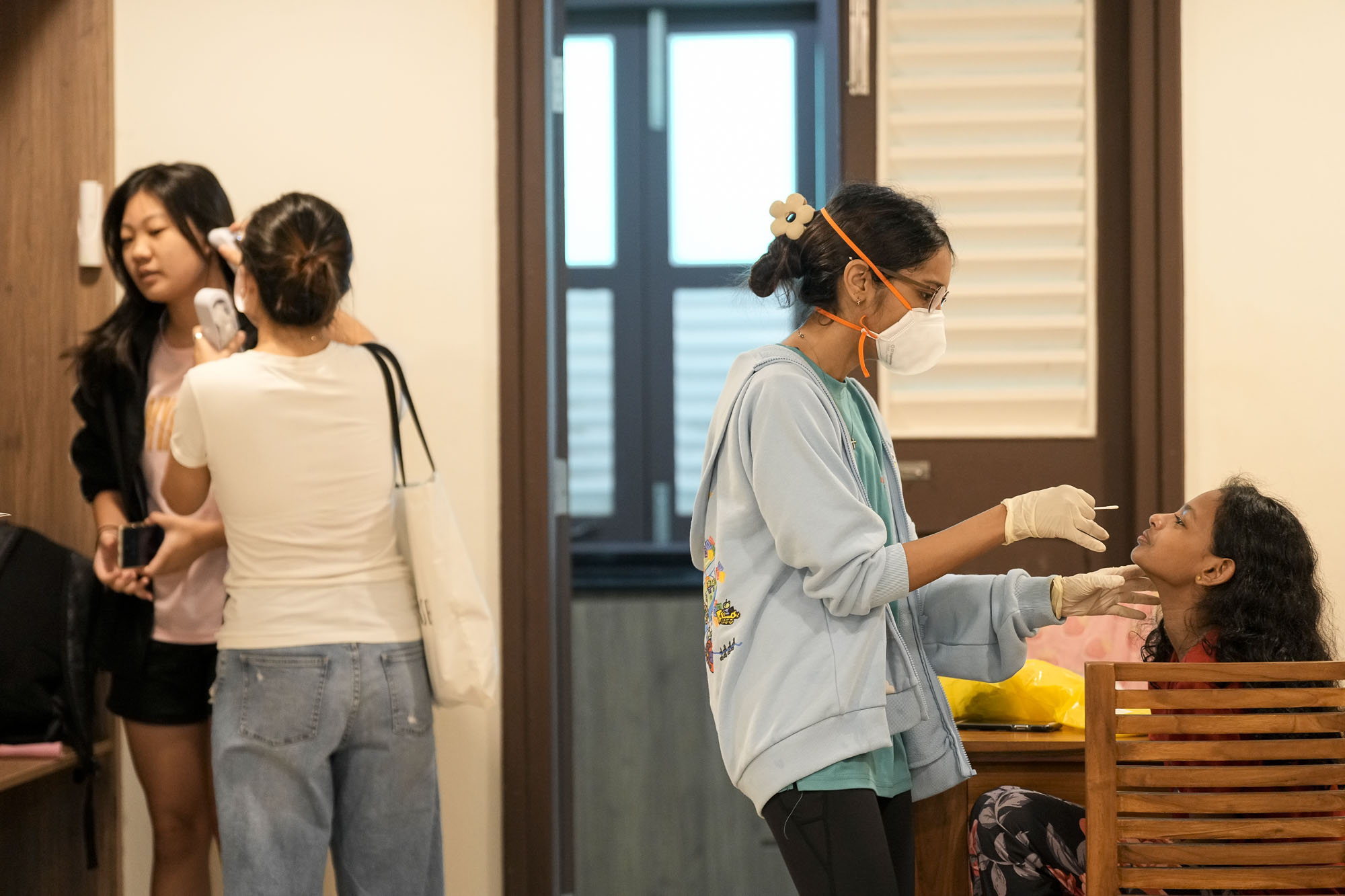 Dr Annushkha Sharanya Sinnathamby (second from right) swabbing Ryan's nine-year-old sister, Valerie, during the morning health checks.
Each morning at the Civil Service Club @ Changi, the team of 23 doctors, 10 nurses and five allied health professionals from CKC were up at the crack of dawn to make preparations for health checks on camp participants. The peritoneal dialysis patients would also have their weight checked after the overnight dialysis session.
Dr Sharon Teo, the camp's chief doctor and Consultant at the Division of Paediatric Nephrology, Dialysis and Renal Transplantation at KTP-NUCMI, said the health checks were more stringent this year amid the COVID-19 pandemic as there were participants who were immunocompromised.
As part of the health screening each morning, medical staff took participants' temperature and performed antigen rapid tests (ART) for them. It was also mandatory for everyone else to do their own ARTs before activities commenced and wear masks throughout the camp.
Each group of about 10 participants were always accompanied everywhere by at least four healthcare professionals, with each doctor carrying a haversack containing items such as a stethoscope, a blood pressure monitor, glucose meter, gloves, dressings and hydration fluids.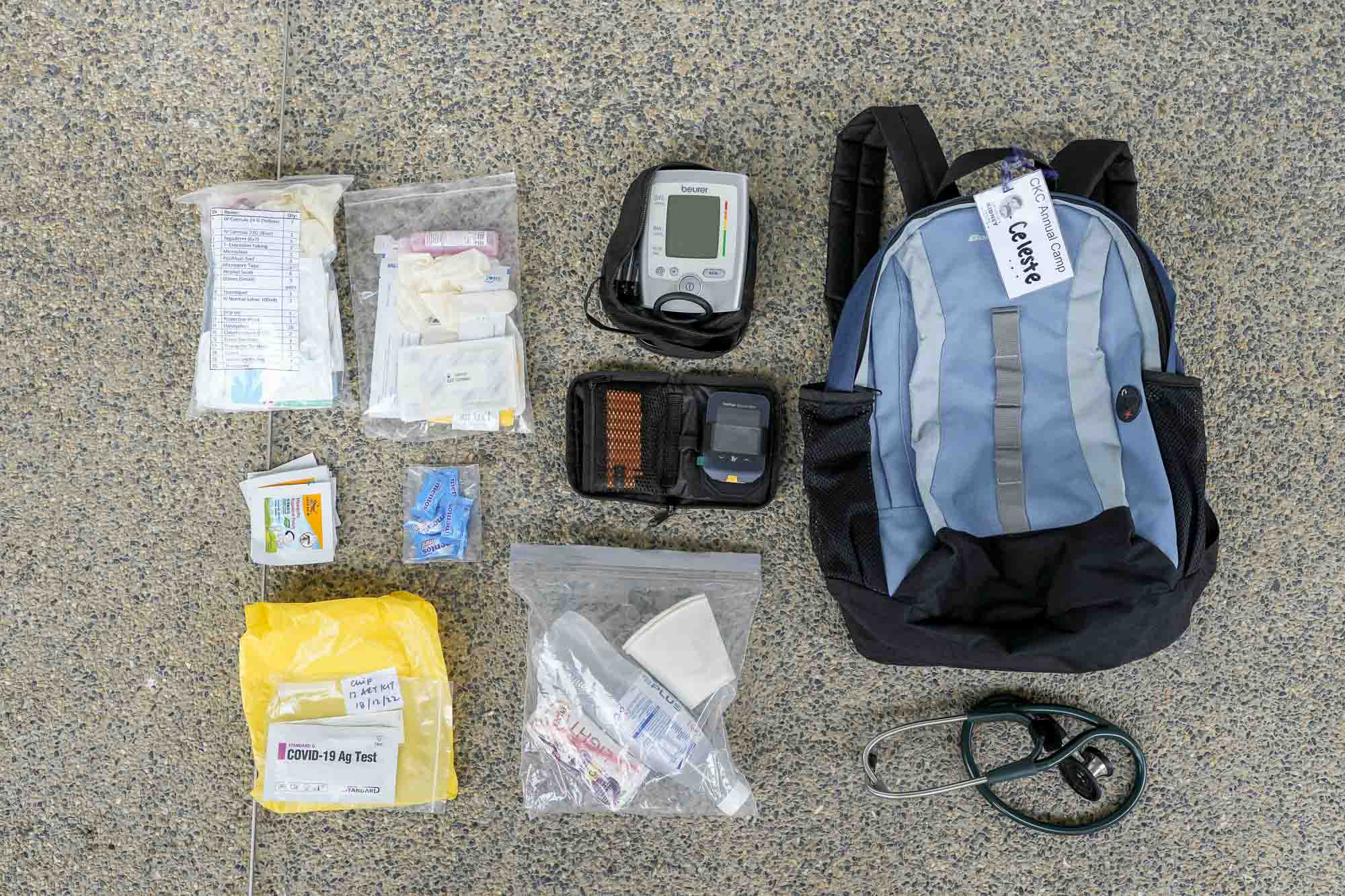 Each doctor accompanying the participants carries a medical bag containing items such as a stethoscope, a blood pressure monitor, glucose meter, hydration fluids, gloves, mosquito repellent and ART kits.
Under the relentless heat of the sun at Siloso beach on day two of the camp, participants took part in an 'Amazing Race' to complete tasks at five game stations. They were reminded by the healthcare staff to hydrate themselves frequently because when someone is very dehydrated, his blood volume and blood pressure can drop, and he can potentially go into shock.
Ms Ng Zheng Xian, 18, who was one of two buddies (or senior campers) in Ryan Mathew's group, felt light-headed after bowling on the first day of the camp, which took place at the Civil Service Club @ Changi. Ms Ng was diagnosed with Immunoglobulin A (IgA) nephropathy – a condition in which the protein IgA accumulates in the kidneys and damages them – at the age of 14 and takes medications twice a day.
The close medical supervision at the camp meant that she was whisked off to NUH Children's Emergency by Dr Chee Qiao Zhi, a resident in NUHS Paediatrics Residency Programme, that afternoon. Ms Ng, who is waiting for her "A" level results, said she was discharged after receiving fluids and electrolytes for a few hours.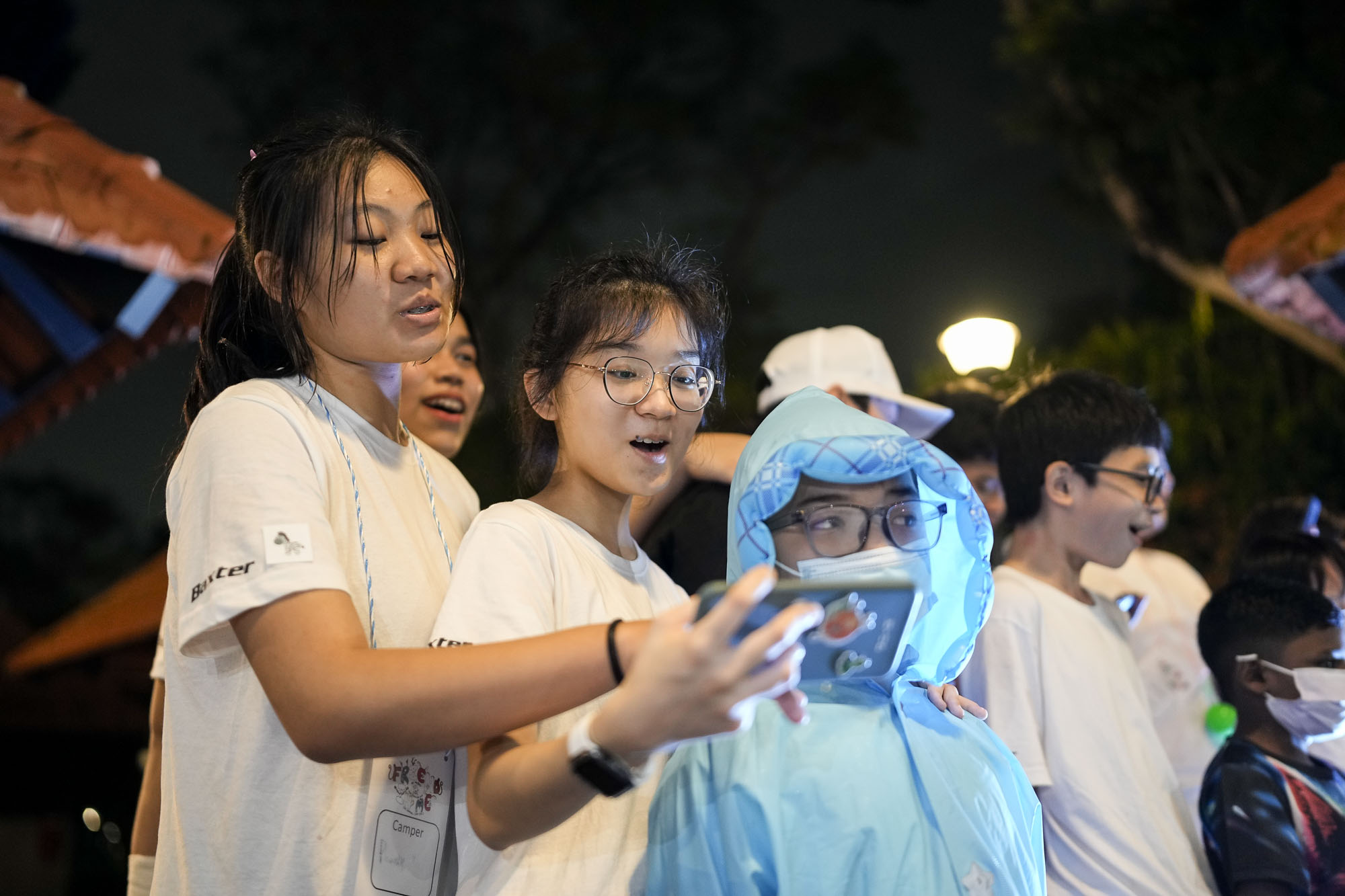 Ms Ng Zheng Xian (second from left) leading her group in a performance on the second day of the camp. She rejoined the camp after falling ill midway through activities on the first day and had to be driven to NUH's Children's Emergency by a doctor.
Ms Ng rejoined the camp on the second day, saying her mother was reassured of her safety.
Dr Chee, who has joined the CKC camp since 2014, said the organisers had to strike a balance between allowing high-care needs patients a chance at normalcy and creating a safe environment that was compatible with their medical needs.
"The camp is a reminder to patients that they can still have fun and play even when they have chronic illnesses," he said.
Professor Yap Hui Kim, Head and Emeritus Consultant, Division of Paediatric Nephrology, Dialysis and Renal Transplantation, Department of Paediatrics, KTP-NUCMI, NUH, said: "We want to empower the kids and show them that they can be as good as their (healthy) friends. The only way to assure parents, who are usually their caregivers at home, is to have the medical team on site."
Prof Yap, who is also the Medical Director of the Paediatric Transplantation Programme at the National University Centre for Organ Transplantation (NUCOT), said CKC raised about $25,000 this year from individuals and organisations for the camp, which was started in 2000 as an annual event. Many participants of past editions of the camp have also returned as organisers and camp buddies for their juniors.
From campers to organisers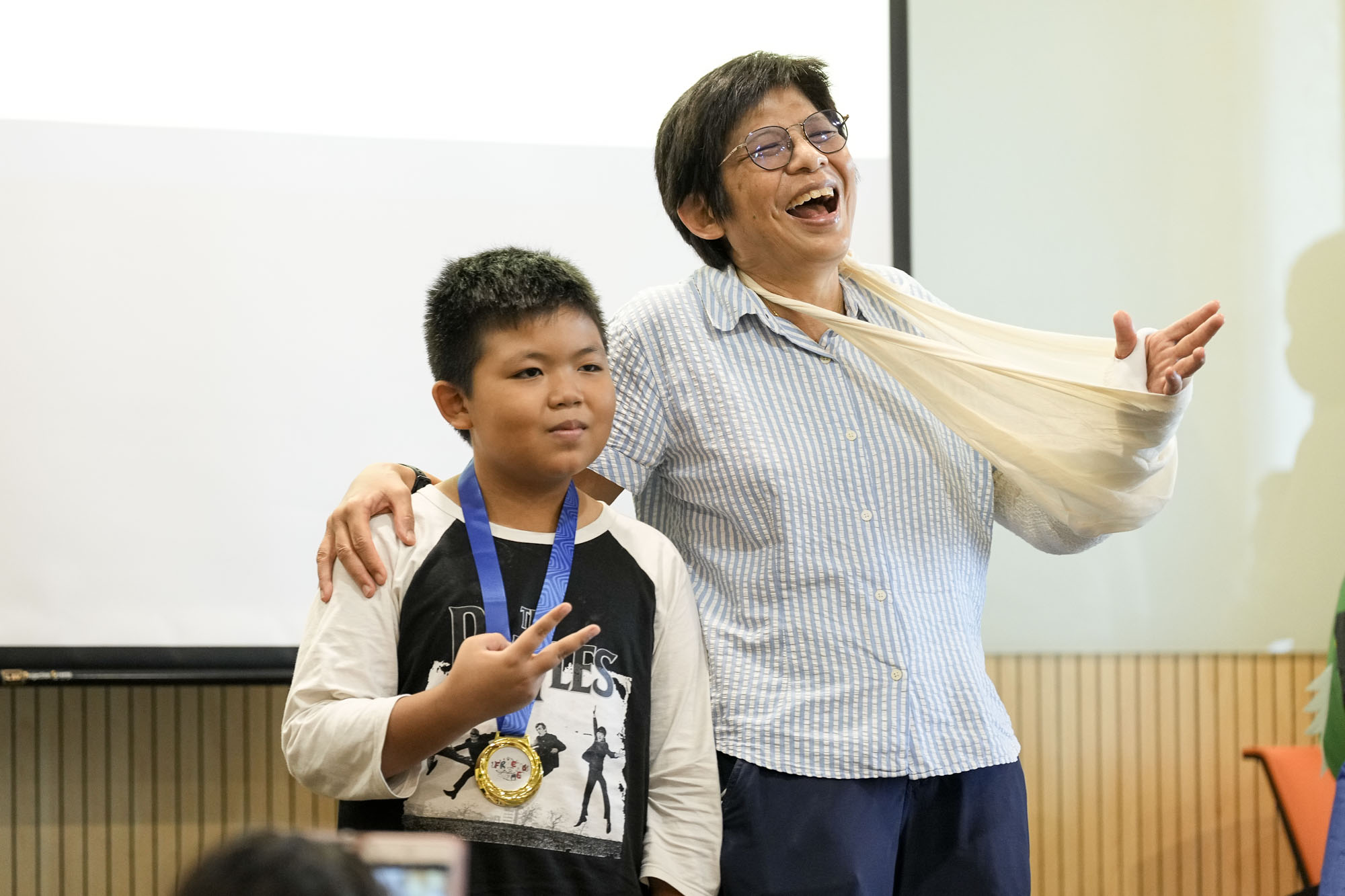 Professor Yap Hui Kim sharing a light-hearted moment with participant Muhammad Nor Satrianiq Mohammad Nor Ridzuan, who was presented with the Most Enthusiastic Camper award on the last day of the camp.
Participant-turned-organiser Nur Razila, a 24-year-old administrator, even brought and administered her own insulin thrice daily at the camp.
Ms Razila, who was diagnosed with Type 1 diabetes at the age of four, said she has never viewed the participants as needy patients and happily took up the challenge of engaging participants of different age groups – from nine to 25 – with different activities.

"Knowing young people's love of handphones, I helped to create games that required the use of such devices, requiring participants to take pictures with their phones and scan a QR code.
"When I discussed with medical staff to get their opinions on the games, we also talked about life and hence, they become my mentors. They are not just medical professionals who take care of my health."
Ms Razila said she was impressed by her young charges' ability to solve riddles and puzzles in the treasure hunt quite easily. She wants them to know: "Do not underestimate what you can do in spite of your challenges. Always surround yourself with a group of people who can support you."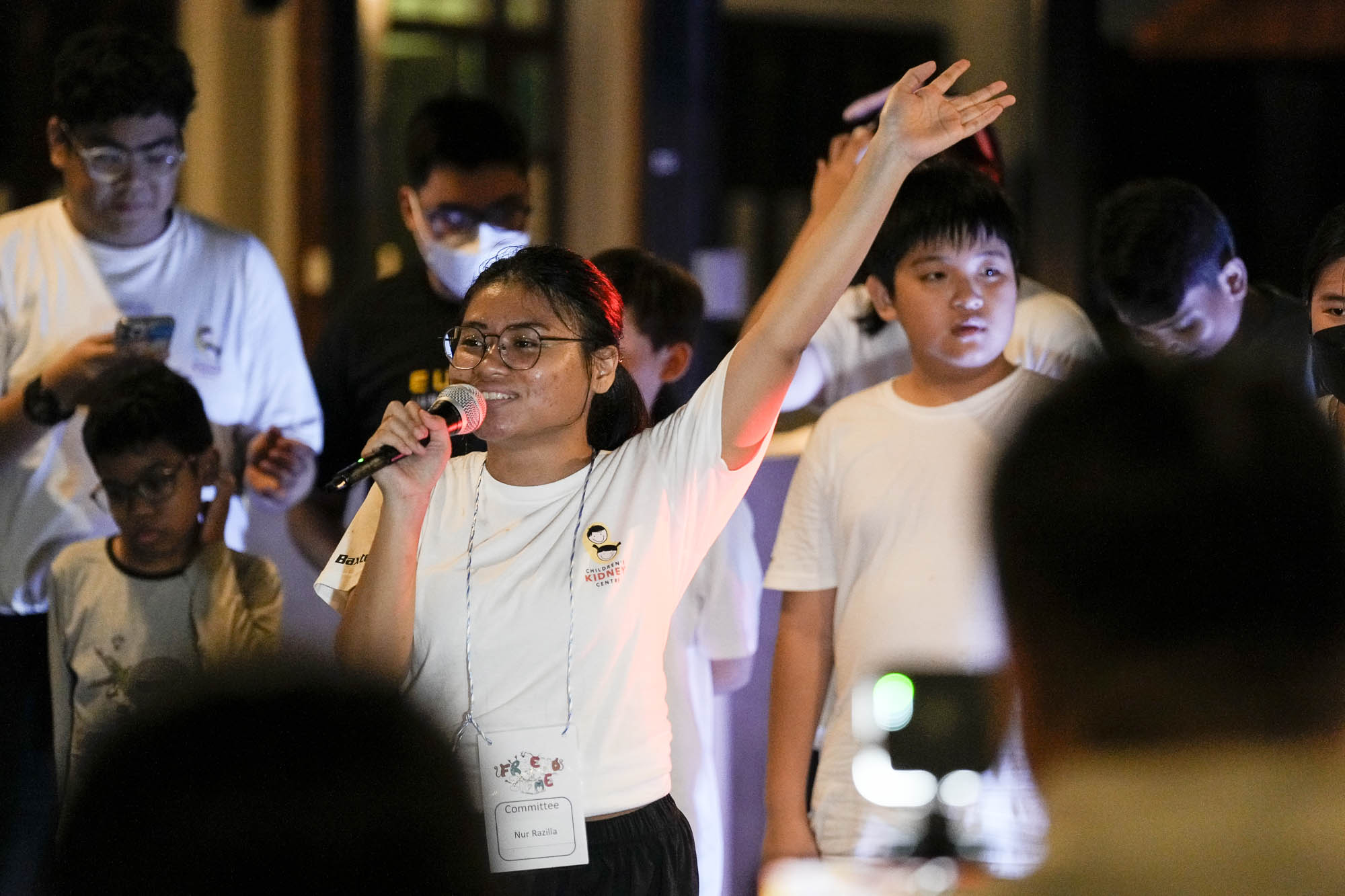 Participant-turned-organiser Nur Razila hosting the performance show on the second night of the camp.
Another participant turned buddy, 23-year-old Yeo Sheng Xun, said he used to be sceptical about joining the CKC camp as he was worried about not being able to take care of himself.
The second-year business student from Ngee Ann Polytechnic had to schedule his peritoneal dialysis sessions before and after his school camp when he was 15. Mr Yeo was born with kidneys that were smaller than usual and with abnormal tissues (bilateral hypoplastic dysplastic kidneys).
At 17, he received a kidney from a deceased donor. He was happy to share his transplant experience with his newfound friends at the CKC camp.
Another kidney transplant patient, 18-year-old Dian Zuhairah Wydatie Suwandi, attended her first in-person CKC camp this year. The Ngee Ann Polytechnic nursing student said she was made to "step out of (her) comfort zone at the camp" because she is generally a shy person.
"After transplant, my quality of life is better as I'm less tired and there are more things that I can do. Previously, I could not drink more than one litre of fluids a day."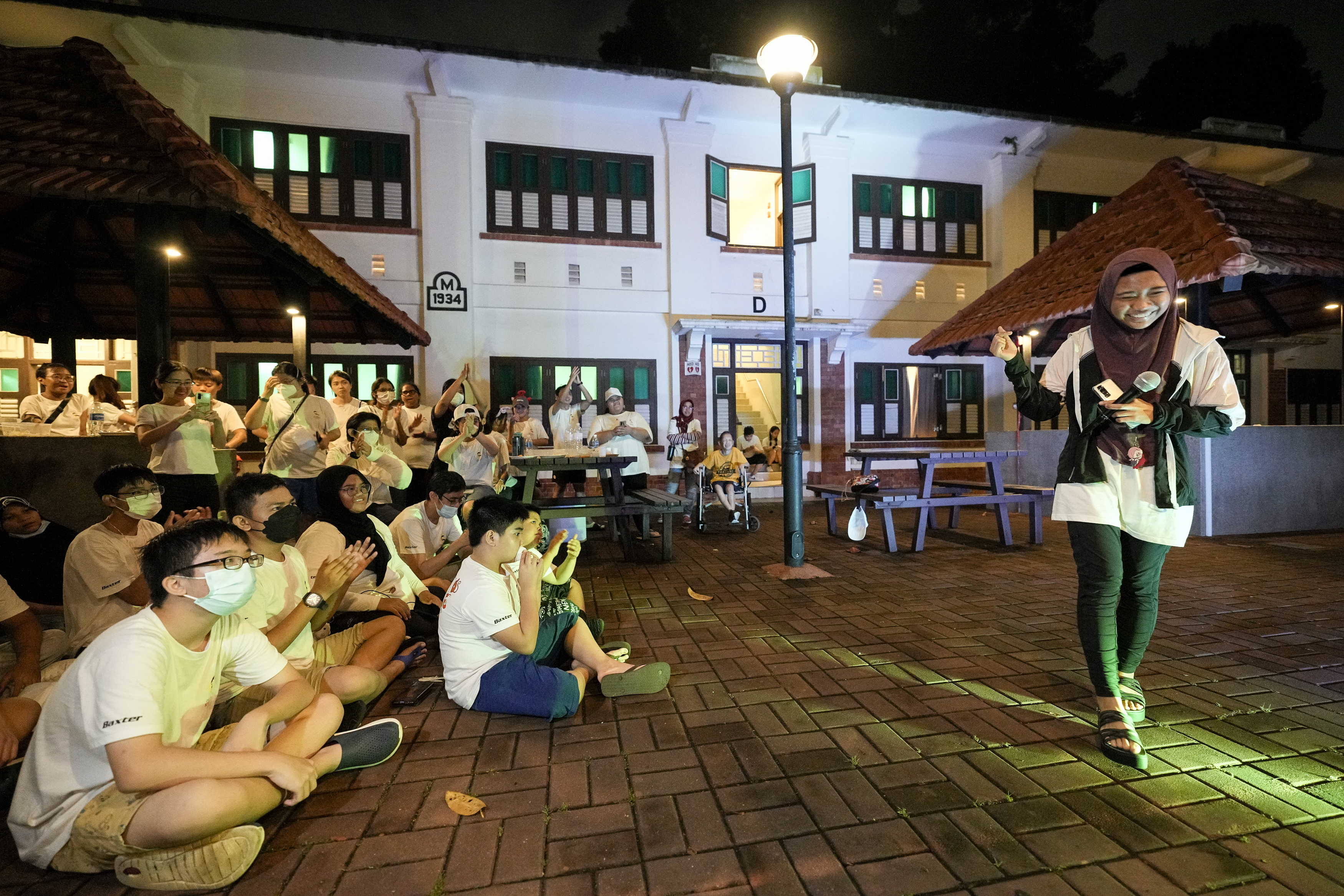 Kidney transplant patient Dian Zuhairah Wydatie Suwandi receiving a round of applause after her solo performance.
Dr Annushkha Sharanya Sinnathamby, a resident in the NUHS Paediatrics Residency Programme, said she also tried to foster a sense of independence in Ryan Mathew during the camp by waiting for him to tell her that he needed to take his medications.
She said Ryan took heed of her reminders to stay within her line of sight, as the boy with attention deficit hyperactivity disorder had a tendency to veer off to play on his own.
"His frequent hospital admissions meant that he was often the centre of attention at home, but here at the camp, he is forced to grow up," she added.
She recalled how he used to run around the ward when she tried to set up an intravenous line for him to give him medicine. "Now, he can sit down for an entire meal," she said, beaming with pride.
TIP BOX:
Senior staff nurse Marco Aizawa on what kidney transplant patients should take note of when travelling or being away from home.
(1) Know what medications you need
He said patients and their caregivers should always pack excess medications in case they lose any of them or their trips are unexpectedly delayed.
(2) Be aware of the amount of fluids you can take
This will depend on your medical condition, the needs of your body (for example, the creatinine level in your blood) and the type of physical activities that you will be engaged in.
(3) Watch your diet
For transplant patients, it is especially vital that they consume fully cooked food and absolutely avoid raw or undercooked food to prevent any risks of ingesting bacteria that can cause food-borne illnesses.
(4) Inform doctors about your condition
If you need to see a doctor while overseas, be honest and inform him about your transplant history so that the doctor can avoid prescribing medications that may affect your kidneys.
In consultation with Professor Yap Hui Kim, Head and Emeritus Consultant, Division of Paediatric Nephrology, Dialysis and Renal Transplantation, Department of Paediatrics, KTP-NUCMI, NUH; Dr Sharon Teo, Consultant at the Division of Paediatric Nephrology, Dialysis and Renal Transplantation, Department of Paediatrics, KTP-NUCMI, NUH