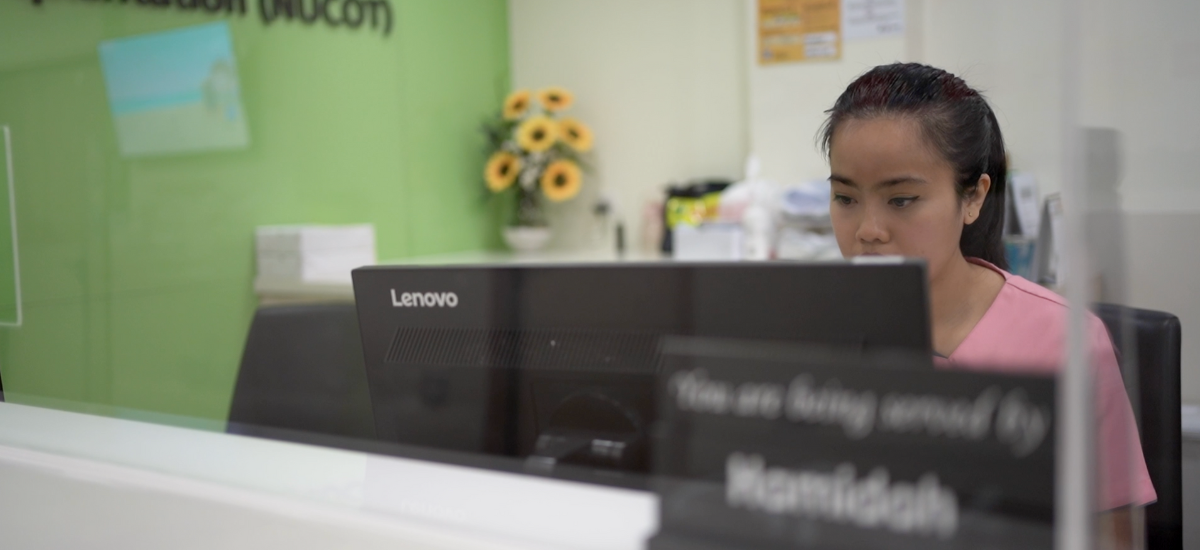 People
Why this Service Associate is out to draw blood
Published on 19 December 2022
The thirst for knowledge, and a desire to serve patients better, saw one service associate learn a skill that went beyond her administrative role.
What sets service associate Ms Hamidah Binte Hashim apart is her willingness to go above and beyond what is required of her. While her role at National University Centre for Organ Transplantation (NUCOT), National University Hospital (NUH) is an administrative one, she has expanded her skill set by also taking up a phlebotomy course.
Despite not having prior background in nursing, Ms Hamidah's quest for more knowledge, as well as her desire to alleviate the stress on her nursing colleagues, led her to enrol in the phlebotomy course in 2018.
During the three-week course, Ms Hamidah was required to draw 50 vials of blood in order to receive her certification. Despite the demands of the phlebotomy course being vastly different from Ms Hamidah's primary administrative role, she remained determined to complete it.
"My day-to-day responsibilities are to register patients, book their next appointment, and assist doctors at the donor clinic. After taking up the phlebotomy course, I can now also assist my nursing colleagues when required, which helps reduce the waiting time for the patients," explained Ms Hamidah.
Without a medical or nursing background, Ms Hamidah's learning curve was especially steep. "I felt scared at first because it was a very new skill to me. As I do not have any medical or nursing background, I initially had some difficulties with the medical terms, and with understanding the techniques in venepuncture. But it got more manageable over time," recalled Ms Hamidah.
But Ms Hamidah, driven by her goal to help both patients and her colleagues, preserved on, and eventually completed the course. "I like being efficient in my work, and by helping others, it does not only improve the efficiency of the job but also the quality of care delivered," she shared.
Learning is a continuous process for Ms Hamidah, who also observes nurses to improve her newfound medical capabilities. "If I can't draw the blood of a particular patient, I will ask the nurses for help and observe how they do it, so that I can learn a few tricks from them," said Ms Hamidah.
Indeed, when the opportunity presents itself in the future, Ms Hamidah will have no qualms in learning a new skill again to improve her capabilities, as she said, "It is all about a positive mindset towards our jobs, and being open-minded about learning new things."
In consultation with Ms Hamidah Binte Hashim, Service Associate, NUCOT, NUH.